It's so obvious, that it almost seems silly to type it, that I love, love, love decorating and sharing my decorating with you on this blog. If I didn't love it, then there's no way I could have kept it up for seven years. You guys, I love it. But, guess what? I also really love fashion and dressing myself and my daughter in cute clothes. I also love reading and listening to podcasts. I also have a genuine love for pretty gadgets, and creams that make my skin feel amazing, and just things that spark joy in me.
So, I'll just spit it out already. I'm pushing myself and broadening my horizons a bit on the blog. It may not seem like a big deal to you, but it is to me. I'm ready to share more of the things that I love, the things I'm dressing myself and my daughter in, and the little things in life that make me happy. So, I'm starting a new monthly series called the, "Girl Guide." On the first Friday of every month, I'll be posting a roundup of all of my favorite things that are girly, feminine, and fun!
So, without any further adieu, I'd like to share my first ever House by Hoff Girl Guide! Enjoy!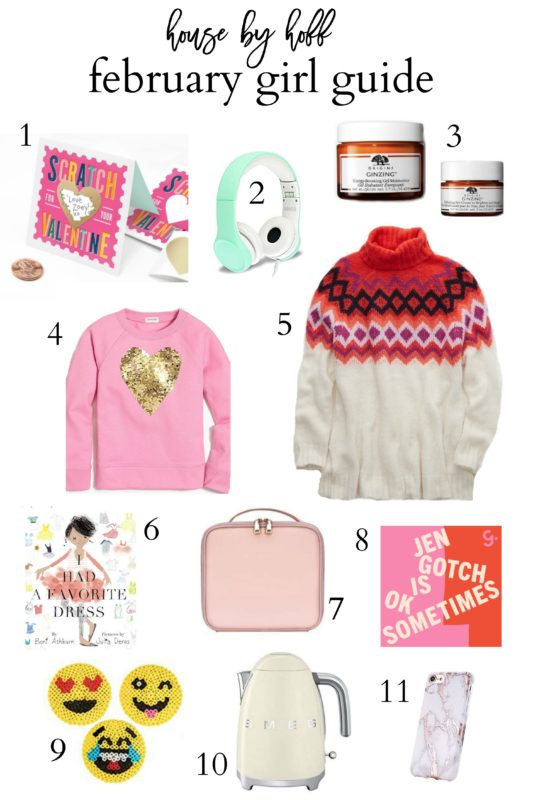 1. My seven-year-old is obsessed with scratch-off things. She got a lottery ticket for Christmas, and she thought it was the best thing ever. When she and I found these scratch-off Valentines from Target, we ordered them up immediately. She can't wait to hand them out to her classmates with a penny! There are some other cute versions here and here. So cute!
2. Another great item for my daughter are these super cute headphones that come in a ton of different fun colors. The cord is like a soft little rope, and they fold up to easily fit in her book bag or luggage. She has a pair for school and another one for for around the house.
3. Time for one of my favorite beauty combos for myself! I recently got into Origins products, and the first thing I tried was their Ginzing Energy Boosting-Gel Moisturizer and Refreshing Eye Cream. I put these two products on every single morning, and the difference in my skin over the last month is crazy! The eye cream gives me this fresh, dewy under-eye, and my skin looks all glowy and fresh. They also smell amazing!
4. Miss L. loves Valentine's Day, and I normally grab something cute for her to wear to school for their Valentine's Day party. This year I got her this cute Flippy Sequin Heart Sweatshirt because I figured she could wear it for V-day, and then for the rest of winter. Plus she loves a flippy sequin number. 😉
5. Truthfully, I also like to have a little something festive for Valentine's Day, and this Oversized Fair Isle Turtleneck sweater fits the bill. It's on super-sale, and is so cute for Valentine's day and beyond!
6. There are many things I've not done perfectly as a mother, but one thing I can claim victory on is reading to my kiddo. A lot. I'm including this sweet book, I Had a Favorite Dress, which has been one of her faves from the time she was five years old. It's still a favorite, but now she reads it to me instead of me reading it to her. 😉
7. It seems like I need to replace and update my makeup bag about once a year, and I recently grabbed this travel makeup bag from Amazon. I had heard a good review from another blogger, so I decided to give it a try. I really like it's removable and adjustable dividers, so you can customize it for your the size of your brushes, little pots, etc.
8. I am actually a very recent podcast listener. Last fall I stumbled across a Bachelor recap podcast, which led me to other podcasts, which led me to more podcasts, etc. Well, one of my recent favorite podcasts is one called Jen Gotch is OK Sometimes. Jen Gotch is the founder of a really cool company called ban.do, and she is all kinds of successful in so many ways. She also happens to suffer from anxiety and depression. Her podcast is her very humorous and honest narrative of building her business, being the best person she can be, and keeping her emotional and mental health in check.
9. Who remembers making perler bead crafts when they were a kid? I used to love making these things when I was little, and it's one of the activities that we've found that Miss L. enjoys too. With all the time indoors lately, it's something that we enjoy sitting down and doing together. I found this emoji perler bead kit on Amazon, and I'm planning on breaking it out the next time we're in a pinch for something to do to pass the time this winter.
10. One of my very favorite Christmas gifts this year was my very adorable Smeg Electric Kettle. I use it every morning to heat water to make my Bio Coffee , and I have to tell you, it just makes me smile. I started noticing Smeg appliances on Instagram, and I fell in love with the vintage-look. I'm such a sucker for a cute appliance! 😉
11. Last, but not least, my new phone case is one of my favorite things this month! Like my makeup bag, it seems like I replace my phone case about once a year. I found this fun rose gold and marble case on Amazon, and I have to say that it's very pretty in person. It's funny, but it matches my decor, and I kind of love that!
Happy February! I hope you're staying warm! Have a great day!