I will walk you through on how to add storage and style to a small mudroom!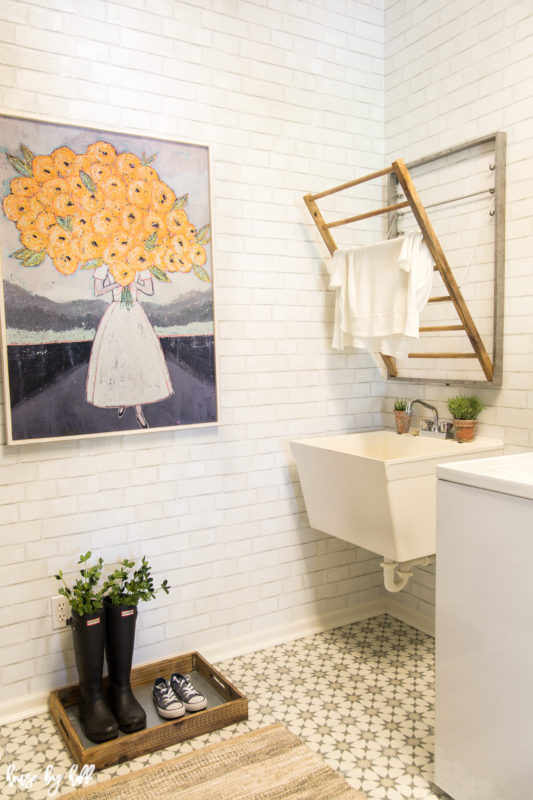 It's finished, it's photographed and it's ready, you guys! My Mudroom Makeover design is completely done, and I'm SO excited to get it up on the blog! You may remember that I shared our Ikea Hemnes Hack: DIY Mudroom Bench and Storage last winter, but at that time the whole room wasn't finished. I'm happy to report that the mudroom / laundry room is complete, and today I want to share How to Add Storage and Style to a Small Mudroom.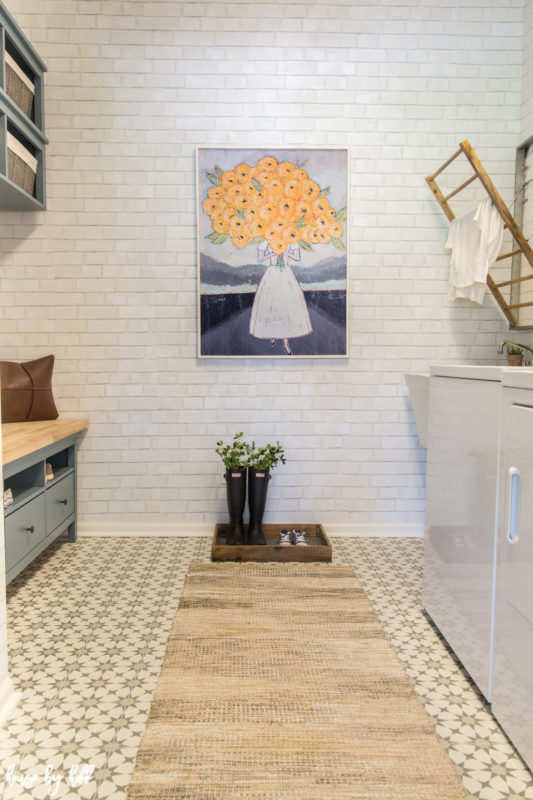 So, I suppose every makeover post should feature at least one good "before" shot, right? While I am thankful to have a mudroom space, ours was lacking in every sense before this makeover. We were lacking adequate mudroom storage, organization, and, quite frankly, style. 😉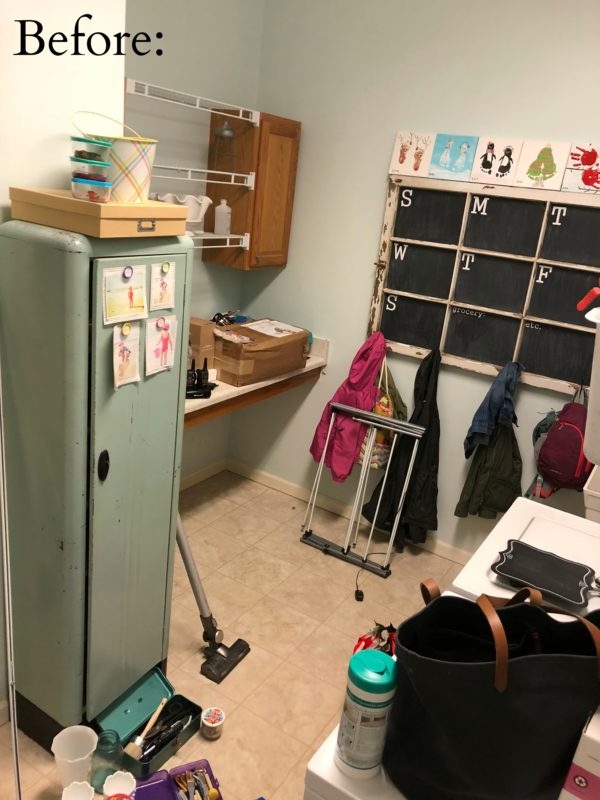 I approached our mudroom makeover design with a few goals in mind:  I wanted improved mudroom storage, a mudroom bench with drawers and space for shoes, a place to hang all of our bags and coats, and just better overall use of space. Oh! And I wanted to add a lot of statement style to this small space!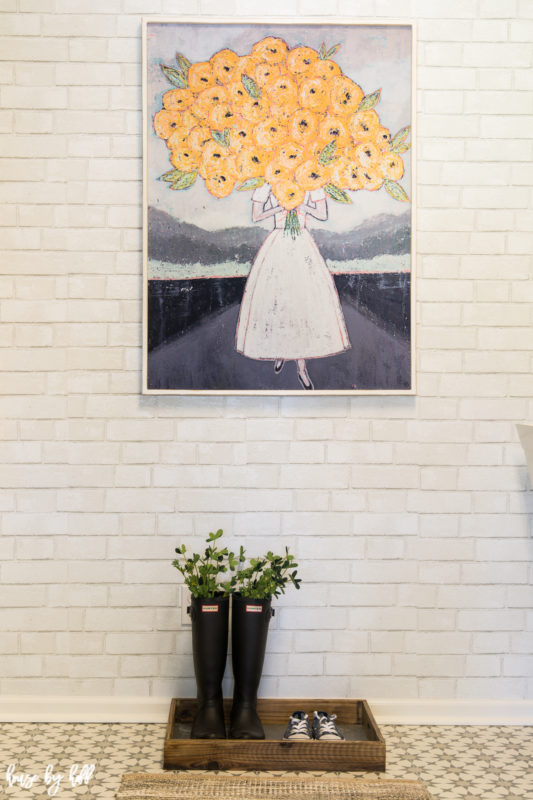 This is the first room we walk into when we come in from the garage. I have to tell you, it's practically delightful to walk into our home now. The large art piece of the girl holding flowers is my favorite piece of art I think I've ever owned. It is both cheerful and moody, and the bright pop of yellow is just perfection to me. It adds so much personality and style to this space!
You might also notice that we covered the walls with wallpaper. (Yes, that's right…the painted white brick is actually wallpaper!)  My original source no longer carries the wallpaper, but I have found similar options here and here.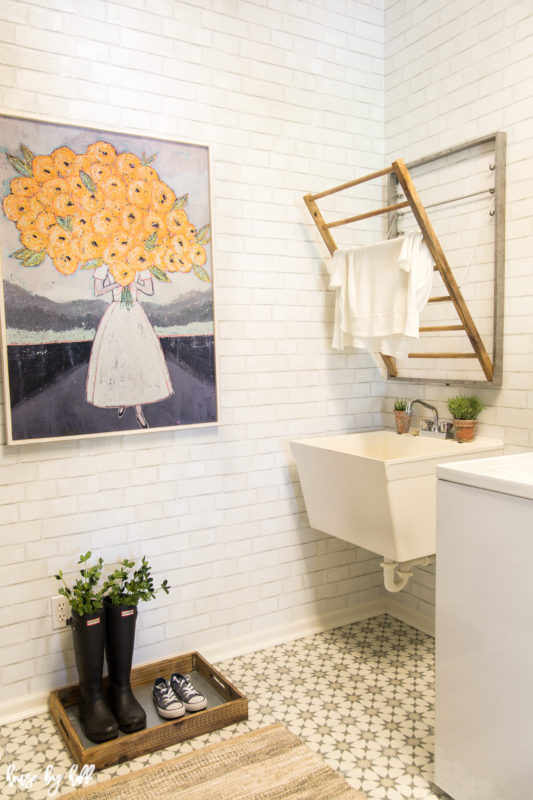 I was all over the place about what kind of flooring I wanted to use in here and I knew I wanted something that would be fun and stylish. After I explored every option, I settled on this beautiful ceramic mosaic tile. It looks like the popular cement tiles, but is a much more practical (and far less expensive) option. (It is only $1.59 per square foot!!!)  After researching laundry room flooring options, I decided that ceramic would just be a really durable and water-resistant option for our laundry / mudroom. It is so easy to wipe clean, and I love the eclectic way it looks with the white brick wallpaper.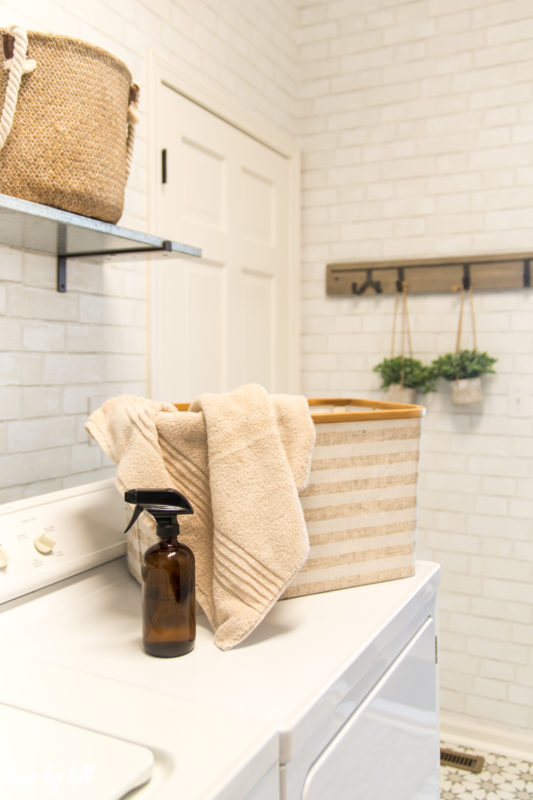 Since we walk into the mudroom from the garage, we needed a place to hang keys. I went with the mission modular collection from Pottery Barn.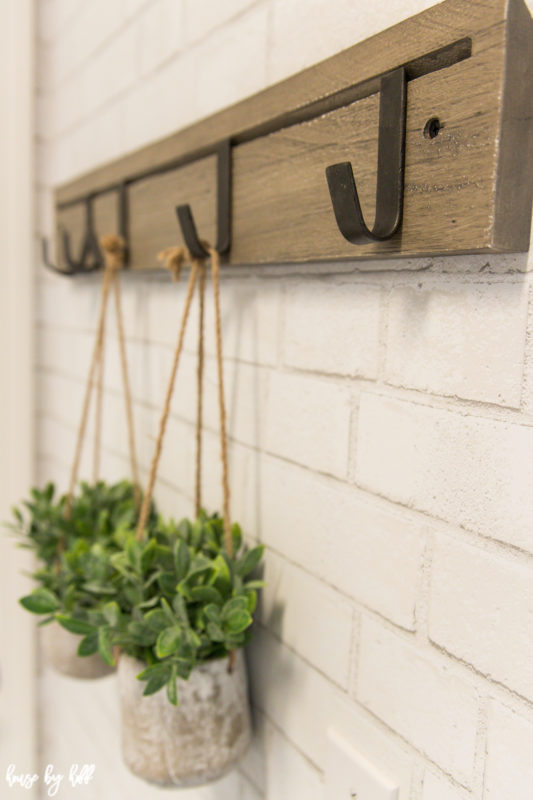 You can read all about our mudroom bench and storage system, and how we built it out of Ikea Hemnes pieces here.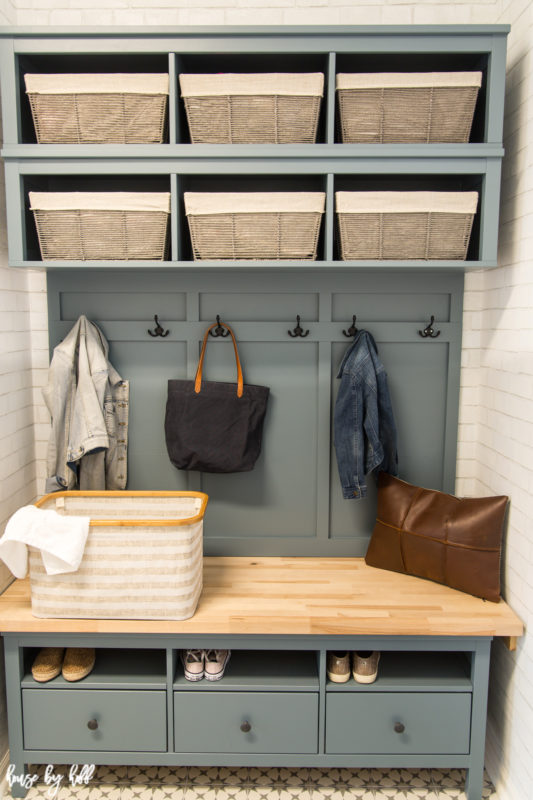 I found baskets that fit the Hemnes shelving units perfectly at Target. These twisted rope baskets hold a ton, and they do it while hiding the mess!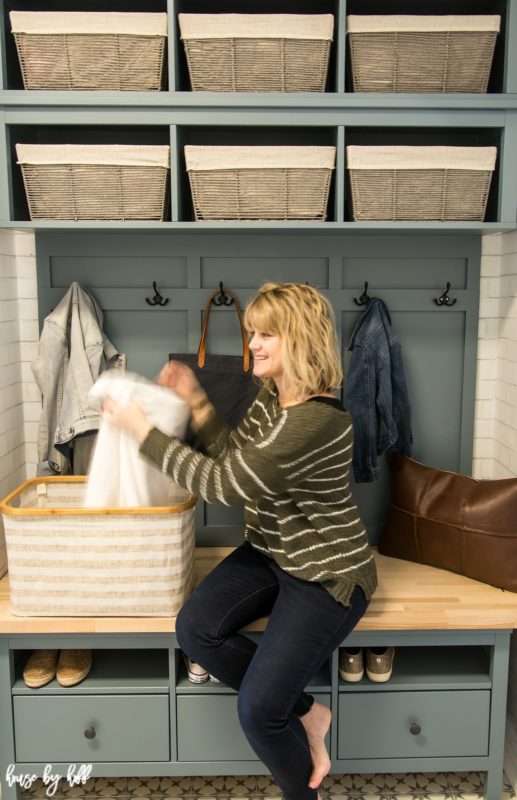 I store all of our winter gloves and hats, extra photography equipment, sunscreens and bug sprays, etc., etc. The mudroom storage options in this room are on point! 😉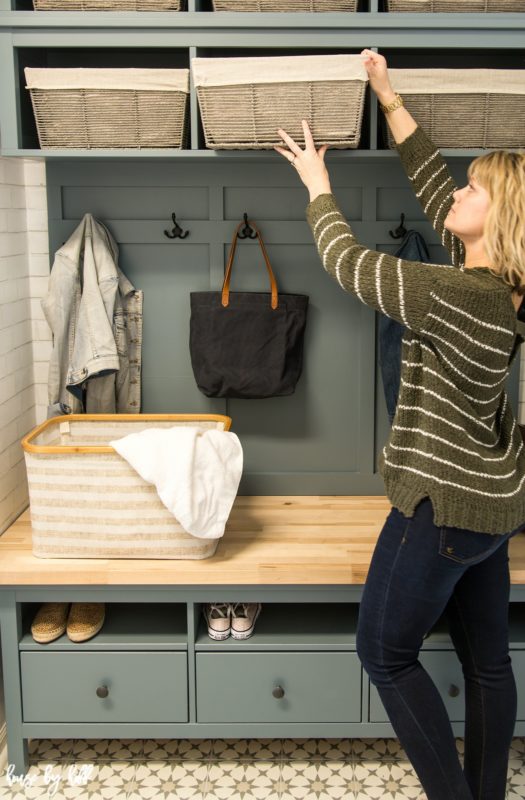 The paint color I used on our Mudroom Bench and Storage Unit is Providence Blue by Benjamin Moore. It's such a pretty medium blueish-grayish color. It looks great with the soft gray in the flooring and the blues and grays in the artwork.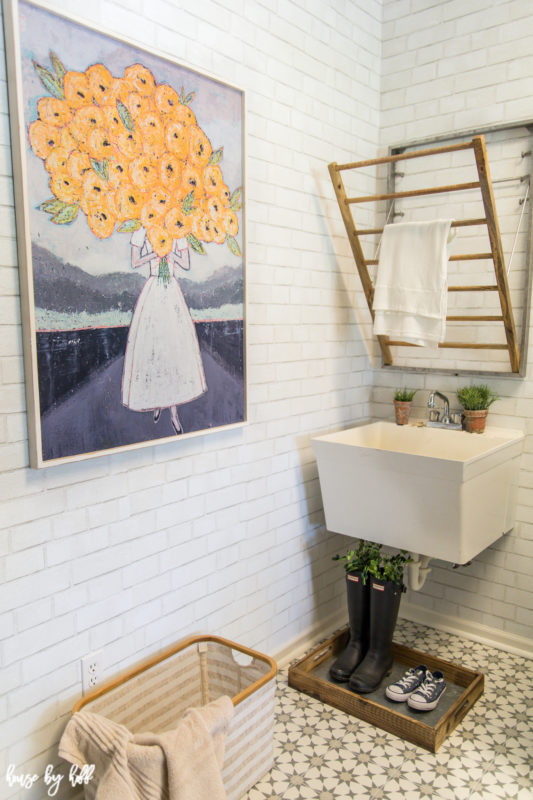 I also added a galvanized laundry drying rack over our utility sink. This is one of my favorite pieces in the mudroom, because it saves me from having to pull out our larger drying rack for every load of laundry! Whoop!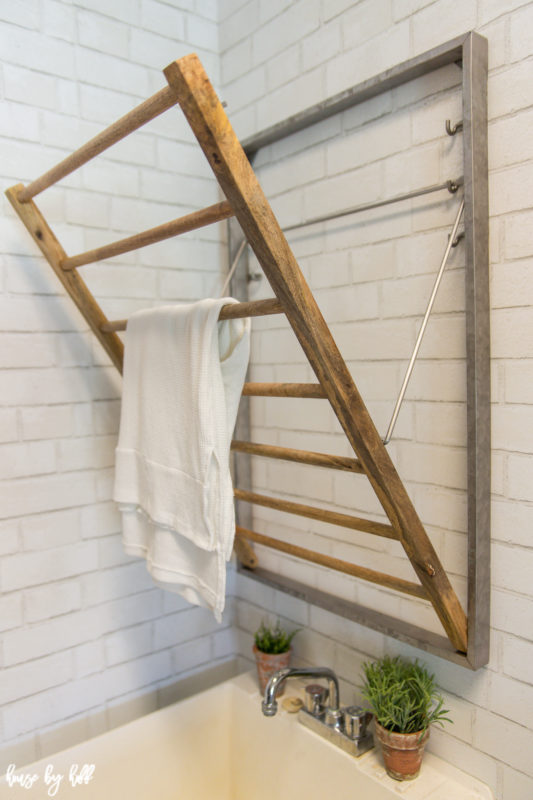 The shot below really shows how far we've come with our mudroom makeover! This space is completely transformed, and I could not be happier about it! We have better mudroom storage, and a beautiful room to walk in to when we come through our door. What could be better? 🙂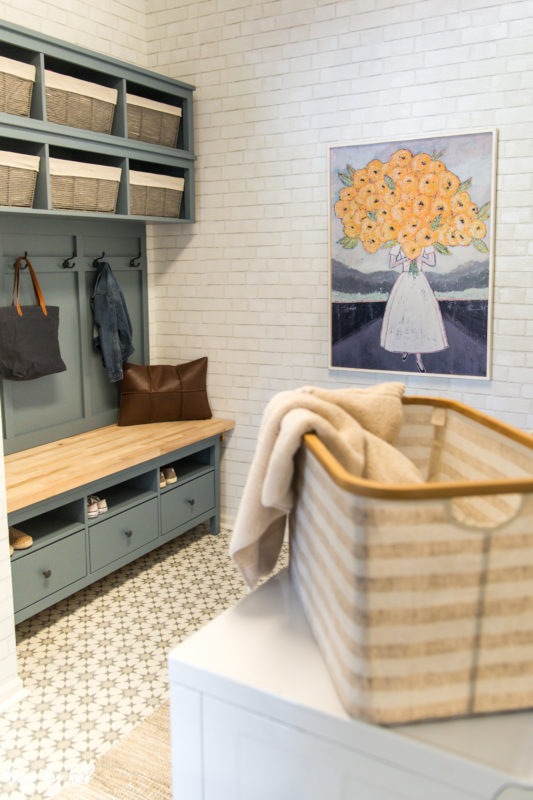 If you need ideas for how to add storage and style to small mudroom, make sure to pin this for later!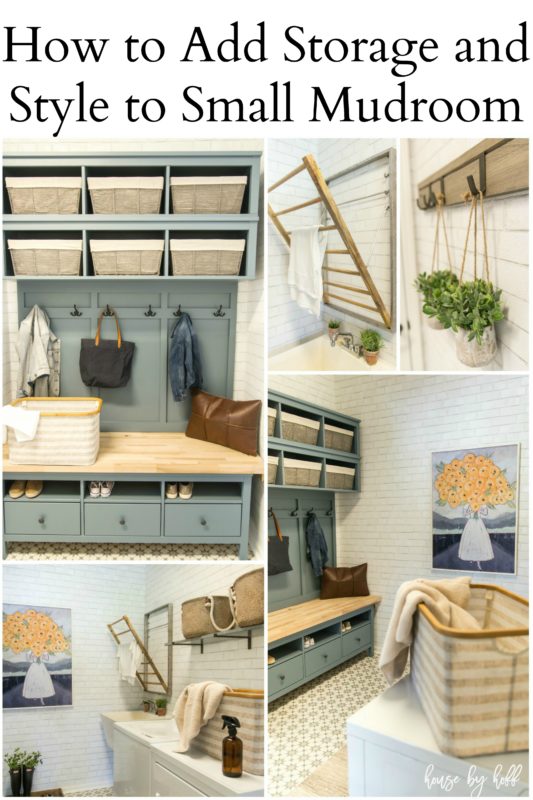 Also, you might want to check out how we built our mudroom bench and storage system!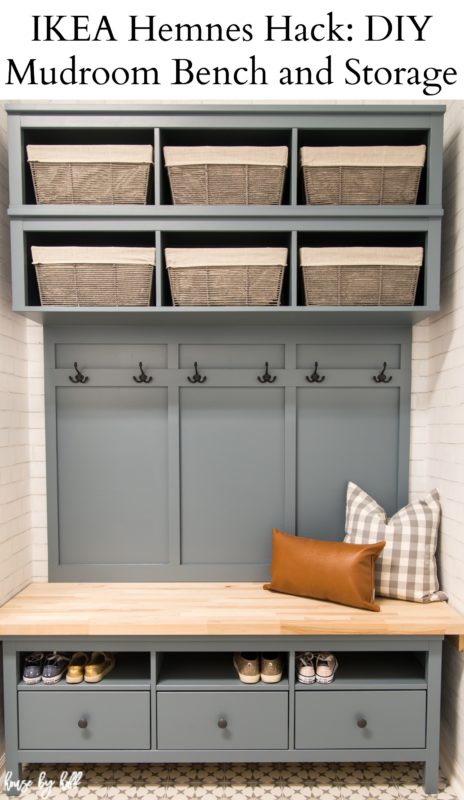 Get all of our mudroom makeover / laundry room sources below! Affiliate links are used! 🙂


Have a great day!