Hi, friends! Happy Friday to you! It's an especially happy Friday because it's the first Friday of the month, and that means it's time for my monthly girl guide! I started the House by Hoff Girl Guide to give myself the chance to get on here and talk about things other than decor. Don't get me wrong, I still love my decor, but I love a whole lot of other things too! I especially love girly, feminine things for myself and my seven-year-old daughter.
Last weekend I was in Nashville on a blogger retreat, which was fantastic! I got to spend 3 days with my blogging besties, I learned A TON, and it inspired me to continue to try new things and expand what I do here on the blog. I also grabbed a few new cute spring pieces to pack in the suitcase, which made putting together this month's girl guide super-easy!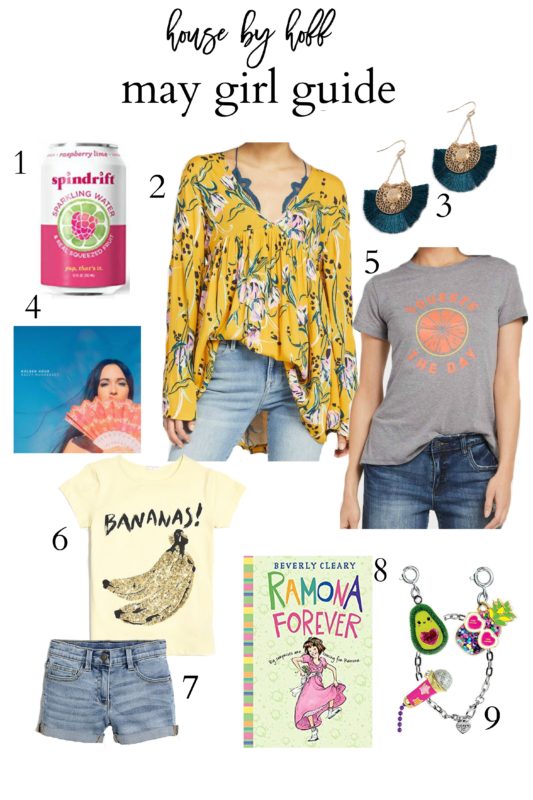 Maybe it's weird that I'm excited about this drink, but let me tell you, it's a special, special day when I get to drink my Raspberry Lime Spindrift. Allow me to explain. I live in a town with no Starbucks (which stocks Spindrift, and first got me hooked on this delish drink), and none of our local grocery stores stock it. So, when I figured out that I could order it on Amazon, I was pretty excited. I used to drink a lot of Diet Coke, but I was able to ween myself off by drinking La Croix (which I love), but I love Spindrift even more than La Croix…and that's saying something. It has more flavor than La Croix, but is still carbonated and has no sugar. I really love it. I feel like I've gone on a little too long already, but if you like carbonated beverages that are not soda, give it a try!
I stopped at my favorite store (Evereve) on my way down to Nashville last week, and grabbed up the last The Bella Printed Tunic they had. This tunic is everything I love in a statement top: flowy and colorful with a beautiful floral pattern. I love a tunic shirt that I can front tuck (if you watch my insta-stories, then you know I love a front tuck!). It's the perfect top that can be dressed up or down. I wore it in Nashville last weekend with my favorite jeans, my layered necklaces (just the longest one), and this bralette. It was such an easy and cute outfit! I loved it so much, I had Sarah teach me the ways of a lifestyle/fashion blogger and take some pics of me…ha! 😉  I can't decide what the heck that look on my face is all about…? I'm wearing a size small.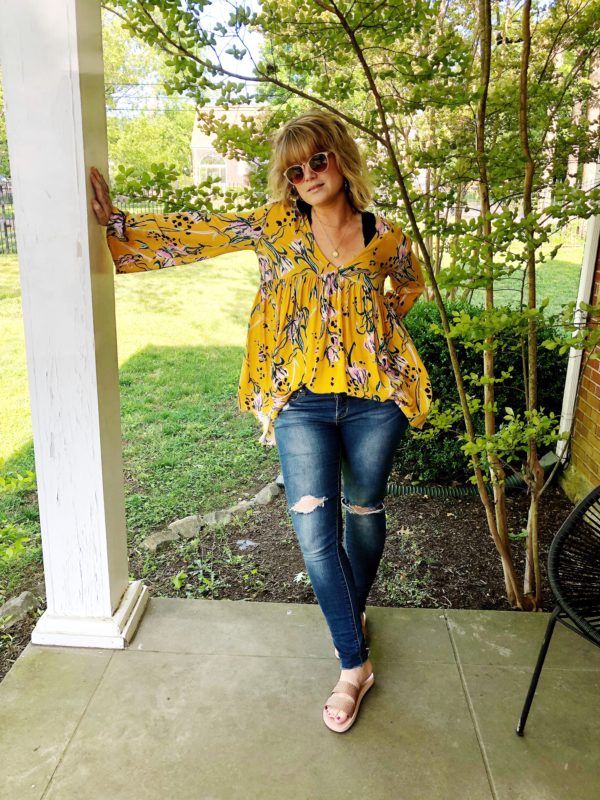 3. I'm also wearing these Kiki Fringe Earrings, although you can't really see them in the pic. They're lightweight, cute, and look good with so many things! They'll be perfect to put on with spring and summer outfits!
4. I may be late to the party, but I recently discovered and started listening to Kasey Musgraves. I have said the words, "Alexa play the album 'Golden Hour' by Kasey Musgraves" no less than 50 times in the last few weeks. I listen to it when I'm fixing dinner, folding laundry, cleaning up, taking pictures for the blog, etc., etc… She definitely falls into the country music category, but it's mainstream enough that even non-country music people will love it! 😉
5. I want to talk to you about Suburban Riot graphic t-shirts. They are the bomb. I've been wearing them for years, and let me tell you:  they do not run small, they do not run long, they do not wear out or get holes, and they do not feel tight on your arms or stomach...I hate that! Suburban Riot makes t-shirts that are roomy and flattering, are a great length, and have darling graphics that are not cheesy…I don't do cheesy tees, mmmmkay? Lately, I've been wearing this Sub-Urban Riot Squeeze The Day Graphic Tee a lot. I also own this Suburban Riot tee, and this one….and I have a crush on this one. I wear a size medium.
6. You didn't think I'd forget Miss L. in the graphic tee department, did you? Not surprisingly, I love to get her cute little graphic t-shirts too. My favorite place for kids' graphic tees is J.Crew Factory, and the latest addition to her t-shirt collection is this Bananas! Graphic Tee. She also has this Friyay t-shirt, which she has grown out of, and I kind of want get her another one…
7. To complete her casual spring/summer look, the girl has to have some cool jean shorts, am I right?! These Girl's Anywhere Jean Short fit the bill perfectly, and she thinks they look so cool and "like what the high-school girls wear…" Gotta love her!!!!
8. My girl is a reader, you guys! She loves to read, and is usually reading 2-3 chapter books at a time. My mom saved most of the chapter books that I read as a kid, so it's been really fun to rummage through my old books and pass them down to her. There is something so special about seeing my kiddo read and enjoy the same books I used to love! One of my all-time favorite series was the Ramona Collection by Beverly Cleary. She's currently reading Ramona Forever, and she is loving it!
9. The last thing on my May Girl Guide are these darling charm bracelets and Charms by Charm It! Miss L. saw and fell in love with these at a kids' boutique that we were in, so I pulled a sneaky move and bought her the bracelet and some of her favorite charms and put them in her Easter basket last month. The charms are easy to clasp onto the bracelet, and I'm looking forward to buying her more charms for her birthday and Christmas. She absolutely adores her charm bracelet, and especially loves the avocado charm, the pineapple charm, and the microphone charm. 😉
That wraps up my House by Hoff May Girl Guide! I hope you loved it!
If you missed last month's girl guide, you can check it out here!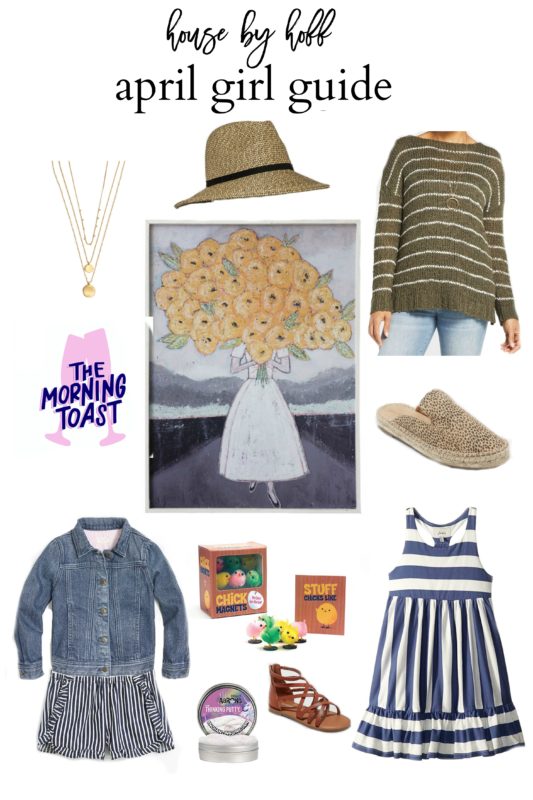 Have a great weekend!