The weather is cold and the days are short, which basically means I've been making all the soups, wearing the coziest clothes, and watching a lot of Netflix, Bachelor, Vanderpump, etc. While this isn't my favorite time of year, I basically have no choice but to embrace January for what it is:  a time to make healthy choices after the holidays, stay warm, and pass the time with good TV and books. The first Girl Guide of 2020 is focused on all the things that I'm wearing, using, and watching. 😉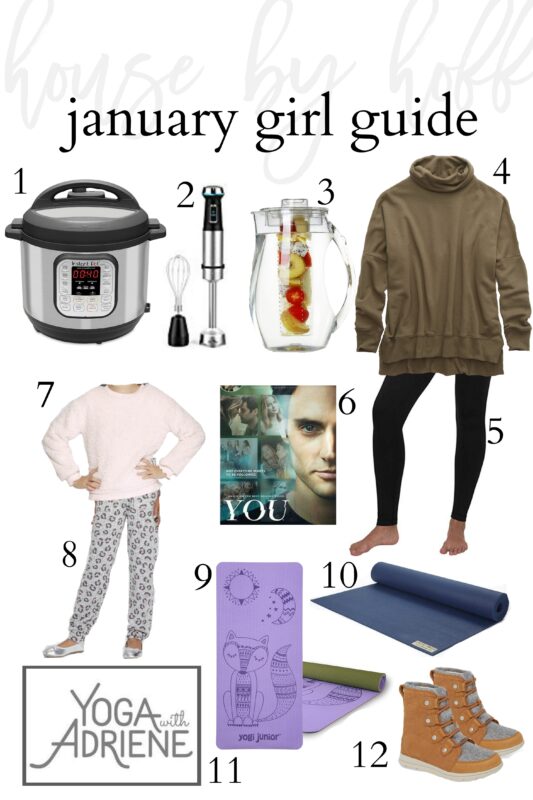 My Instant Pot has hardly been given a break this January.  I (like many of us) am focused on slimming back down after the holidays, and one of the best ways to do that is by making low calorie soups. They're filling, they're hot, and there is just nothing better than a fabulous soup in the winter.  Making soup in the Instant Pot is SO easy and very fast!  My current favorite healthy soup to make is this Quick and Easy Broccoli Soup.  It's very tasty, and very low-calorie.  I also really like making the soups in my friend, Cami's, book: Master the Electric Pressure Cooker.  The Chicken Noodle Soup recipe is fantastic (I just cut back on the condensed soup, and skip the evaporated milk to make it a lighter recipe.)  I also like this Instant Pot Quinoa tutorial.  I eat quinoa almost every morning with almond milk, sliced almonds, and blueberries…yum!
2.  One of the keys to successful Instant Pot Soup making is having a good Immersion Blender to blend up all those veggies and give yourself a thicker broth.  Yes, you can run your soup through a blender, but it's so much easier to just use the immersion blender right in the Instant Pot.  Less mess = happier me.
Here's the broccoli soup in my Instant Pot.  After pressure cooking, I just stick my immersion blender right in there and blend it up.  Easy, peasy.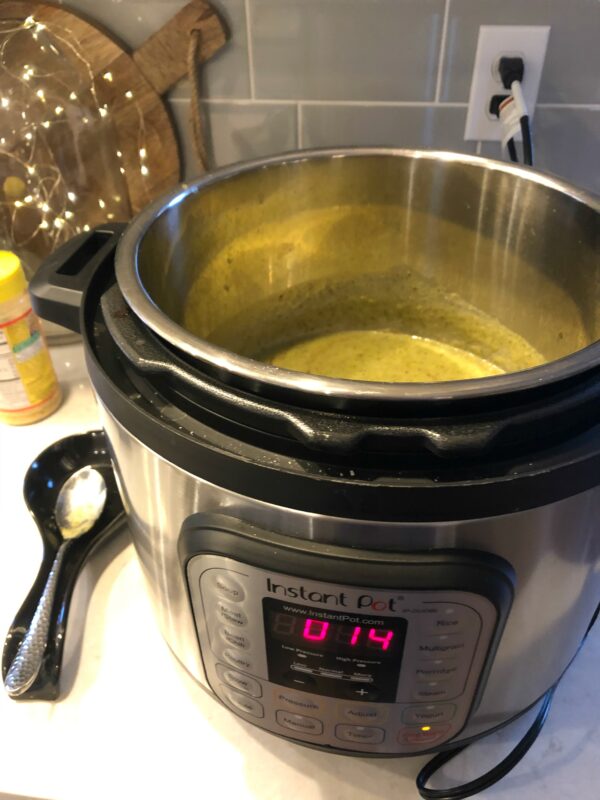 3.  Another tactic I'm using to lose the unwanted holiday weight is to drink a lot of water.  But, here's the problem:  I don't like water.  I do, however, enjoy fruit-flavored water.  I use my fruit infuser water pitcher to make deliciously flavored water that I actually like to drink!  My favorite infusion water is with fresh basil, strawberries, and lemons.  I read somewhere that it's a good detox water, and it tastes great.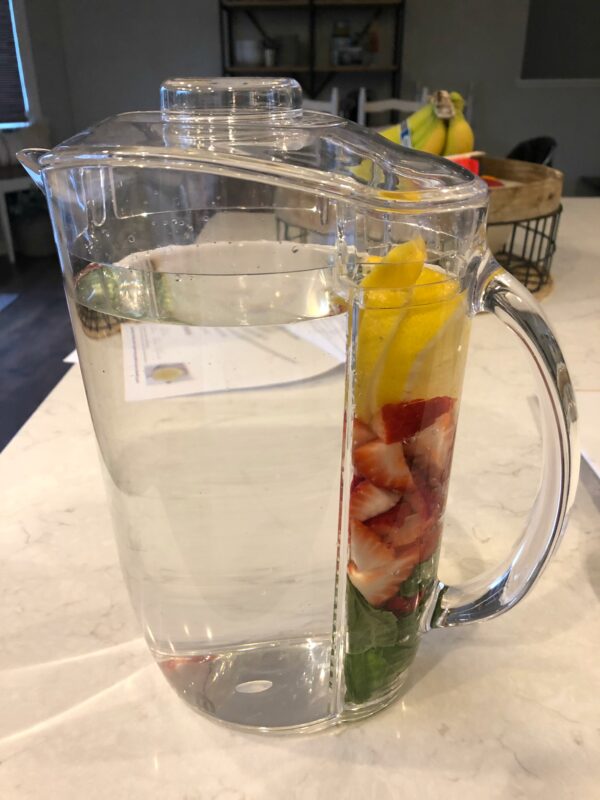 4.  My mother in law is a very good gift-giver, and one of my favorite things she got me for Christmas was this Aerie Sunday Soft Oversized Turtleneck Sweatshirt.  Ohhh boy, it is REALLY good.  It's very soft and cozy and covers my bum, so I can wear it with leggings. It looks nice enough to run errands in, but is soft enough to lay on the couch and watch movies in.  They also layer really nicely under puffer vests or coats.  My MIL gifted me the pretty beige color, and I loved it so much that I quickly ordered the green too.  This is my new winter staple, and they are priced UNDER $20!  I wear a small, and I would say the fit is very generous.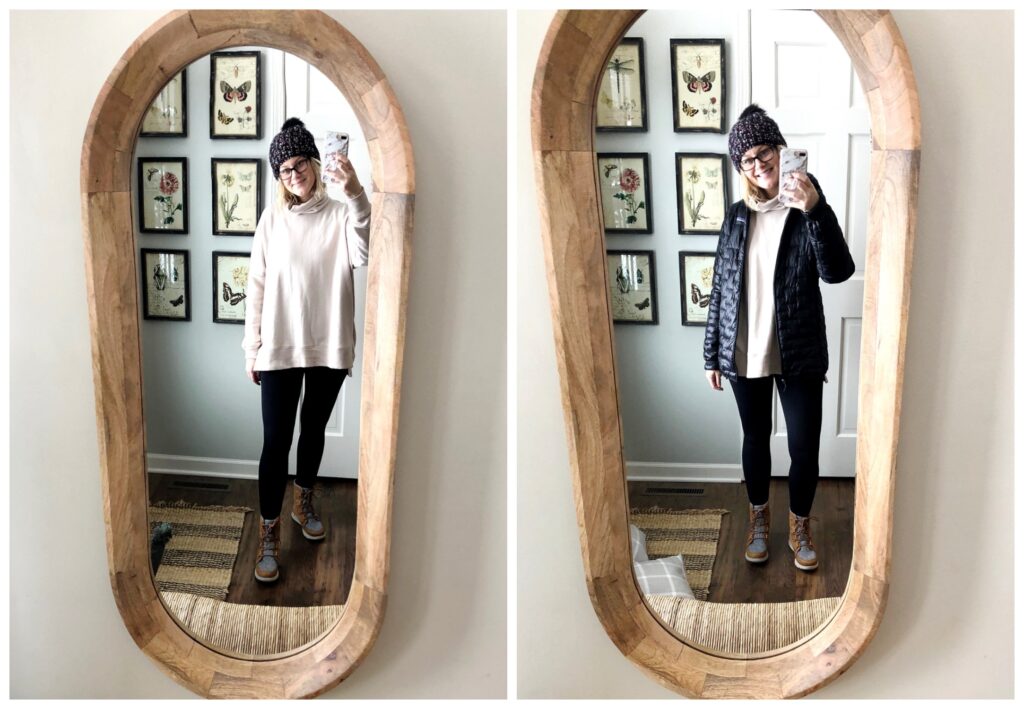 5.  My other winter staple has been these fleece-lined leggings from Amazon.  The fleece lining gives more warmth, which is perfect for winter!  We went on a cold-weather hike at the end of December, and they definitely helped keep my legs warm!  I am wearing a size M.
6. I have a couple of friends who got me completely HOOKED on the Netflix series, You.  It's a thriller series that centers around the relationship between a guy named Joe and the girl he stalks, Beck.  The Netflix description reads, "A dangerously charming, intensely obsessive young man goes to extreme measures to insert himself into the lives of those he is transfixed by."  It's strange, but I found myself really liking Joe, and almost rooting for him at times.  He's very humorous, self-deprecating, and even sweet as he gets himself into all kinds of trouble.  As the viewer, you almost can't decide if he's bad or not….until the end.  Then you have some definite clarity.  I have only watched season 1, but I would highly recommend!  I also just watched seasons one and two of Big Little Lies (which I know everyone knows about, but if you haven't watched it, I would highly recommend that one too!)
7. / 8.  I'm not the only one that likes to be cute, comfy, and warm this January!  Miss L. loves her new cozy leopard joggers and faux fur sherpa.  If her outfit came in my size, you know I'd be wearing it!  I love to snuggle her when she's wearing this soft fleece!  She get annoyed with me because I find myself petting her like a dog…ha!  😉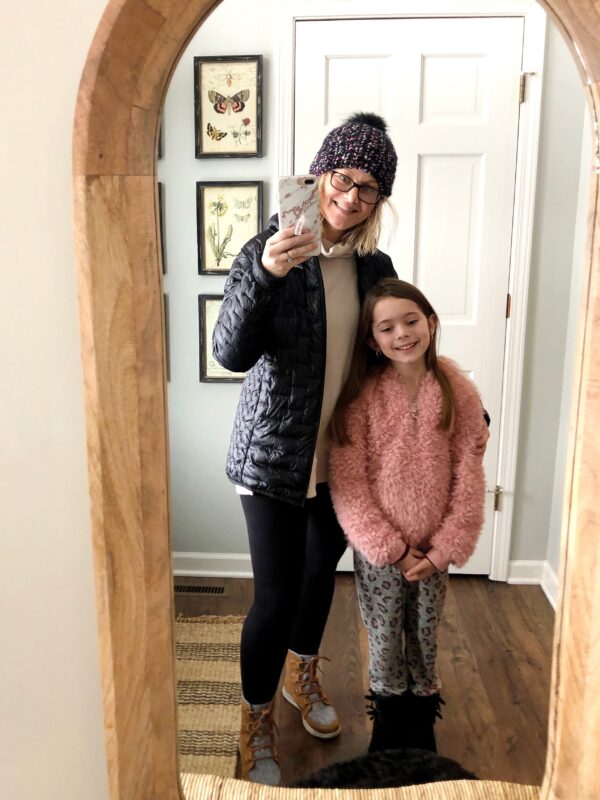 9. / 10. / 11. My little lady and I share a love for yoga.  Ok, so maybe I love it a little more, but she does like to get on her kid yoga mat and join me when I do yoga at home. My MIL got me a new Jade Harmony Yoga Mat for Christmas, and I'm never going back to the cheap ones!  It's heavy-duty and no-slip, and gives me such a nice cushion! Truthfully, I really prefer to go to yoga class, but when I feel like I need to de-stress, move my body, or just do a little stretching at home, Yoga with Adriene has been my go-to YouTube Yoga channel for quite some time.  Her videos range from 10-35 minutes, and they are very easy to do at home.  Her laid-back and humorous approach to her practice is perfect!
12.  Last, but certainly not least, are my fantastic Sorel Explorer Joan Boots.  They're a sneaker/winter boot hybrid, and they're absolutely perfect for winter!  They're so light-weight and comfortable, but so warm and stylish too.  I can wear them on a hike or throw them on with my leggings as a sneaker alternative when the snow and slush is on the ground.  You know how awful it is to try to wear sneakers in the snow…it just doesn't work!  They really exceeded my expectations, and they'll be on my feet from now until March.  I'd say they are true to size, but size down if you are between sizes.