My favorite things of 2020 can best be compiled into a an extensive list of my favorite things for girls of all ages.  Anyone who knows me well, knows that I really love to pick out extra cute, extra sweet, and extra special things for the girls (and women) in my life.  I love to buy gifts for boys too, but I'll be honest, it's the girly gifts that make me swoon.  Last year I did an Ultimate Gift Guide for Girls, and the response was outstanding.  Since it was such a hit last year, I figured I'd dive back in this year to find the best and my most favorite gift items for 2020.
Once again, I've organized my gift ideas by age in hopes that it will benefit you the most!  Many of these gifts could easily be used in more than one age category, but the age categories will help as a general guide.  It should also be mentioned that many of these toys and gifts could be enjoyed by both girls and boys!
The Ultimate Gift Guide for Girls of All Ages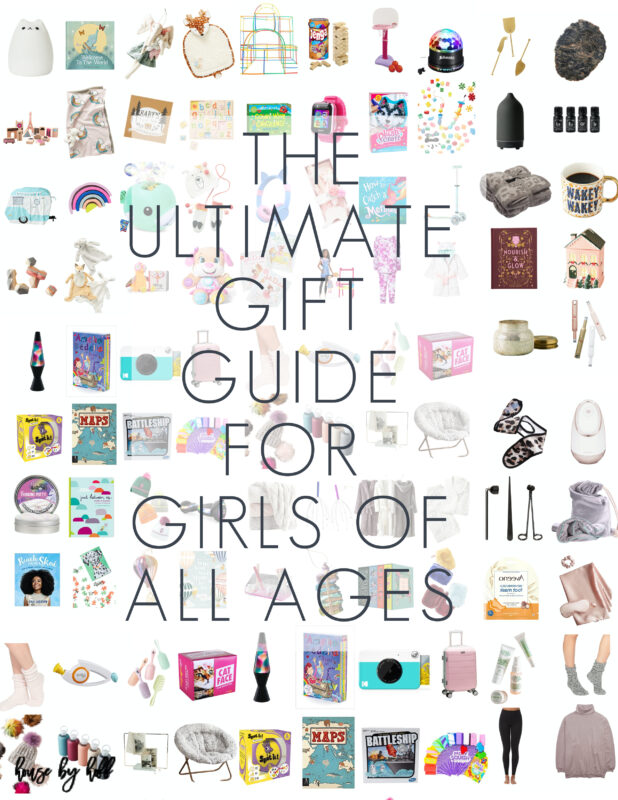 Ages 0-3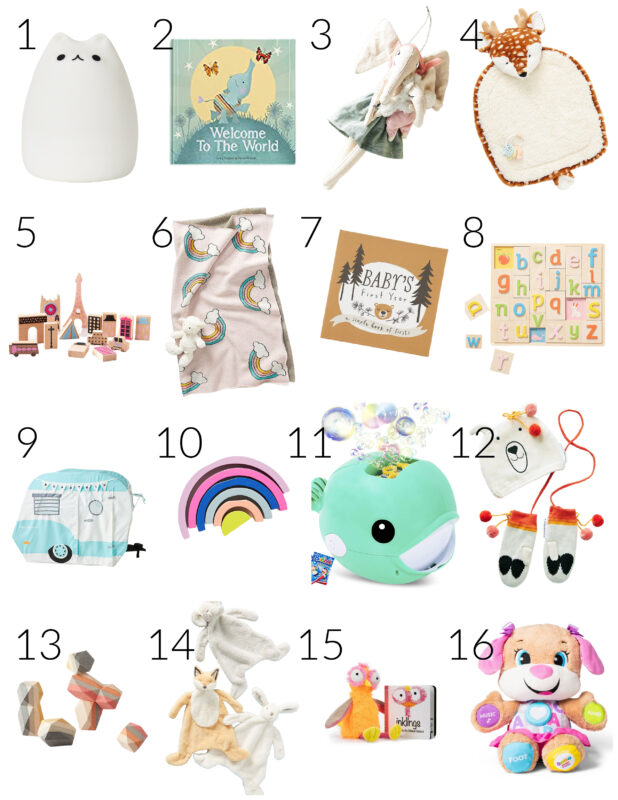 2. Welcome to the World Book: Keepsake Gift Book
3.  Mama and Baby Elephant Ornament. (would go great with #2)
11.  Bubble Machine
12.  Toddler Hat and Gloves Set
15. Inkling Ollie Plush and Book Set
16.  Laugh and Learn Smart Stages Puppy
AGES 3-6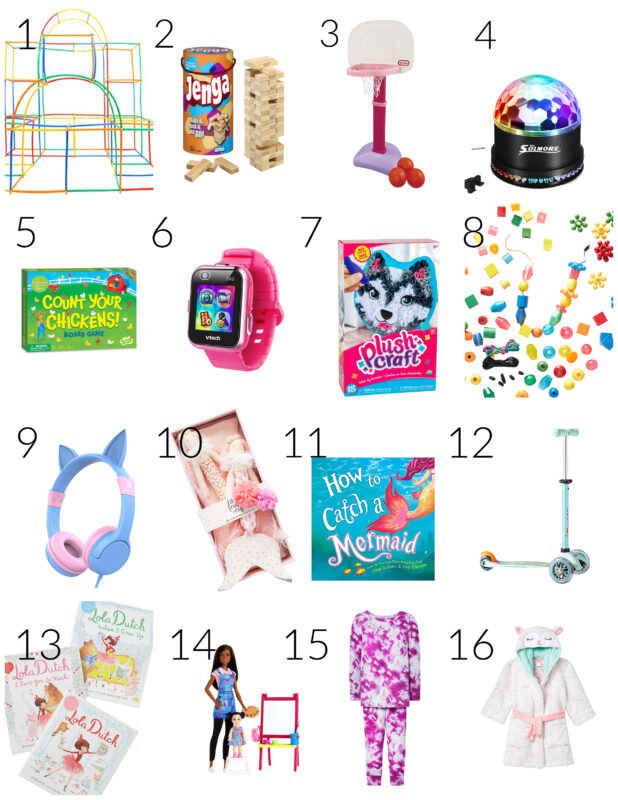 1.  Straw Construtor STEM Building Blocks. (Miss L is nine, and still plays with these!)
2. Jenga Game
3. Little Tikes Easy Score Basketball Set
10.  Little French Rag Mermaid Doll Set. (would go great with #11)
11.  How to Catch a Mermaid Book
12.  Mini Deluxe Balance Scooter
14.  Barbie You Can Be Anything Art Teacher
16.  Llamacorn Robe
AGES 6-9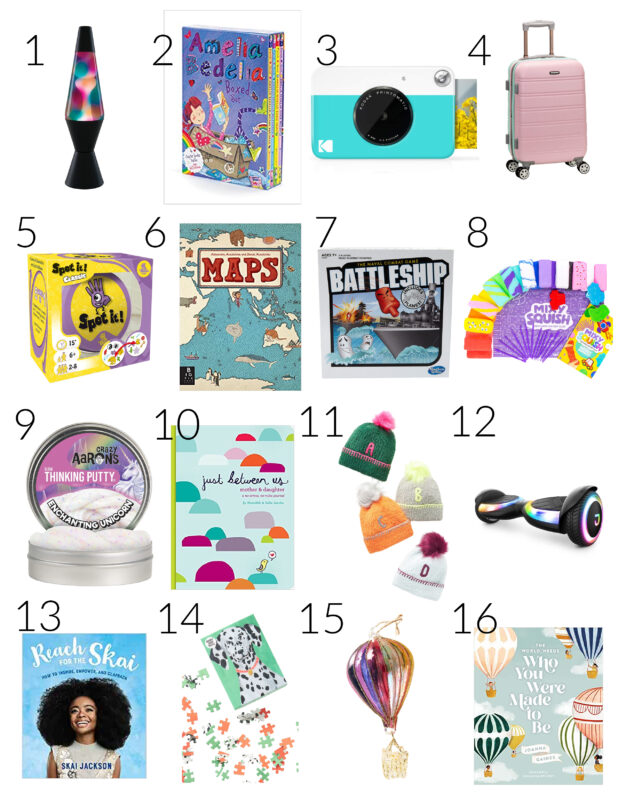 1.  Lava Lamp
2. Amelia Bedelia Chapter Book Set
3. Kodak Printomatic Digital Instant Print Camera
4. Hardside Expandable Spinner Wheel Luggage
6.  Maps Hardback Book (This is a beautiful book of maps for kids.)
9.  Enchanting Unicorn Thinking Putty
10.  Just Between Us:  Mother/Daughter Journal
12. Jetson Sphere Hoverboard (We can't get Miss L. off of hers! She loves it!)
13.  Reach for the Skai:  Skai Jackson Biography (Miss L. can't put this one down!)
15.  Hot Air Balloon Ornament (would make a great gift with #16)
16.  The World Needs Who You Were Made to Be (Joanna Gains' new children's book….SO beautiful!)
AGES 10+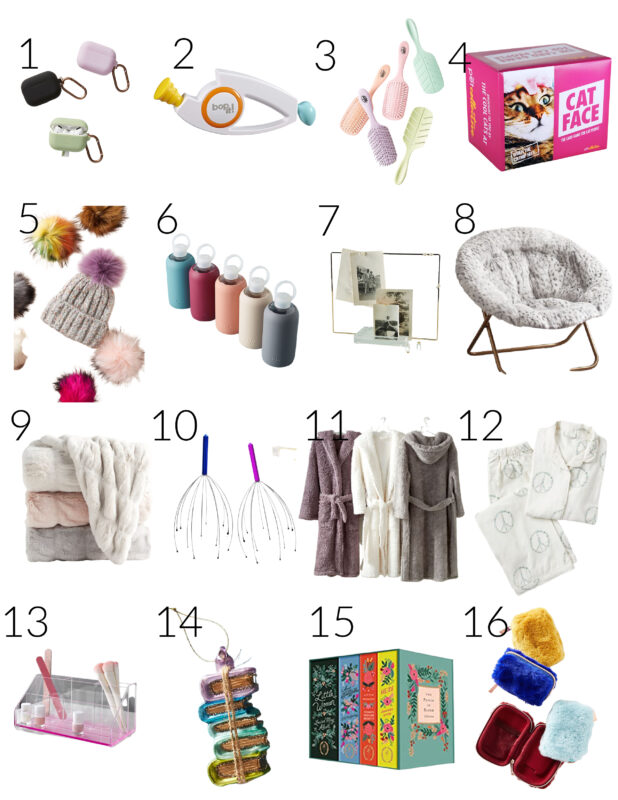 3.  Wet Brush Oil Infused Shine Detangler Brush
4.  Cat Face Meme Party Game  (not for young children, 16 years+)
5.  Pick-A-Pom Fluffy Topper & Pick-A-Pom Beanie Base
6.  Reusable Glass Water Bottle
8.  Gray Leopard Faux Fur Hang-Around Chair  (Miss L. is getting this for Christmas this year!)
10.  Scalp Massagers (Miss L. and I LOVE these!!!)
12.  Peace On Earth Organic Flannel PJs
13. Pink Acrylic Makeup Organizer
15.  Puffin in Bloom Classics Collection
For Grown-Up Girls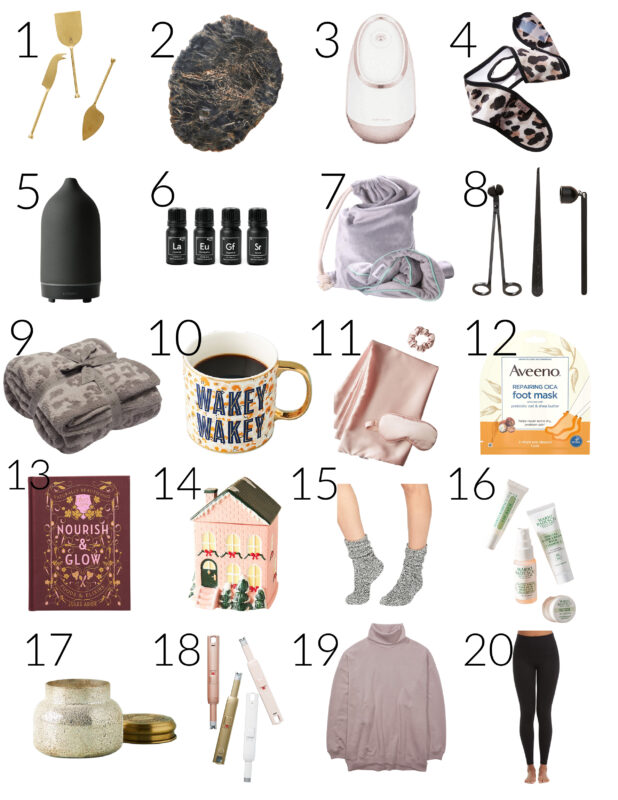 1. Arden Cheese Knives. (Pair with #2)
2.  Petrified Wood Cheese Board
3.  Vanity Planet Facial Steamer (Just ordered mine, and I can't wait! I've heard to use it with this cleanser.)
4. Kitsch Cleanse Ritual Microfiber Headband. (Pair with #3 or #16)
5.  Vitruvi Stone Diffuser (I have one in my bedroom & kitchen and use them daily!  Pair with #6)
6.  Vitruvi Essential Oil Starter Kit (Lavender, Eucalyptus, Grapefruit, & Spruce) I'm almost out of Spruce!  Love it!
7.  Microwavable Weighted Neck & Shoulder Wrap (I use mine almost every day!)
8.  Wickman Candle Accessories (Great to pair with #17)
9.  Barefoot Dreams Cozychic Blanket  (Worth the hype.  Treat yourself. Enough said.)
10.  Wakey, Wakey Mug
11.  Kitsch Satin Beauty Sleep Set
12.  Aveeno Repairing Foot Mask (Anyone else get dinosaur feet in the winter??)
13.  Nourish and Glow: 75 Food & Elixir Recipes for Radiant Skin
14.  Townhouse Four Wick Ceramic Candle (Saw this in-store, and nearly fainted of cuteness.)
15. Barefoot Dreams Socks (My faves in the winter!)
16.  Dewy Skin Delights Collection
17.  Capri Blue Spiced Cider Candle
18.  USB Candle Lighter (I really love mine! Also great to pair with #17))
19.  AE Fleece Oversized Turtleneck Sweater (Wear mine all the time with leggings)
20. Spanx Leggings (My personal faves. Size up.)
***
I hope you enjoyed The Ultimate Gift Guide for Girls of All Ages!  I sure had fun putting it together for you!  Check out these fabulous favorites from all of my friends!  Thanks, Meg, for organizing!
Green With Decor – My favorite things 2020
Charleston Crafted – My favorite things 2020
construction2style – Our favorite finds 2020
Bright Green Door – My favorite things 2020
Average But Inspired – My favorite things 2020
House by Hoff – My favorite things 2020
Lovely Etc. – Favorite things gift guide
Simple Nature Decor – Favorite 2020 holiday gift ideas for kids
White Cottage Home & Living – My favorite things 2020
Shining on Design – My favorite things 2020
Sincerely Sara Meadows – My favorite things 2020
Houseful of Handmade – My favorite things 2020
Old House to New Home – My favorite things 2020
This is our Bliss – My favorite things 2020