The month is almost over, and that means our New Year, New Room Refresh must be finished, and much to my relief, it is!  This Girl's Bedroom Refresh has been one of the most fun room makeovers to date.  We love doing special things for our girl, and we were up to the challenge of giving her a space that she loves and can grow into for the next several years.
Girl's Bedroom Reveal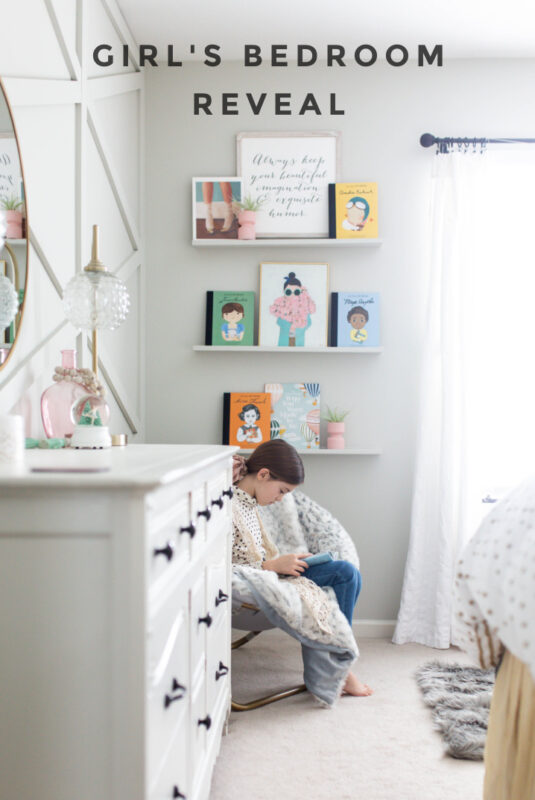 The Before:
Before we tackled the room, it looked like this.  (Bad lighting + cell phone photos = before photos that look worse than the room actually looked…I just need you to know that.) The sweet little girl room that I decorated for my three-year-old was no longer reflecting her style.  I will always love this vintage floral wallpaper, but she was ready to have a more updated room, and we were ready to give her the gift of a space that reflected her.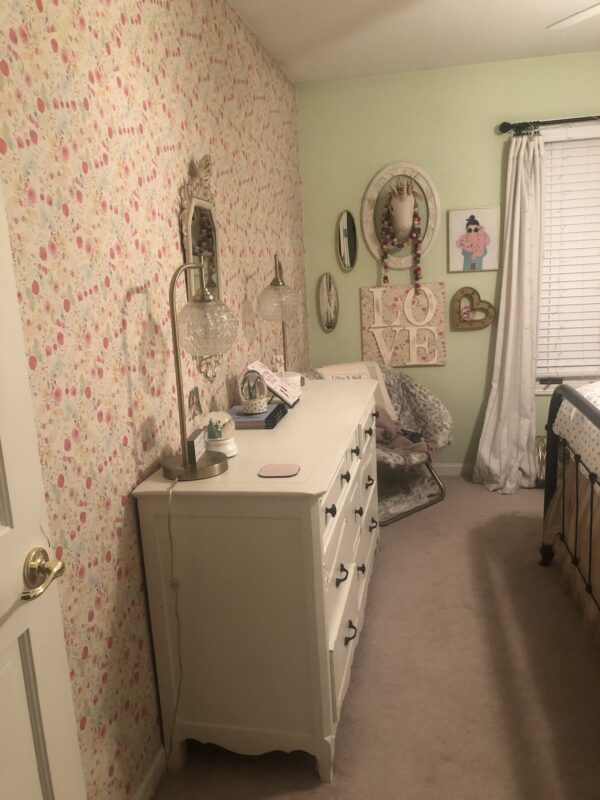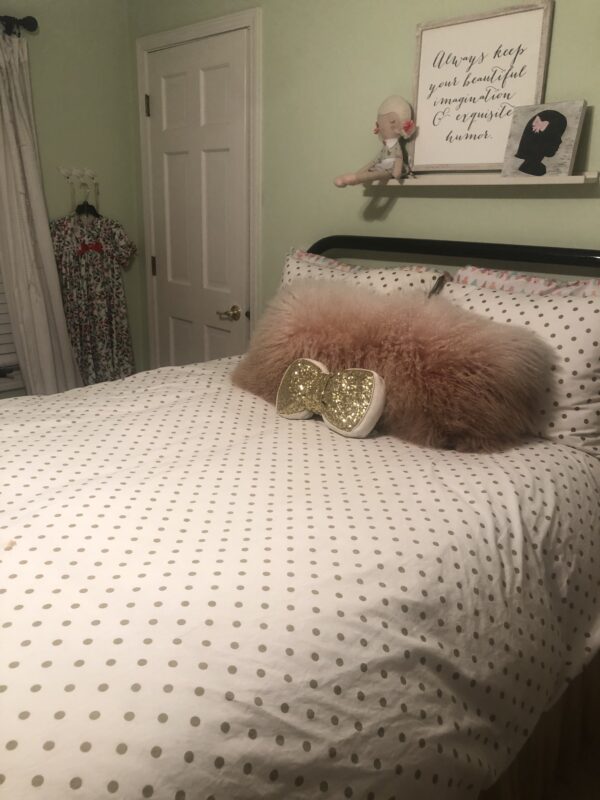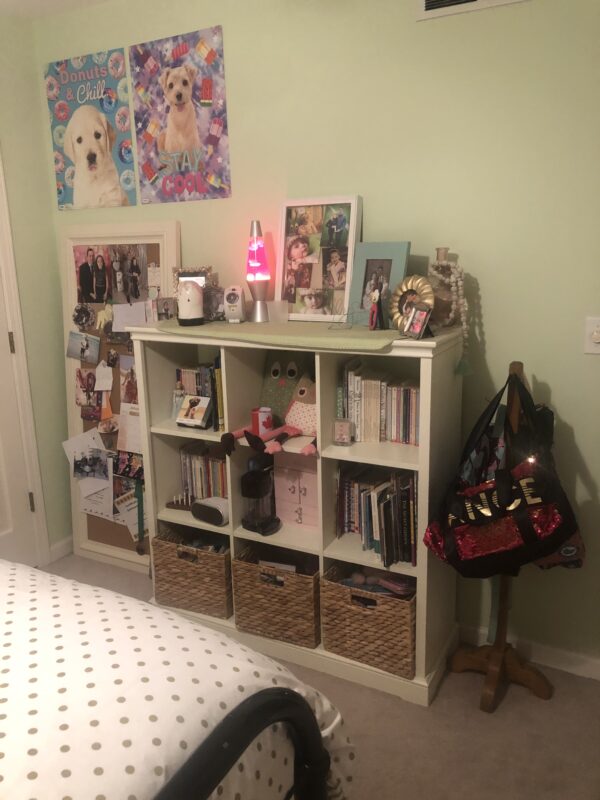 The Plan
As a quick reminder, this was the inspiration board I put together before we tackled this room makeover.  The plan was to reuse almost all of the furniture, but update the space with gray walls, a DIY Board and Batten Triangle Wall, and gold and pink accents.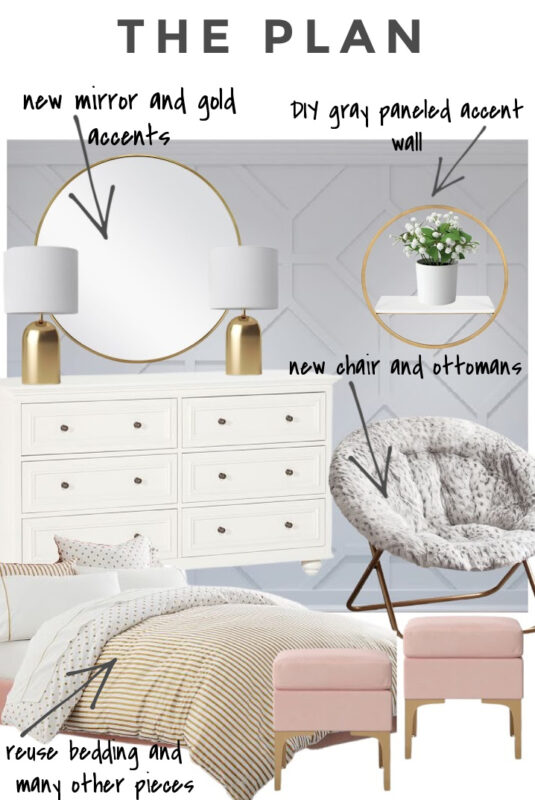 The After:
And here is what the room looks like now!  A beautiful space for our growing girl!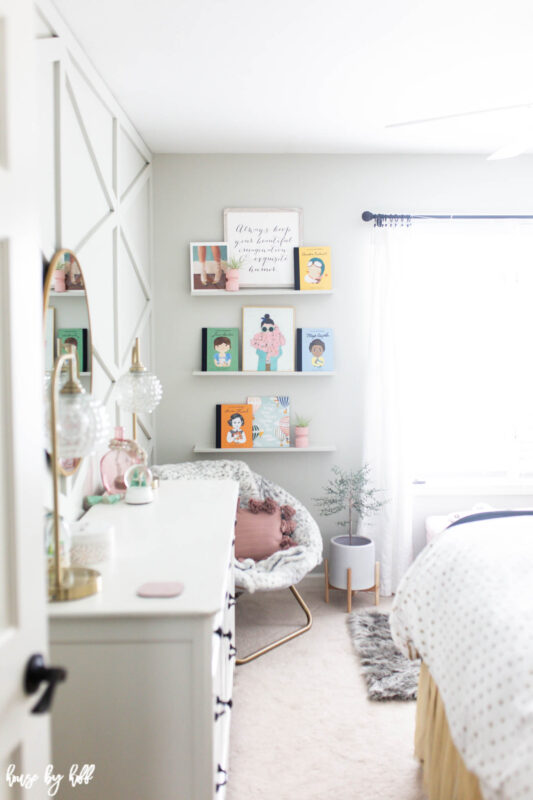 TheDIY Board and Batten Triangle Wall turned out SO good!  It challenged our DIY skills for sure, but I think we nailed it, (pun totally intended), if I do say so myself.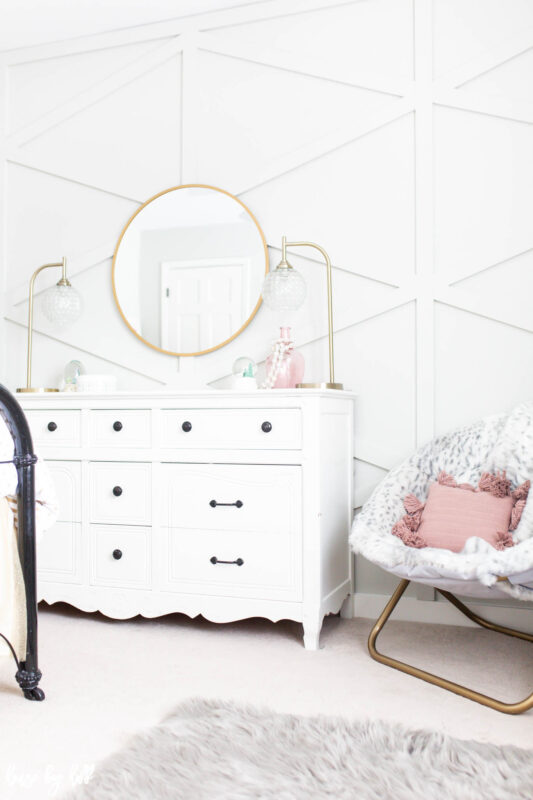 This wall absolutely makes the room.  It adds such visual interest and really makes it feel special and unique.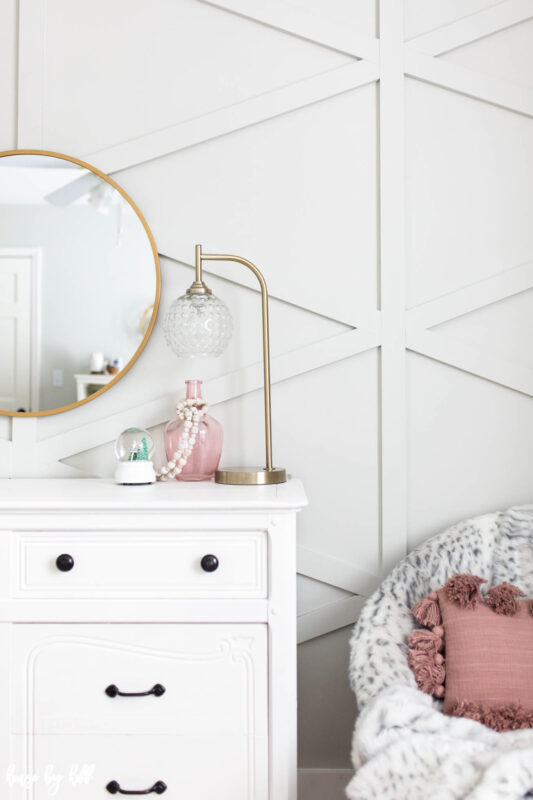 Does Miss L. love it?  Heck, yes she does!  She and her little doggy have a new place to snuggle, read, and hang out with friends!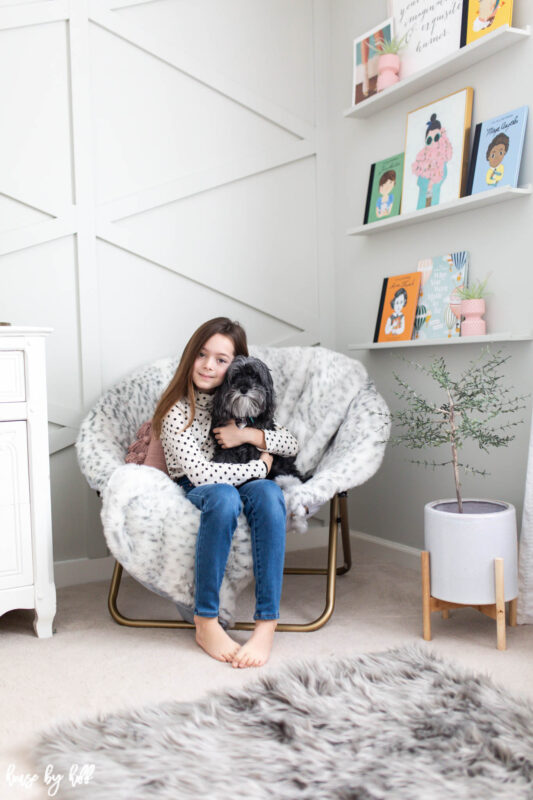 One of my favorite things about the room is the little shelf wall behind her Gray Leopard Hang Around Chair.  I stocked it with The Little People, Big Dreams: Inspiring Writers set since Miss L. loves to read and write.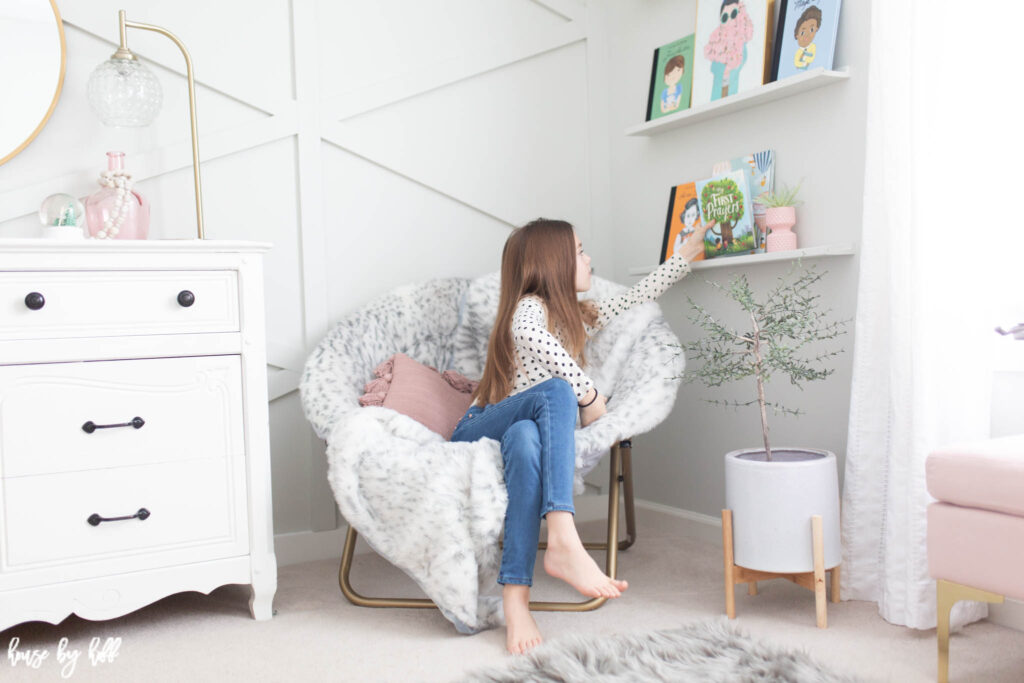 We rearranged the furniture a bit, so that she now has a big open space at the foot of her bed.  She loves having a space to play and hang out.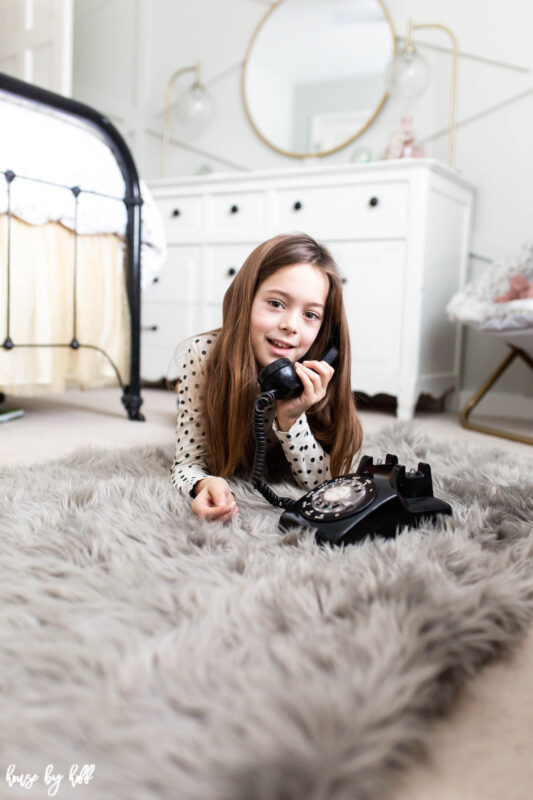 Her bed (my great-grandmother's), and all of the bedding remains the same as it was before.  When she first transitioned into this big girl bed, I purposely chose bedding that would transition with her as she grew.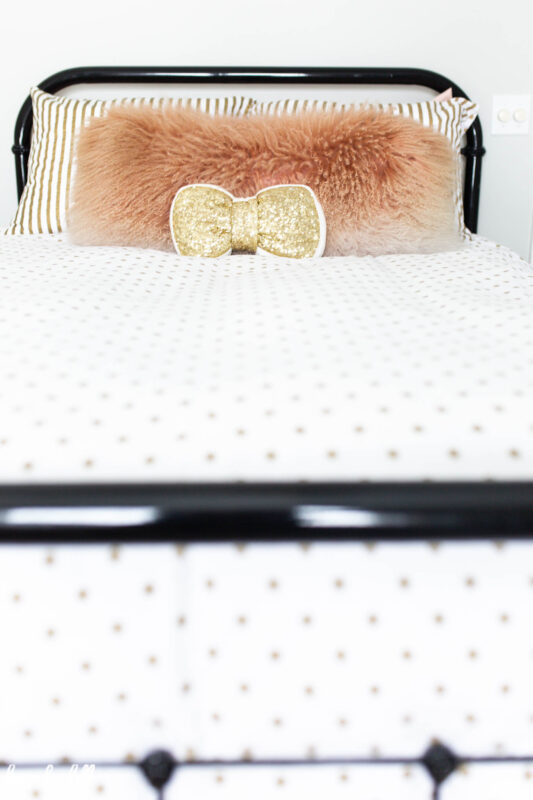 Her shelves got moved to a different wall, and she proudly chose the circle shelf as one of her accessories for her new room.  I think it looks so cute!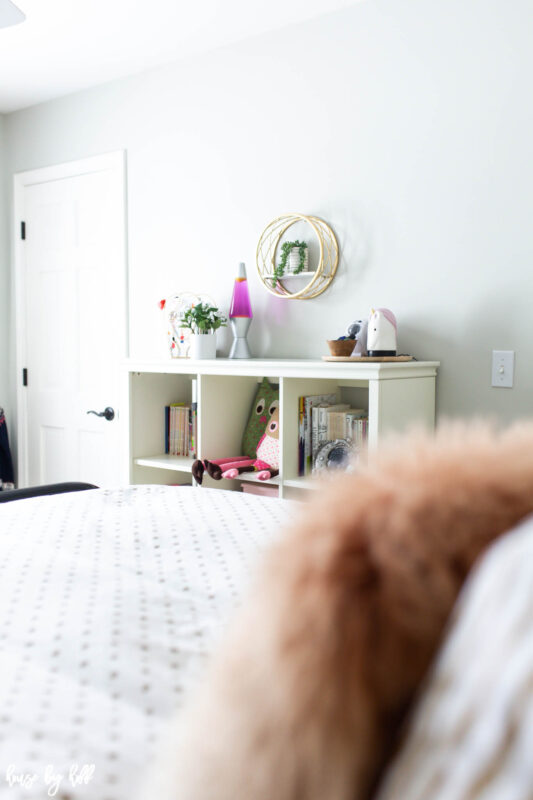 Another item I wanted to reuse was my grandmother's vintage mirror.  It's scrolly and feminine, and perfect for this space!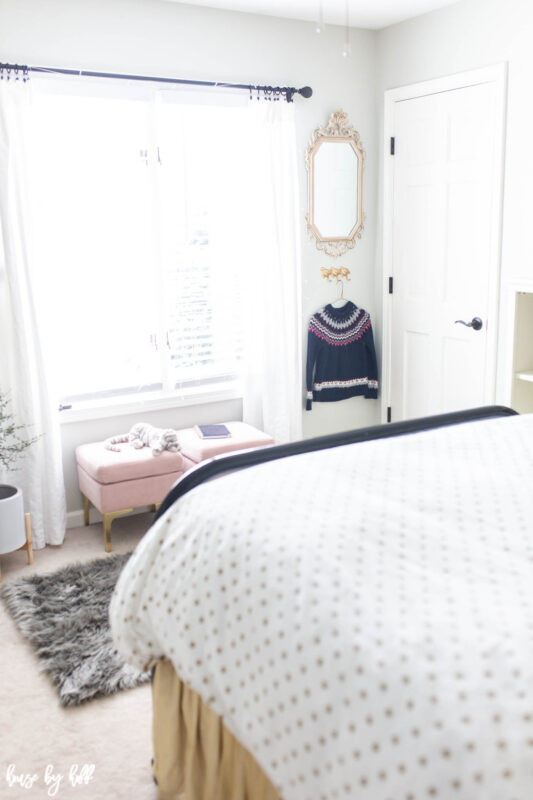 These cute Brass Leg Ottomans really bring an elegant finish to the room.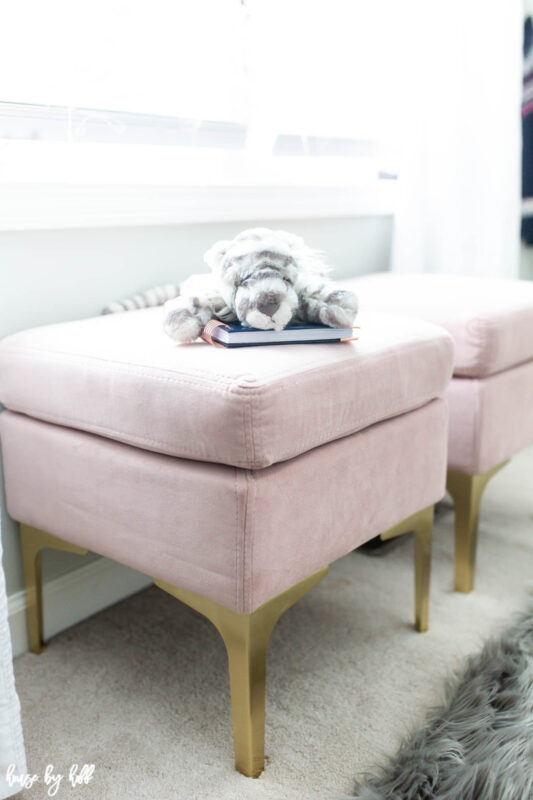 We really couldn't be more pleased with the way her room turned out!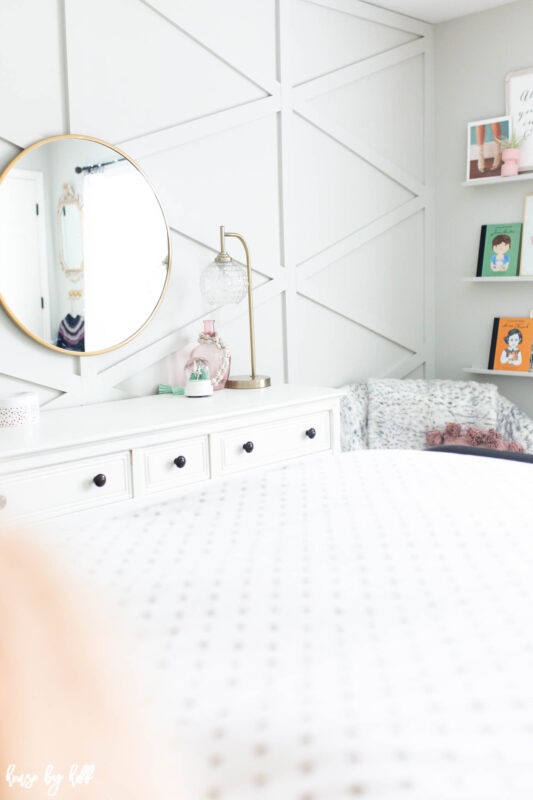 A fun and feminine space for our growing girl!  What could be sweeter?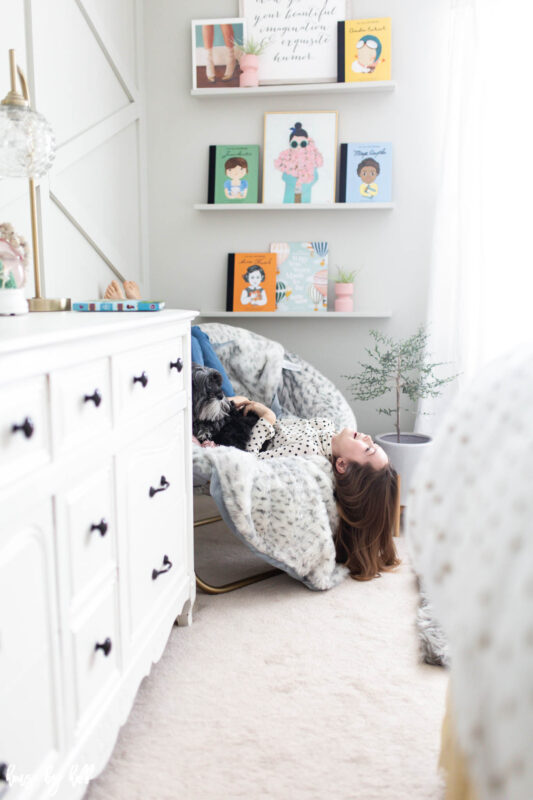 If you love how this turned out, and want to check out how we completed The DIY Board and Batten Triangle Wall!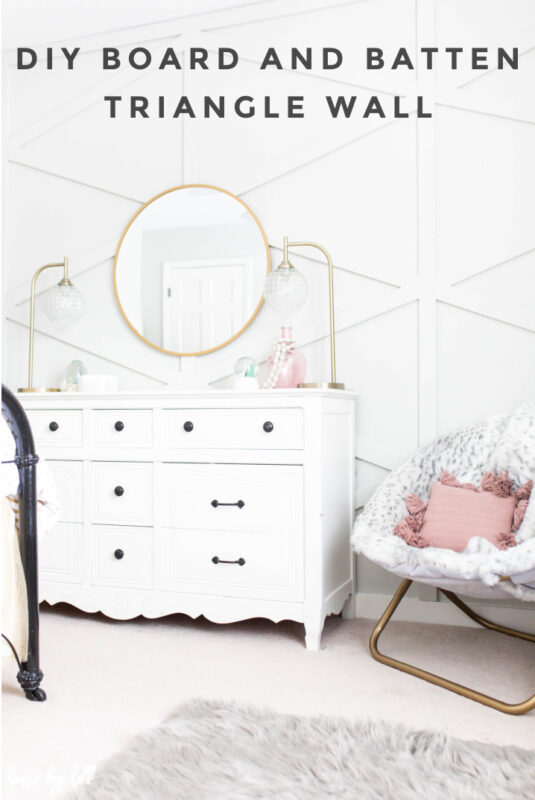 I'm not the only one who finished the New Year, New Room Refresh Challenge!  Be sure to check out how all these talented ladies finished their rooms!
Casa Watkins Living // Up To Date Interiors // House by Hoff // Our Fifth House // Jeweled Interiors // Blue I Style // Domicile 37 // Delineate your Dwelling