NYNRC Week #2:
We're back for the next installment of the New Year New Room Refresh Challenge!  If you'd like to catch up with what has been a master bath refresh journey over the last ten years, be sure to check out last week's post.
Bathroom Updates: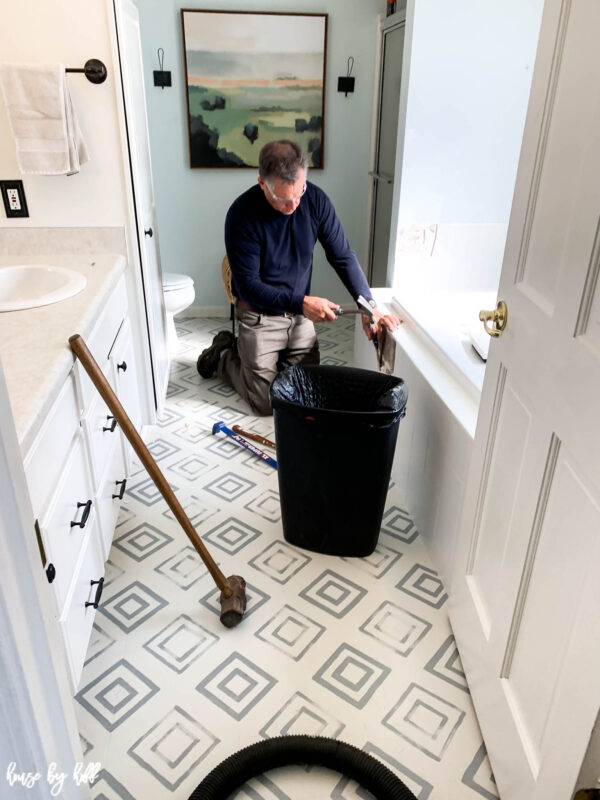 We've been busy in the master bathroom!  One of the biggest goals was to remove the enormous dust collector that was our garden tub.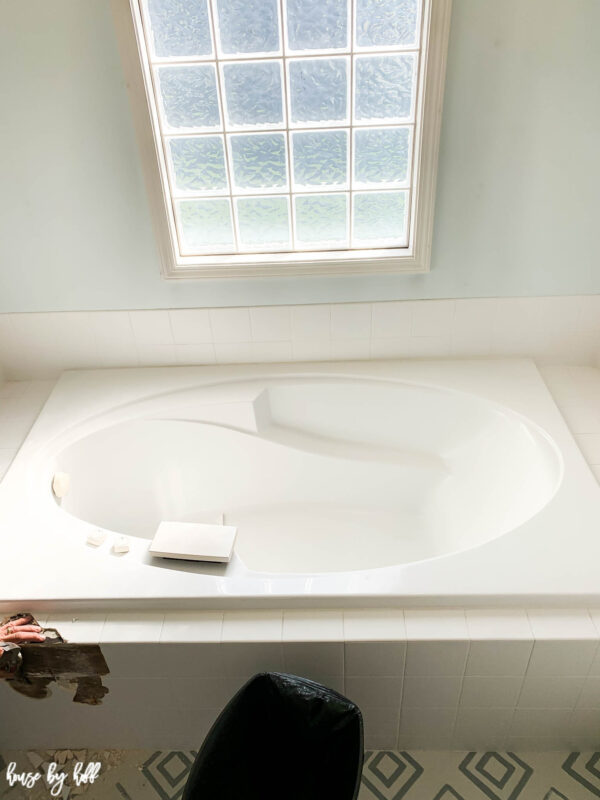 Let's have a short moment of silence for the tub that is no longer….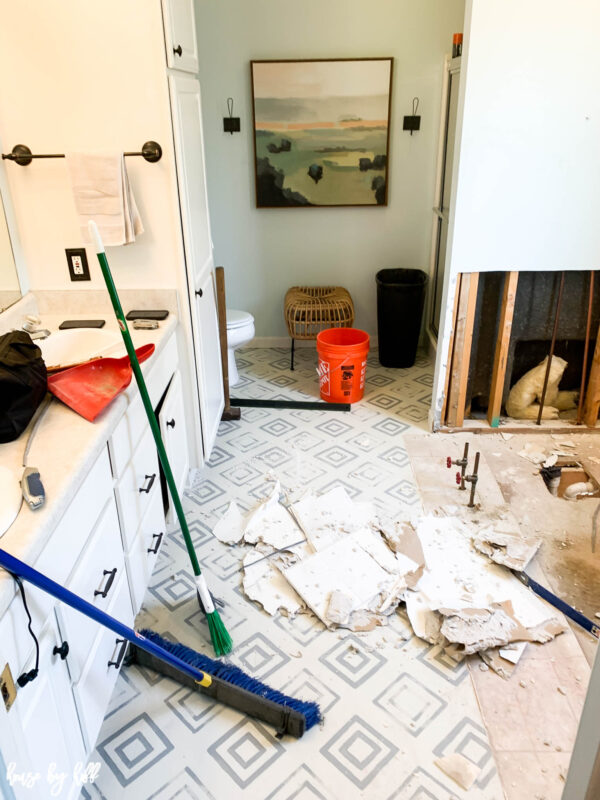 Jared and his dad demolished the tub and tile surround in under an hour.  It was a surprisingly short and easy job.  Whoop!  Look how much room we have to work with now!  If you'll remember, my long term plans include turning this "tub space" into a big walk-in shower.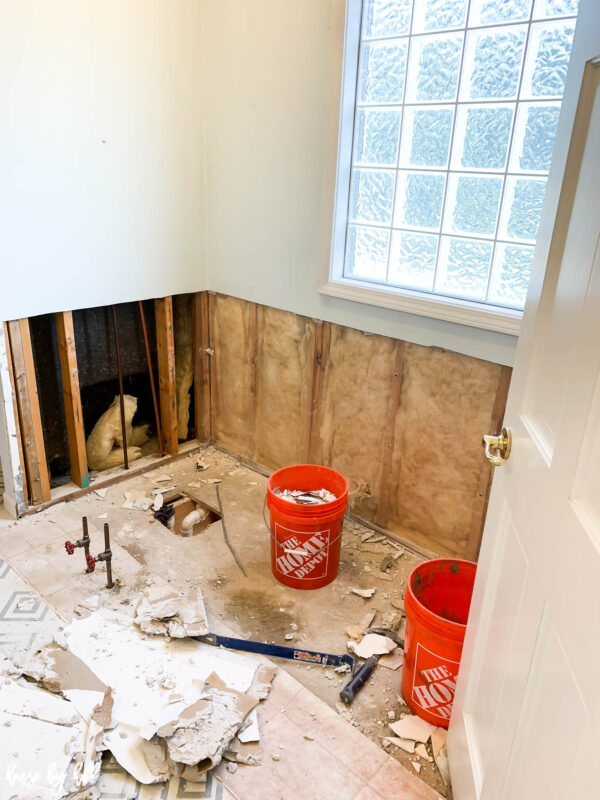 Rather than remove and chip away at tiles, they just removed the drywall from the tile work down.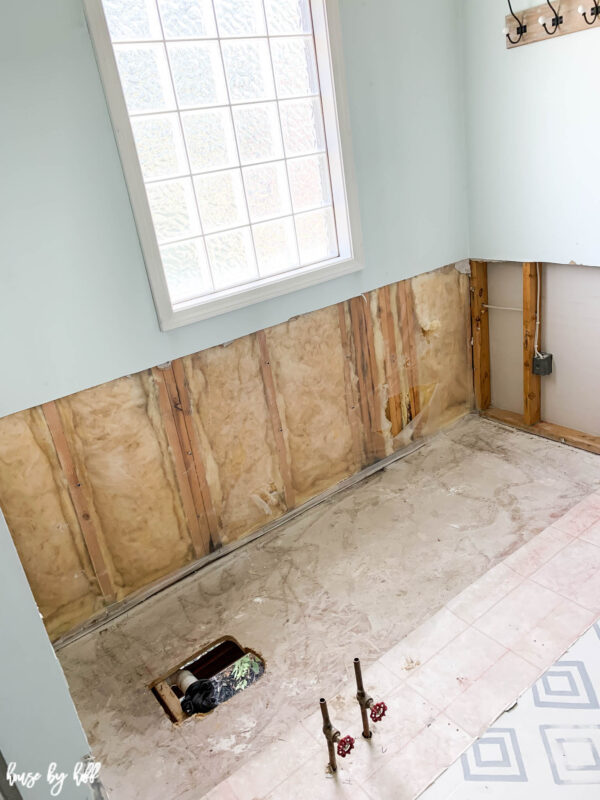 So, here is what we were left with.  No tub, no floor, and no drywall…and I could not have been more thrilled!!!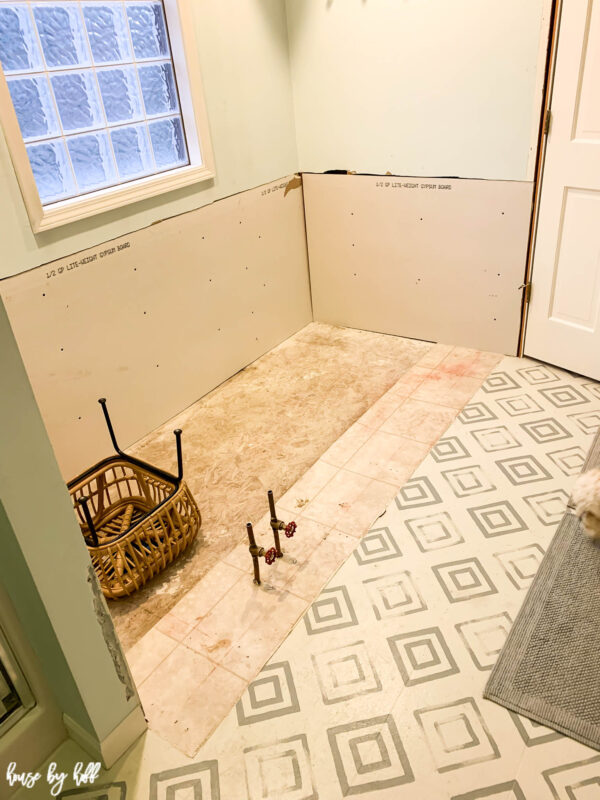 Jared and I tried our hand at drywall.  It was our first time ever cutting, fitting, and hanging drywall…we give ourselves a C+.  As you can see, we have major mudding and drywall work to do.  Pray for us. 😉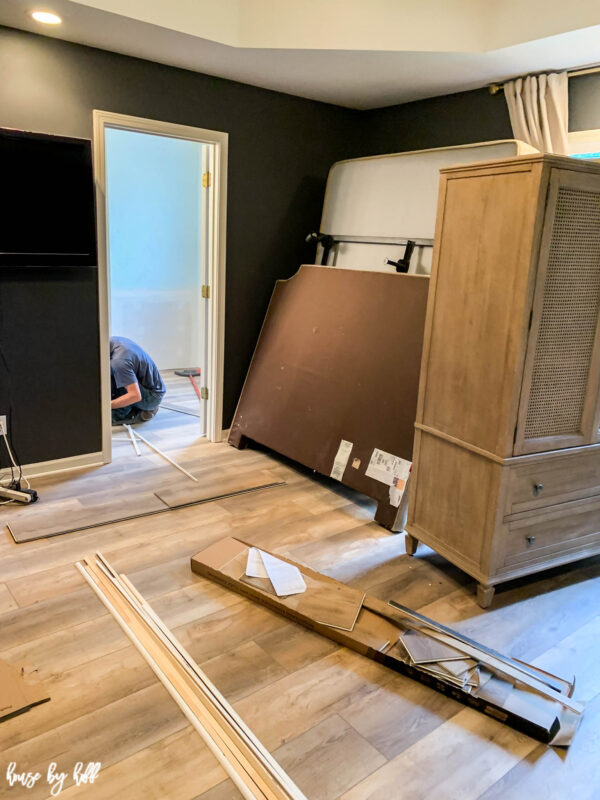 Shortly after, we had new vinyl plank flooring installed.  I am currently working to find the exact source for you.  🙂
Next steps for this week:
Repair drywall and patch walls.
Paint the bathroom "No Filter" by Clare.  I'm obsessed with this super neutral, light-beige color.  It's going to give our bathroom such a fresh and clean base to work with.
Finish sources:
I've also made final decisions on a lot of the finishes for our master bath refresh!  Paint and supplies are being provided by Clare.  Clare provides premium, Zero VOC designer paint colors, and I'm so excited to be partnering with them!
My lighting fixtures, hardware, doorknobs and towel bars are being provided by Signature Hardware.  I am using a mix of finishes with the metals, but mostly sticking with black/bronze and brushed gold finishes. Find the links and information below!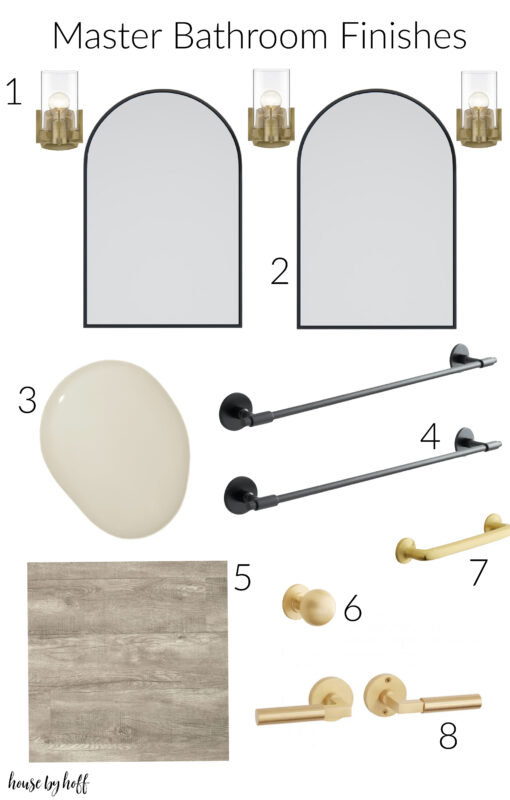 Bercken Vanity Sconce Single Light /  2. Metal Framed Arch Wall Mounted Mirror    /  3. Clare Paint: "No Filter"    / 4.  Kilburn Towel Bar in Black  / 5. Wide Plank Luxury Vinyl (source coming soon) / 6. Rodino Solid Brass Round Cabinet Knob in Satin Brass / 7. Belfast Solid Brass Cabinet Pull in Satin Brass  /. 8.  Tolland Brass Passage Interior Door Set in Satin Brass
Let's see what my New Year New Room Refresh Challenge friends have been up to this week!
Casa Watkins Living // Delineate Your Dwelling // Domicile 37 // House by Hoff // Iris Nacole // JZ Holmes // Live Pretty On A Penny // Love Your Abode // My Eclectic Nest // Our Fifth House // This Is Our Bliss // Up To Date Interiors