We're preparing for a master bathroom refresh with new luxury vinyl flooring, fresh paint, and new finishes!

Happy New Year!  After the Christmas tree has been put away, the holiday decorations have been boxed up, and all the damn glitter has been vacuumed off the floor, the time just feels right to tackle a room refresh!  This is the third year in a row that I'm joining a fabulous group of bloggers for the New Year New Room Refresh Challenge.  This year's room was a very easy pick for me!  It's time to refresh the master bathroom.
Or, perhaps I should say, it's time to refresh the master bathroom AGAIN.
You guys.  This is the THIRD time I've refreshed this space since I started this blog almost 10 years ago.  To really give a full history of our master bath, maybe we should start with the Before, Before, Before.
2012:  THE BEFORE, Before, Before:
So, I apologize for the arrows and writing all over the pictures.  As mentioned, these photos are nearly 10 years old.  And 10 years ago, I thought it was cute to write all over the pictures, and delete the original photos.  So this is what we're left with: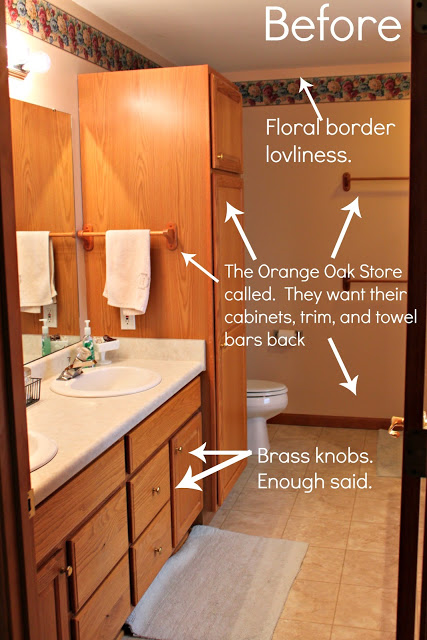 \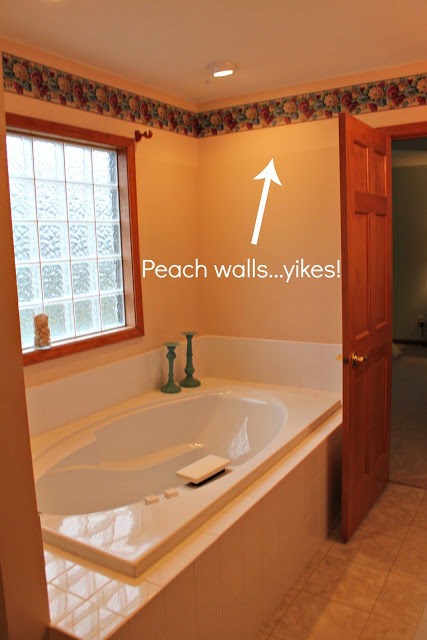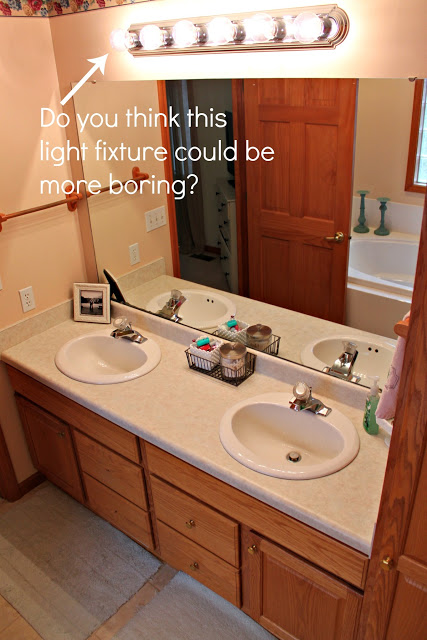 Basically, we had peach walls, a floral border, orange cabinets, and ugly cheap linoleum….Until I gave this room it's first refresh, and it turned into the following:
2015: The Before Before:
The biggest highlights were removing the border, painting the bathroom blue, and painting the cabinets and trim white.  We also switched out the lighting and hardware.  So, all and all, a good little refresh.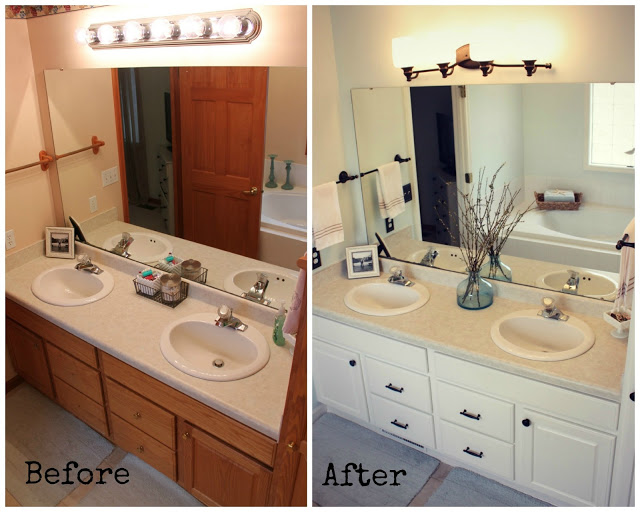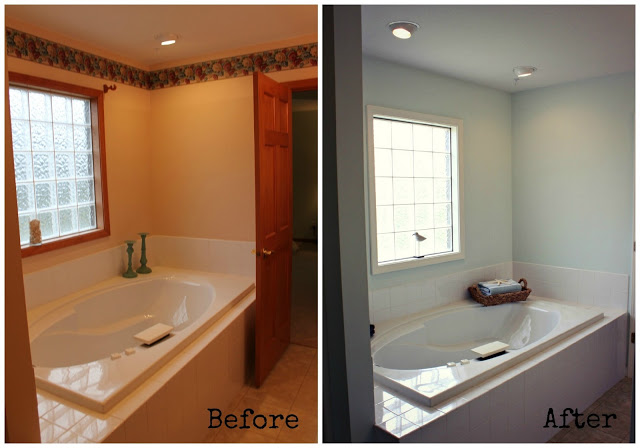 I also added some towel hooks to an old window that I found on the side of the road.  It was all very exciting.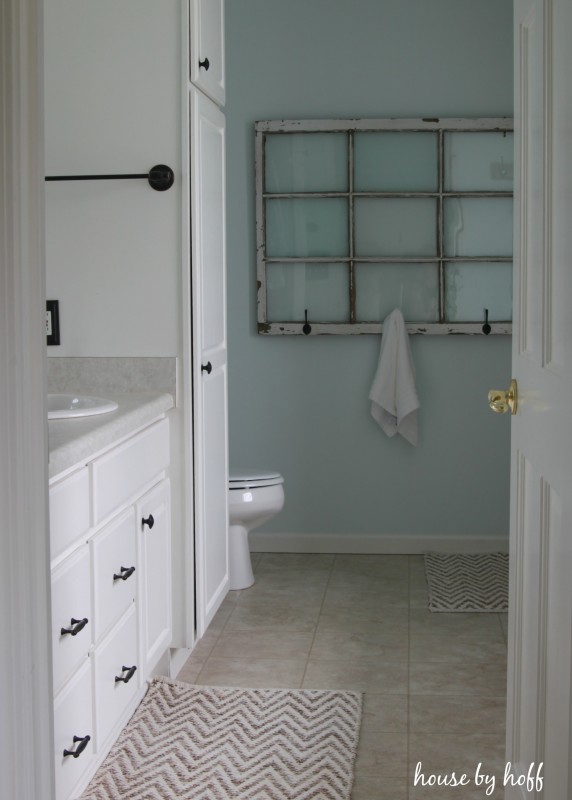 Ahhh the chalkboard days.  A simpler time. We'd all write clever things on chalkboards and just be tickled with ourselves. I know I was. 😉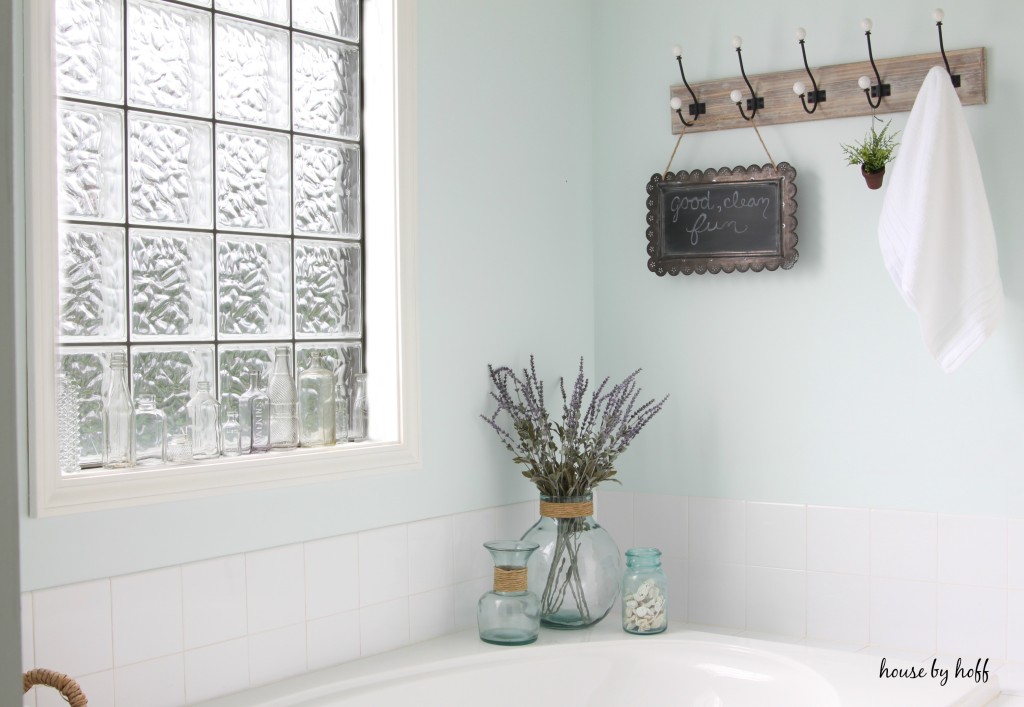 2020: The Before (Finally):
Let us now fast-forward to 2020.  The Corona Virus Pandemic has just hit, we are stuck at home, and I can't stand to look at my bathroom one minute longer.  The tile is now permanently dingy.  The linoleum floor never looks clean.  Since I can't leave my house, I begin a floor and tile painting mission that can only be described as resourceful and desperate. But, if I do say so myself, the results were lovely!  Check out my tutorial my DIY Painted Linoleum Bathroom Floor.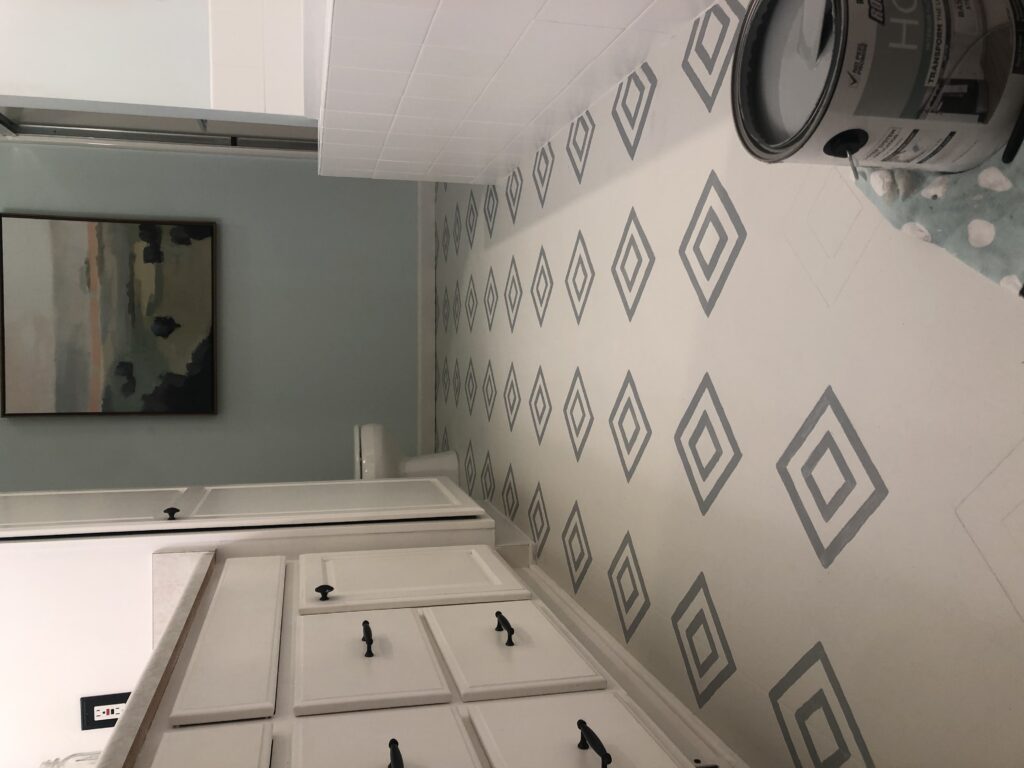 Lovely, indeed.  Beautiful, actually. My mission to give my bathroom a temporary fix was a total success….but it was just that. Temporary.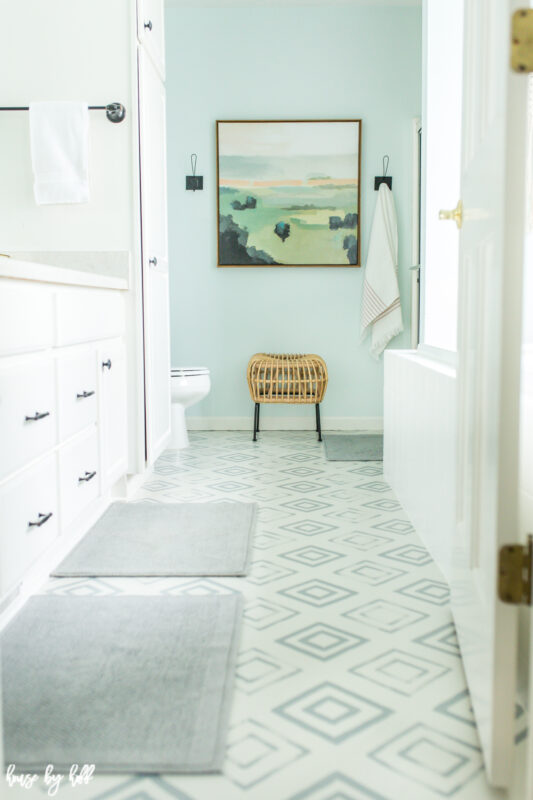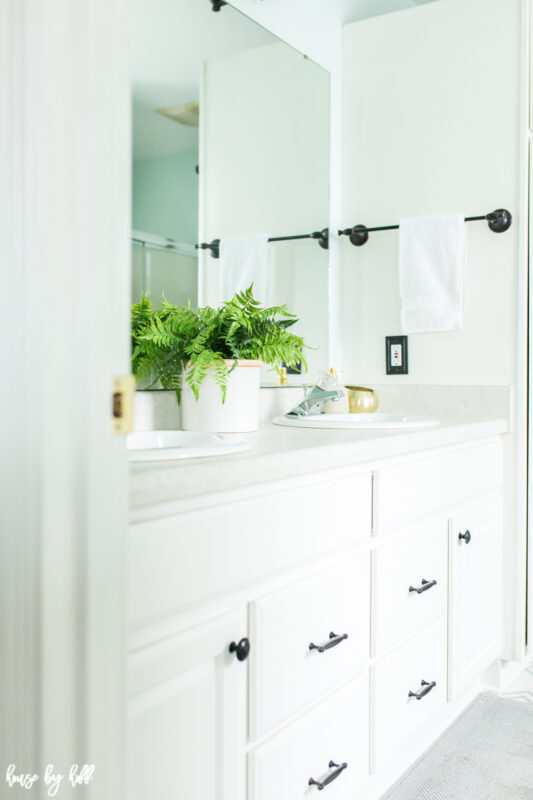 When you really think about it, all of my master bathroom fixes, refreshes, and makeovers have lead to this moment.  The moment that the actual permanent bathroom remodel begins.  And it begins now.
2022 is the year of the REAL master bathroom renovation.  It will be done in two phases, and the first phase of our master bathroom renovation is what we will be completing in the next month.  Here is the plan:
The plan for phase one:
 Rip out huge old garden tub and tiles
 Drywall and patch walls where tub used to be
 Rip out vinyl flooring and replace with luxury vinyl that looks like wide plank wood floor. (which will also flow right into our master bedroom)
Take down old mirror above vanity
Repaint entire bathroom
Hang new mirrors
Replace light fixtures and hardware
The plan for Phase two:
Since we only have a month to complete the New Year New Room Refresh, here is where we will pick up after phase one:
 Tile in area that used to be the tub for a huge new shower…with possibly a double head and all the bells and whistles
Install new shower hardware
Replace old shower area with built-in storage
Replace old countertops, sinks, and faucets
the INSPIRATion:
This inspiration board is what I have in mind for the vanity portion of my master bath refresh.  The walls will be painted a beautiful shade of "No Filter" by Clare.  New light fixtures, new mirrors, new floors, and possibly a new color on the vanity?  I can't decide if I am going to leave it white or paint it.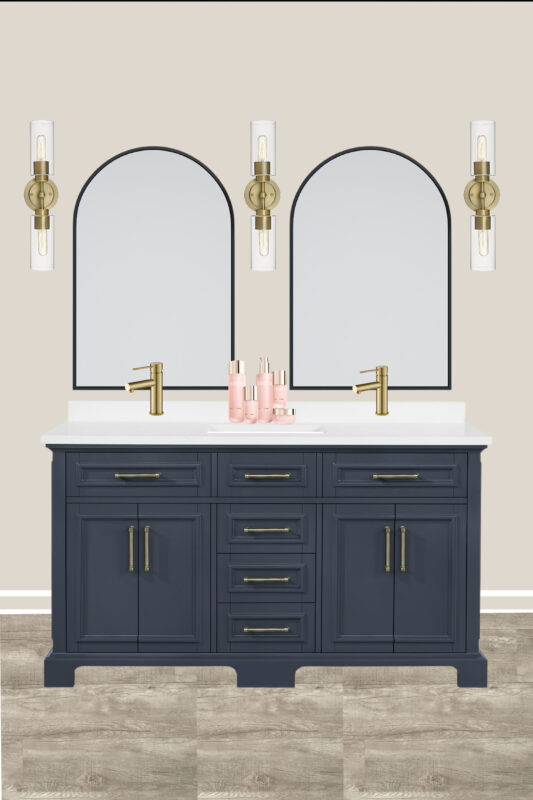 Here is the lineup for this year's New Year New Room Refresh, I cannot wait to see what these ladies have planned!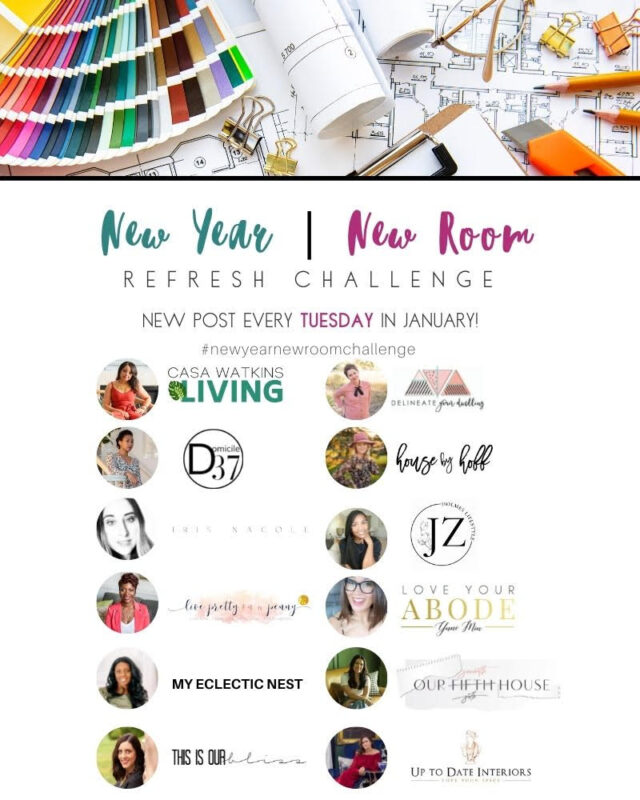 Casa Watkins Living // Delineate Your Dwelling // Domicile 37 // House by Hoff // Iris Nacole // JZ Holmes // Live Pretty On A Penny // Love Your Abode // My Eclectic Nest // Our Fifth House // This Is Our Bliss // Up To Date Interiors