This DIY Painted Linoleum Bathroom Floor was an inexpensive fix for our outdated master bathroom.

Last month (in the midst of being stuck at home) I took a good hard look at our master bathroom.  And it made me cringe.  It's just not the master bathroom of my dreams.  The dated tiles, and linoleum flooring were bothering me even more than usual (probably because I couldn't leave the house.)  So, I did what any good DIY blogger on a budget does, and bought inexpensive paint to completely change the look of our bathroom.  I used Rust-Oleum's Rock Solid Home Interior Floor Paint (available at Home Depot) to paint my bathroom floor and the tiles around my bathtub.  It really freshened up the old floor and dingy tiles.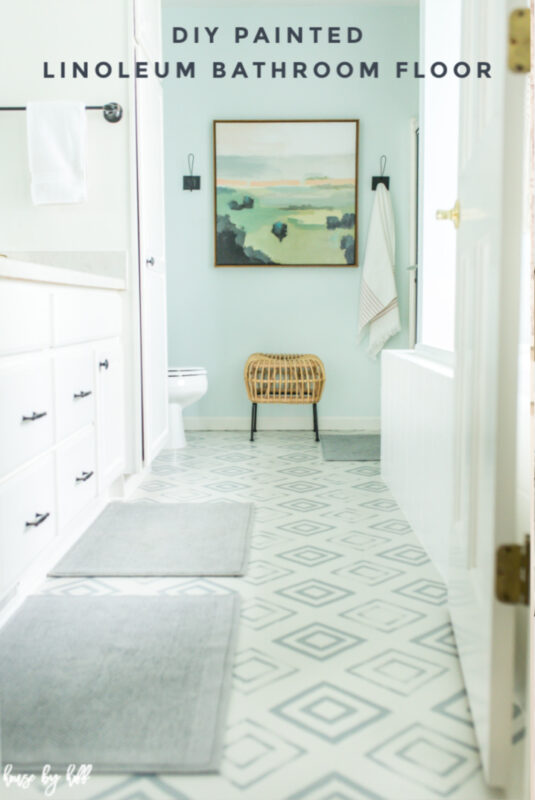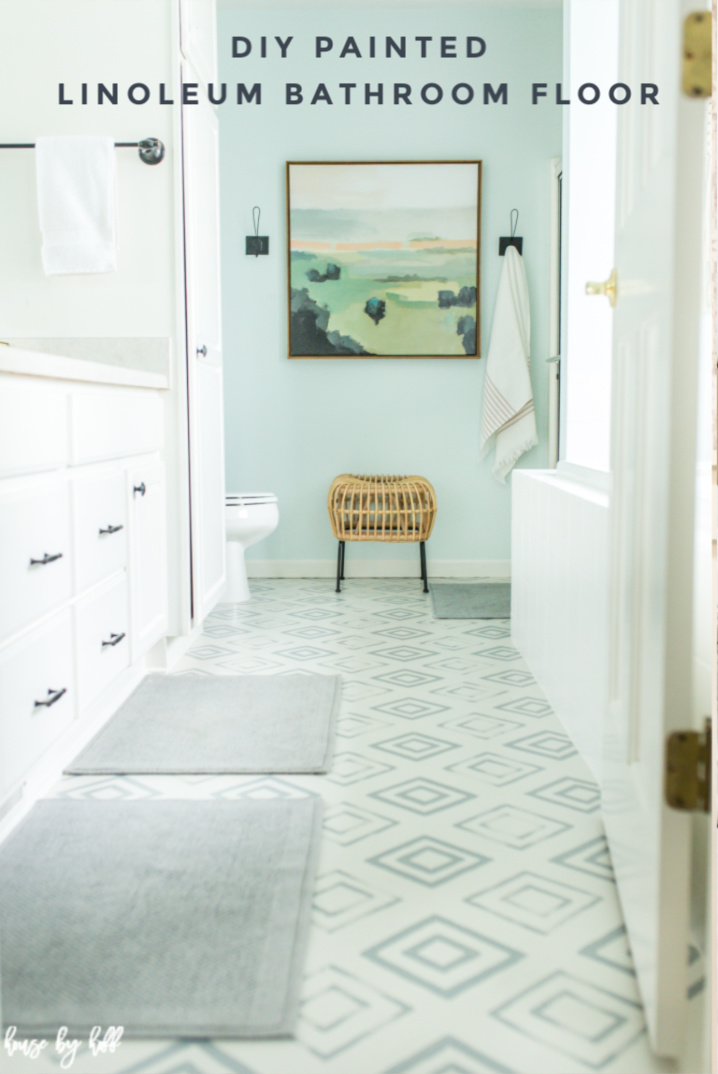 BEfore painting the floor:
This is what the bathroom looked like before I painted the floors.  It's not terrible, but I feel like this photo doesn't show how dingy the old linoleum was looking.  No matter how much I scrubbed and cleaned, it just looked dirty.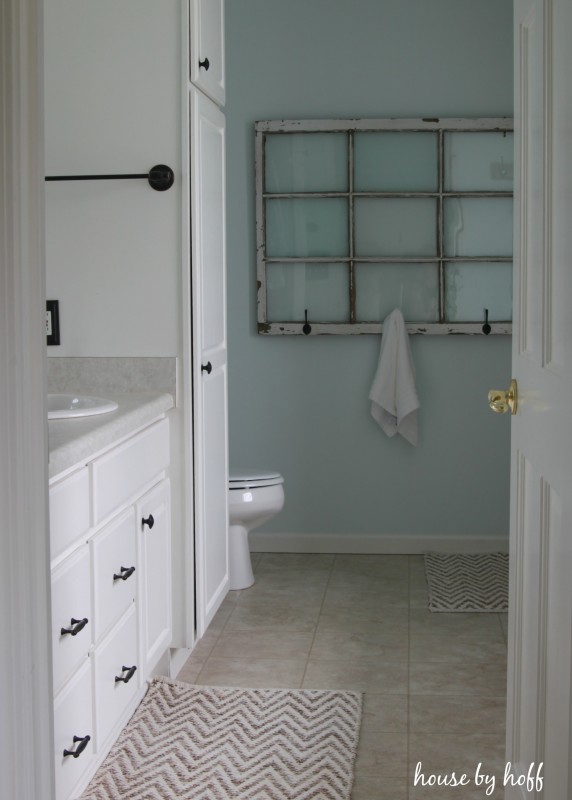 Just for giggles, here is what the bathroom looked like when we bought the house 9 years ago before we removed the border, painted the walls, and painted the trim and cabinets white.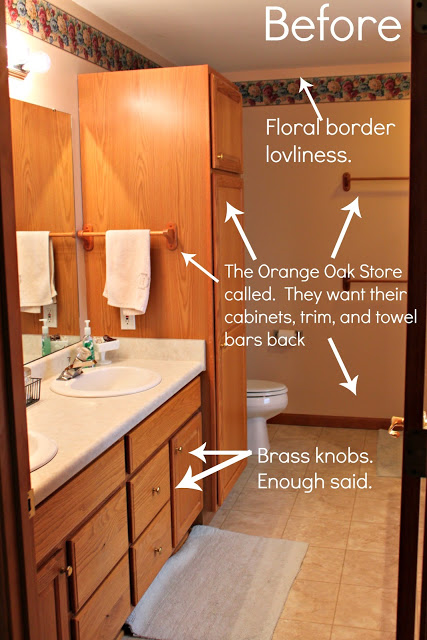 DIY Painted Linoleum Bathroom Floor:
Before painting the floors and tiles, I cleaned everything with Krud Kutter.  All of the caulk lines were looking gross, so I also did a fresh caulk lines around the tub and where the tub meets the floor.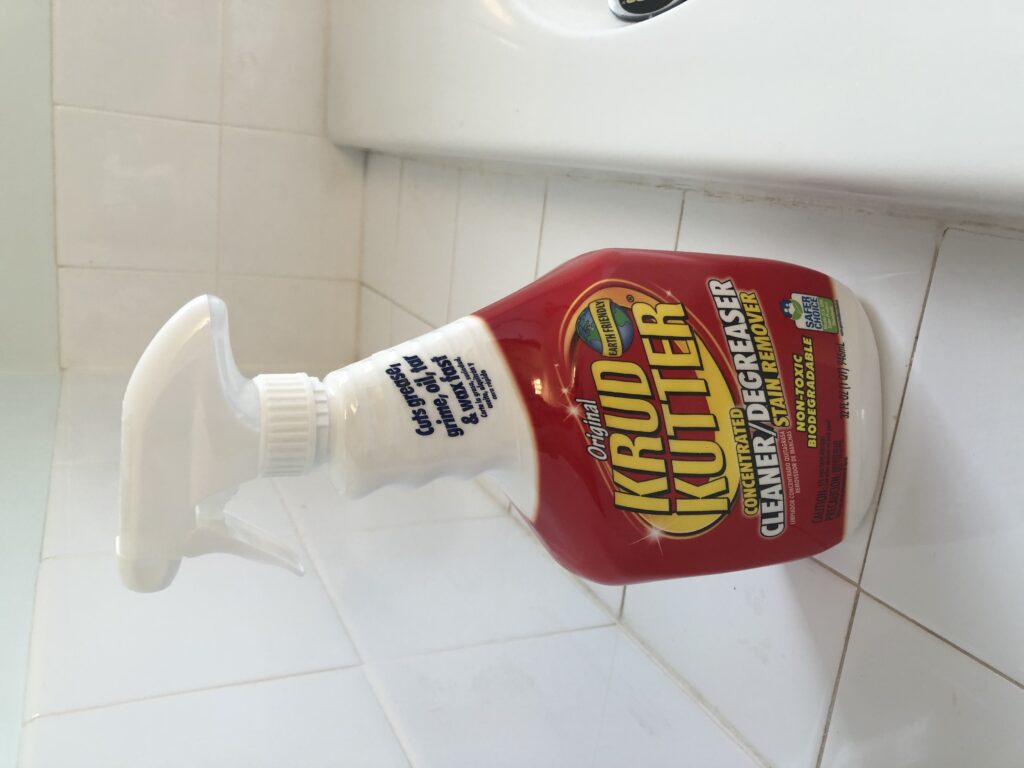 After cleaning, recaulking, and taping off around the bath tub tiles, I started painting!  When using Rust-Oleum's floor paint, there are two steps.  Step 1:  Base Coat, Step 2: Top Coat.  For the base coats, I used "White" on my bathtub tiles, "Vanilla Milkshake" on the floor, and "French Gray" for the diamonds.  I chose the "Matte Clear" finish for the top coat.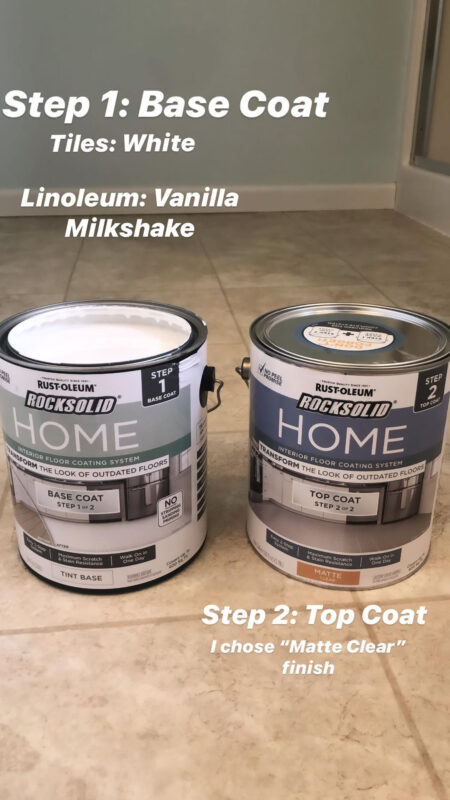 I should mention that you have to go to the Home Depot paint department and have these base coat colors mixed. 😉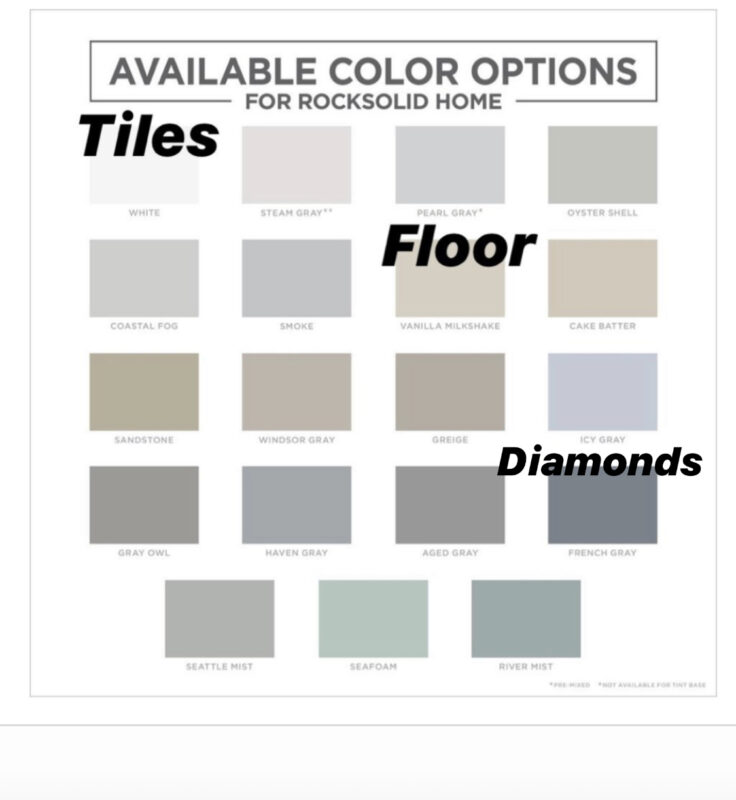 I used a two-inch angled paint brush to edge around the floor, and then a foam roller to roll out the first coat of Vanilla Milkshake onto the floor.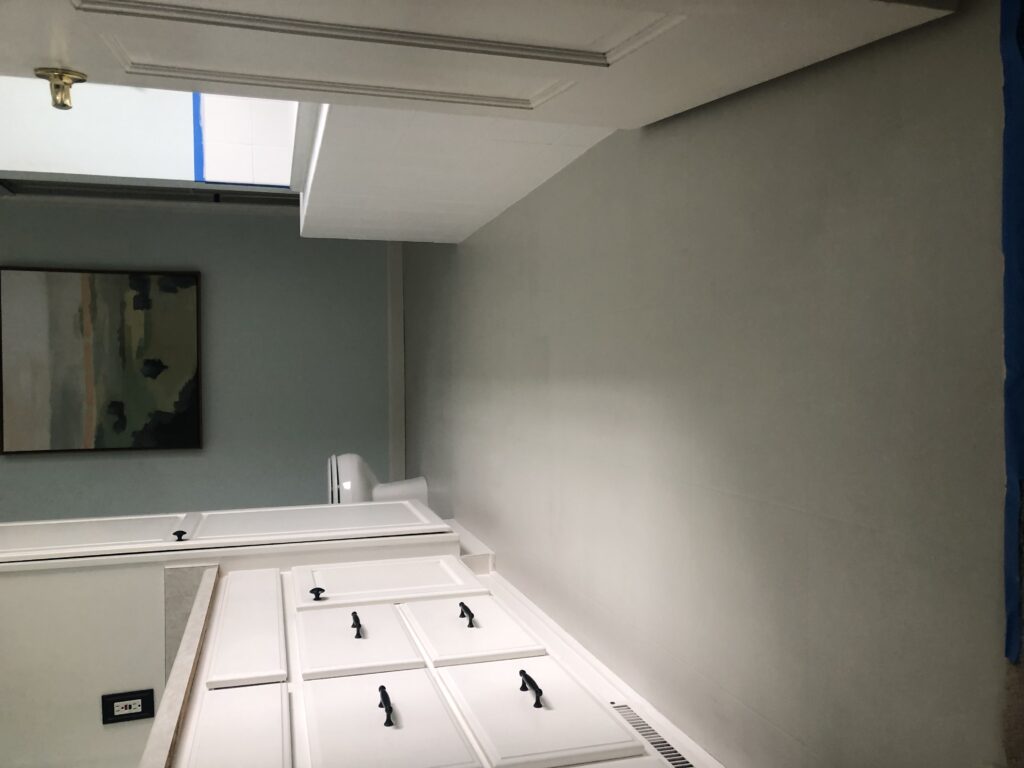 The instructions on the paint can say that you only need to do one layer of base coat, however, I did two.  It only took me about 30 minutes per coat, and I followed the instructions on the paint can for dry time in between coats.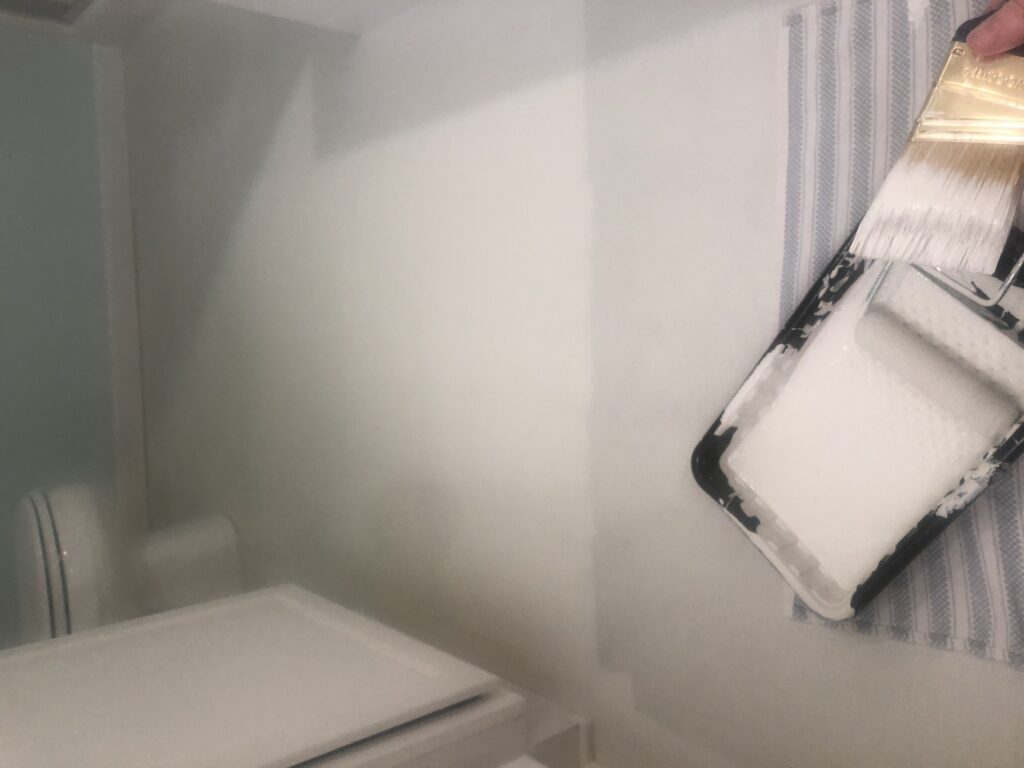 Here you can see the painted linoleum floors with two base coats of "Vanilla Milkshake."  You can also get a peek of the bathtub tiles painted "White."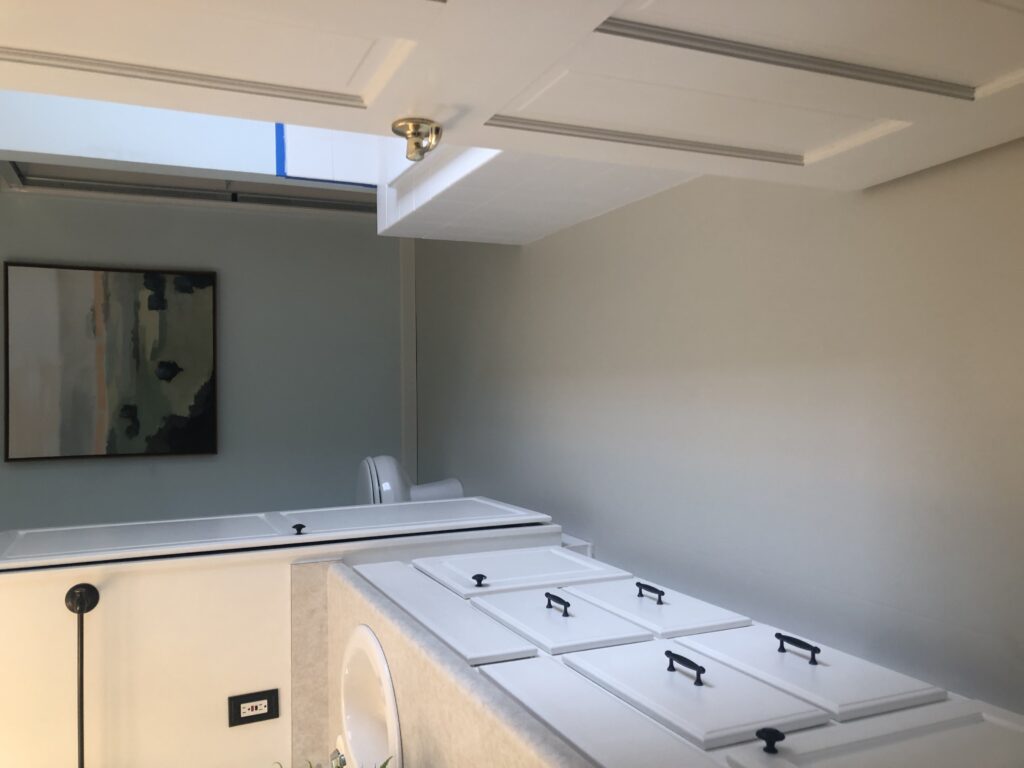 I knew I wanted a diamond pattern on the floor, but I wasn't exactly sure how I was going to accomplish it.  As luck would have it, my daughter's magnatiles were the perfect size to use as a template!  I should mention that the linoleum floor did have an 8″ x 8″ grid that was still visible under the paint  (it's hard to tell from my photos, but there was a square grid pattern.)  I traced the diamond pattern onto the floor using the existing square grid, magnatiles, and a pencil.  I very lightly lightly penciled in the diamonds.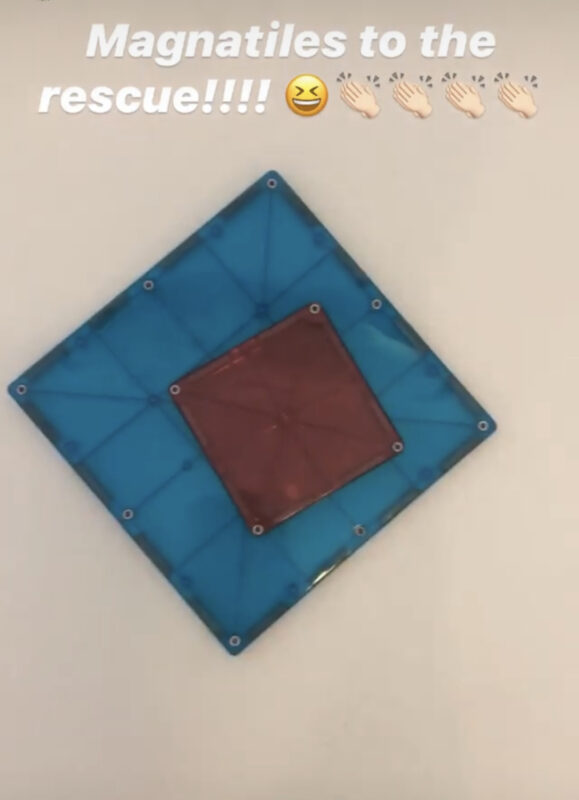 Next, I used a 1/2″ paint brush to paint over my pencil lines and create the diamonds. I used the base coat color "French Gray."  (In all truth, if Rust-Oleum made a base coat color of black, I would have used that…but I just used the darkest color they had.)  I was trying to get perfect solid and even lines, so it took me awhile to get this step done. I want to say around five hours.  I was pretty much up all night.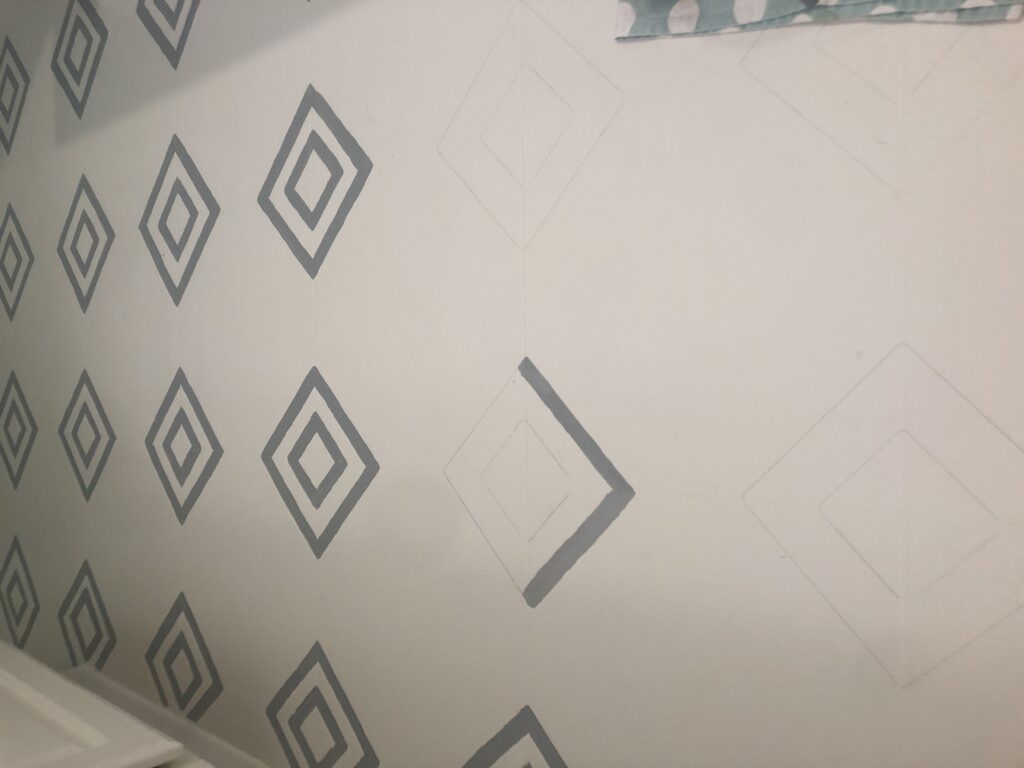 After I was finished with the "perfect" diamonds, I went back in and did "imperfect diamonds" in between.  The balance of the solid and more worn diamonds looks great, if I do say so myself. 😉  The "imperfect" diamonds were much easier and faster to paint!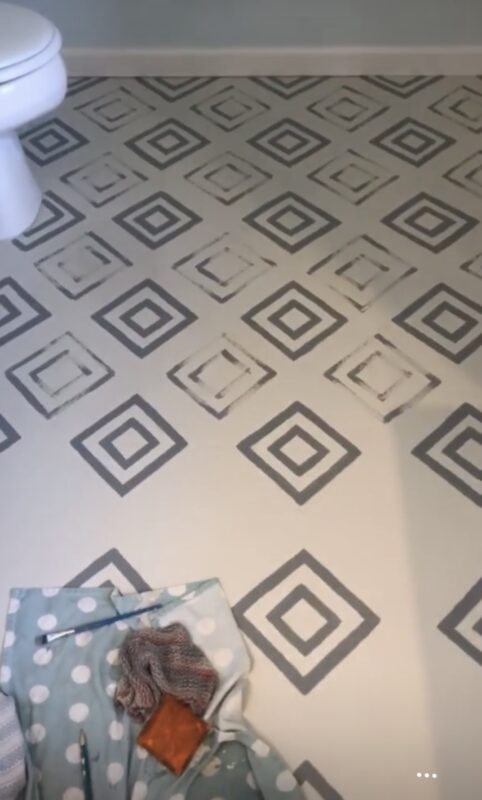 After I was completely finished, I did one top coat in "matte clear."  I edged and rolled
The final result:
When it's all said and done, I love how this DIY Painted Linoleum Bathroom Floor turned out!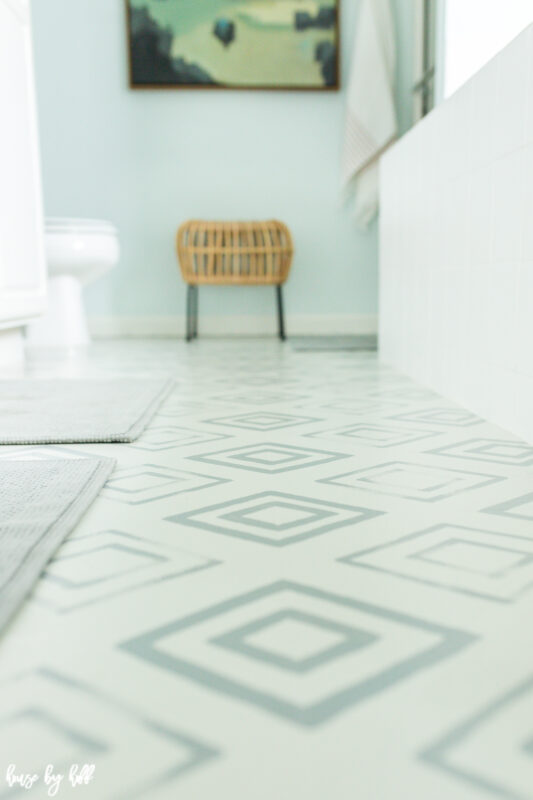 It makes the whole bathroom look better, cleaner, and fresher!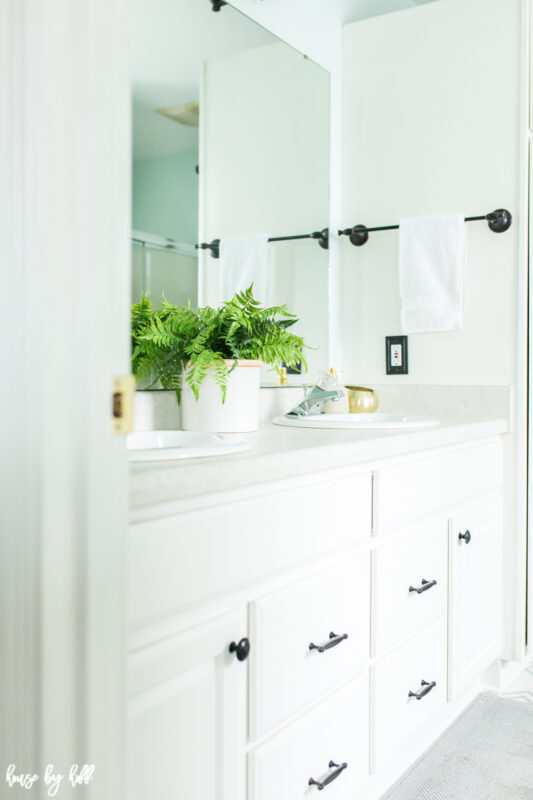 The painted linoleum floor and painted fresh white tiles around the bathtub gave this room an instant lift for not a lot of money.  This bathroom makeover should hold me over until I can rip everything out and do the bathroom of my dreams. 😉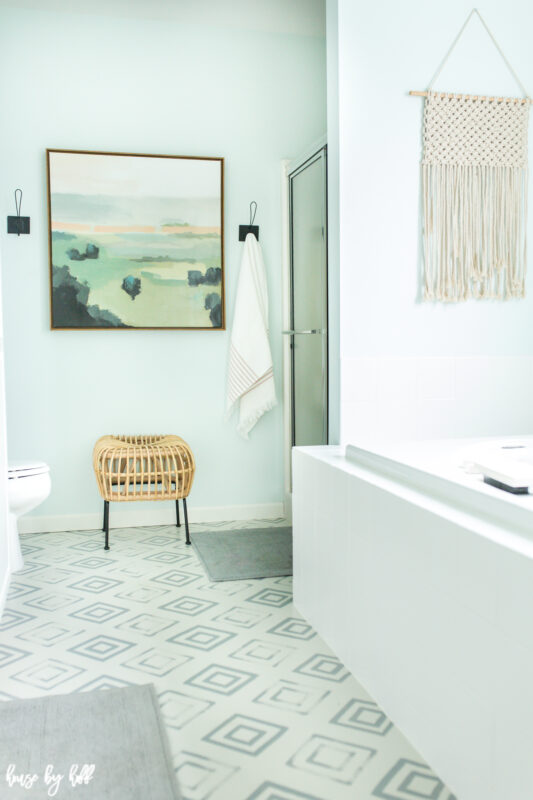 I feel like my master bathroom looks more like the bright, clean spa that I wanted it to look like all along.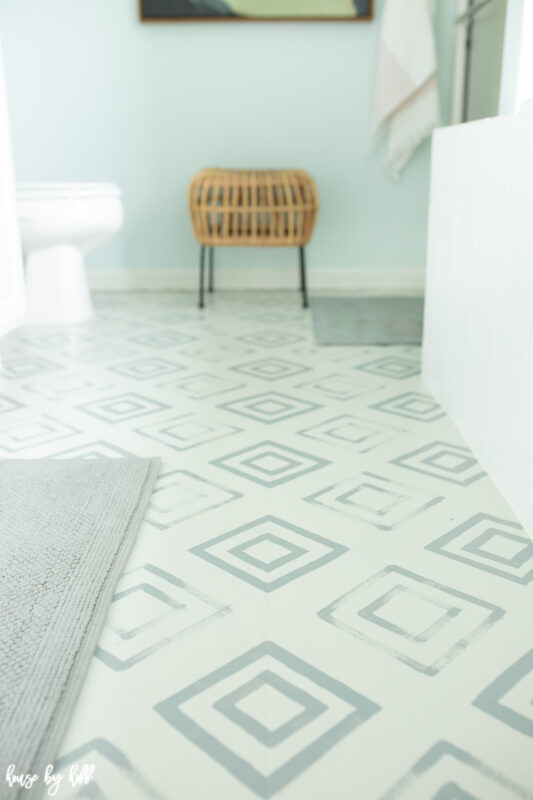 The "Vanilla Milkshake" and "French Gray" actually look more cool-toned in my bathroom than they did on the paint swatch. I think it's because of the light blue color of the walls.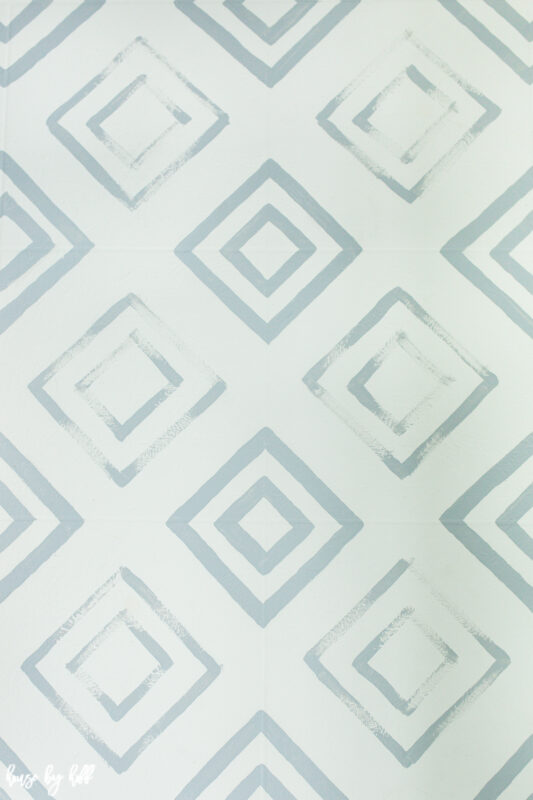 I ended up using artwork and hooks that I already had, and adding a new rattan stool and bath mats to finish off the bathroom refresh.