We gave our master bathroom an updated look with new lighting, flooring, paint, mirrors, and hardware!  Check out our master bathroom refresh!

We've slid right on into February, and it's time to celebrate!  We're in the process of updating and remodeling our master bathroom, and the portion that I hoped to complete for the New Year New Room Refresh Challenge is done!  The process was a bit more complicated and took more time than we anticipated, but we we made it!  I would like to give special thanks to Signature Hardware and Clare Paints for providing with beautiful supplies for this room!
The master bathroom refresh Reveal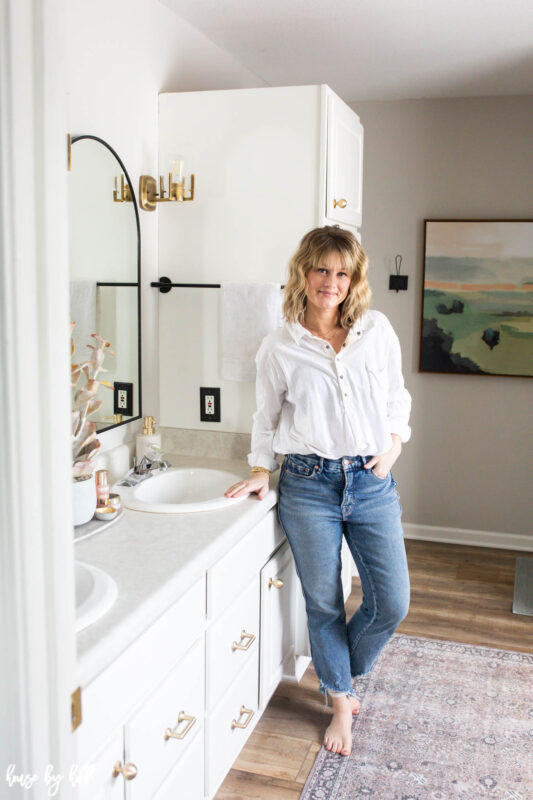 I'd like to welcome you to this updated space!  A fresh new master bathroom that has come a LONG way, baby!  Check out the bathroom before here!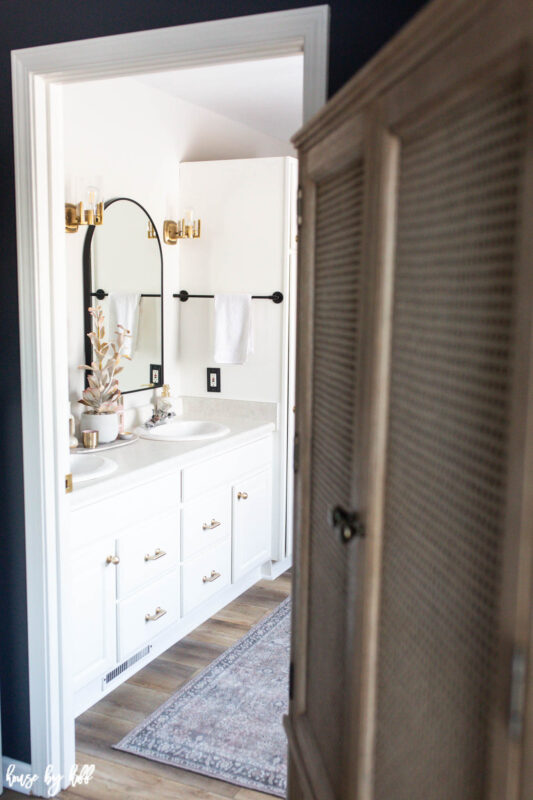 The biggest changes include:  ripping out the huge garden tub, replacing the flooring with luxury vinyl planks, adding new hardware, and replacing the one light fixture with three sconces along the mirror wall.  (This was the more challenging and time consuming part!)
We also painted the walls a beautiful shade called "Flatiron" by Clare Paint.  I loved partnering with Clare Paint on this project!  Their paint is beautiful, high-quality, and you can order all your paint and supplies to come directly to your door.  No trip to the paint store required!  Whoop!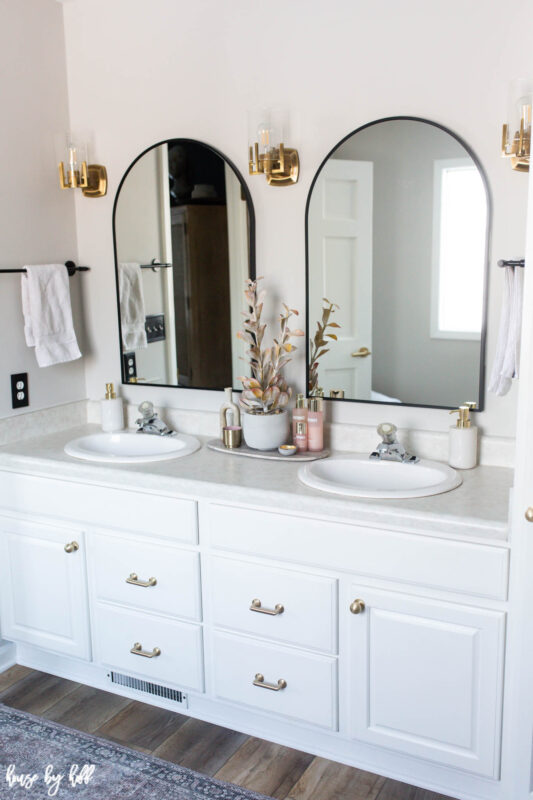 I love the look of the Bercken Vanity Sconce Single Light with the arched mirrors.  They are such a pretty combination!  I'm glad I mixed up the finishes and didn't go with all brass or all black.  It's more fun to mix it up!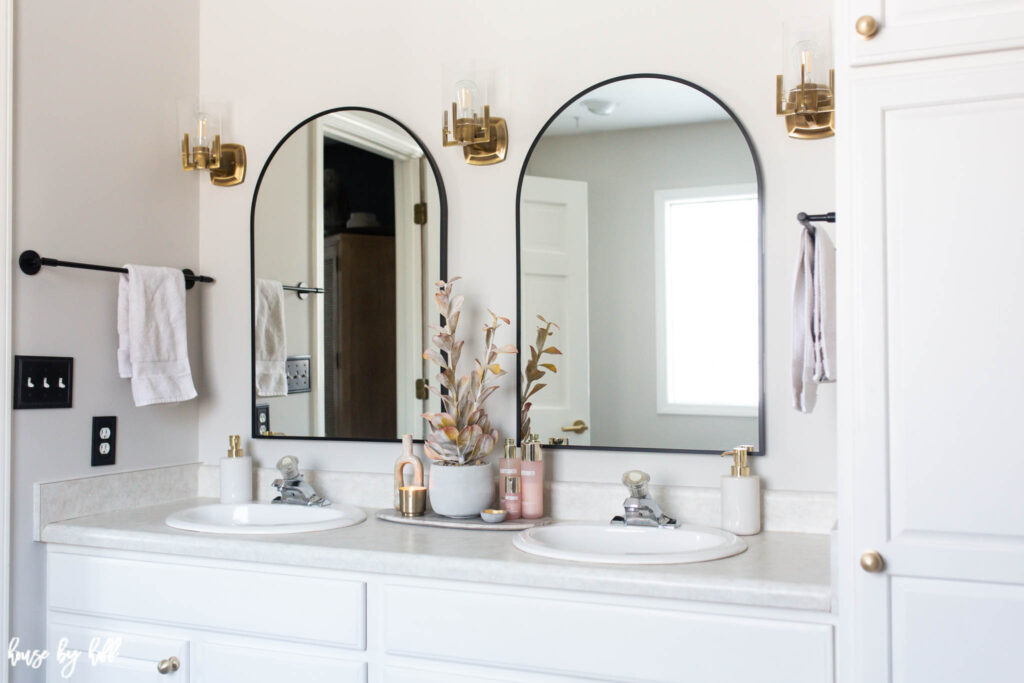 It's such a big difference from the one huge mirror and light fixture we used to have on this wall. It feels so elegant and updated!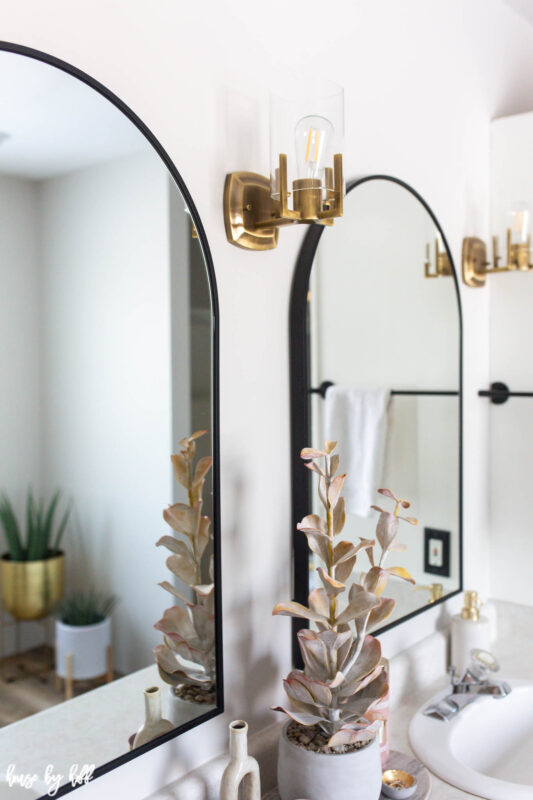 The brass finish and Edison bulb give the sconces a timeless feel, and they give off the perfect light while I'm getting ready in the mirror.  They're efficient and pretty!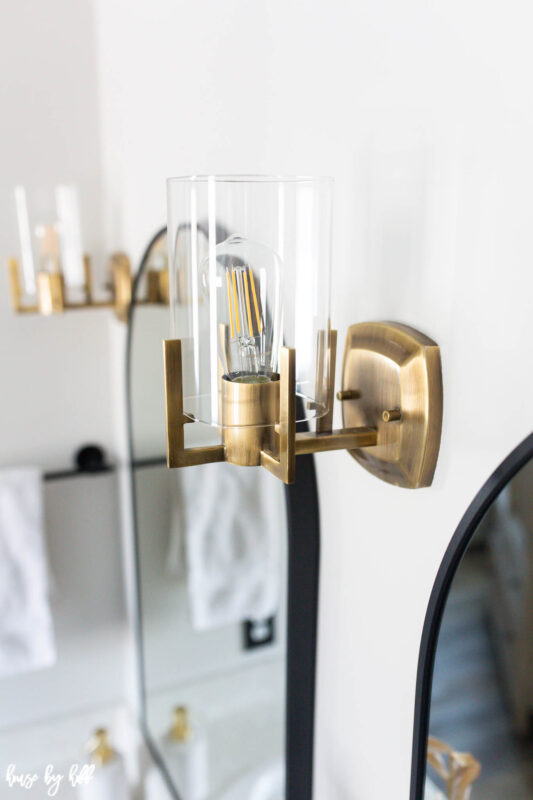 Let's talk about the rest of the hardware that I chose for the space!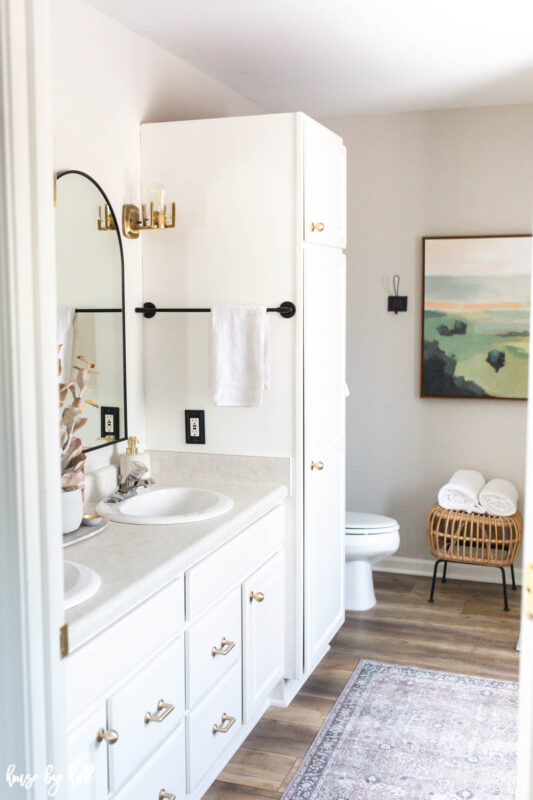 The Rodino Solid Brass Knobs are so elegant and pretty!  They are very high-quality and deluxe!  I feel spoiled with these beauties in my bathroom!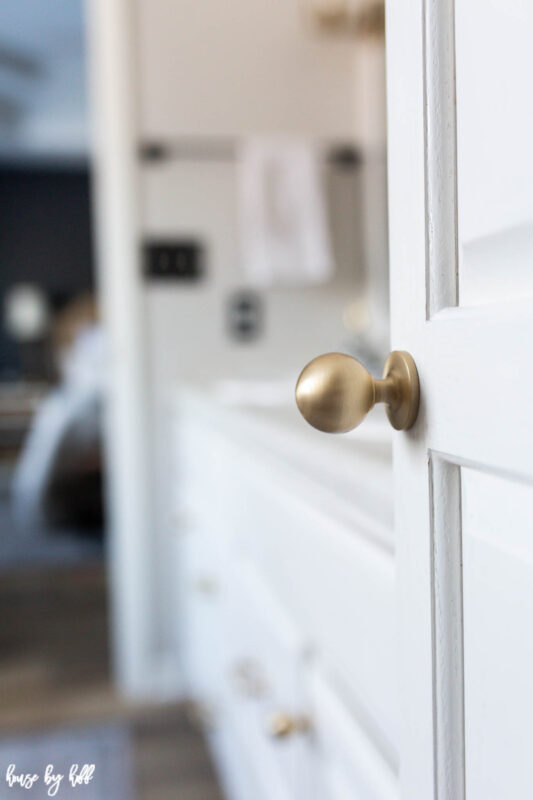 The Belfast Solid Brass Cabinet Pull is the perfect pull to compliment the knobs.  Their satin brass finishes are fabulous!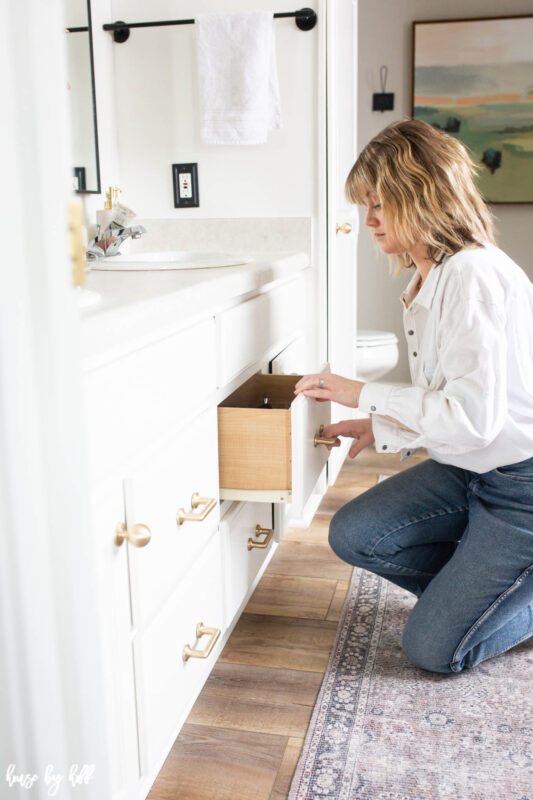 Don't they look perfect together?  This is the first time I am using brass finishes in a bathroom, and I was careful to choose a satin finish that I will love for a long time!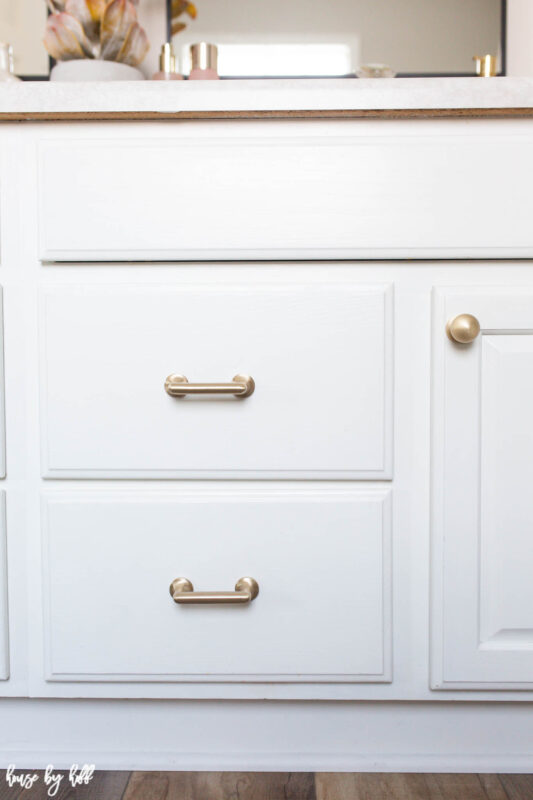 Love, love. love these knobs and pulls from Signature Hardware!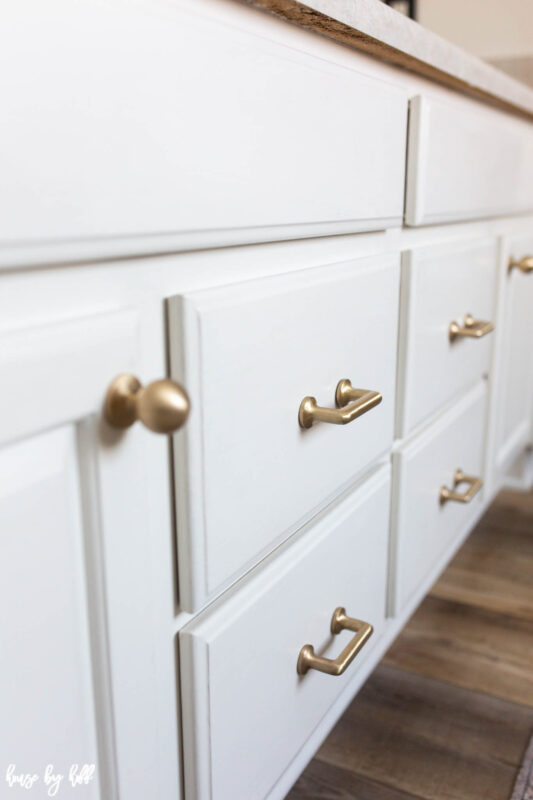 In the grand scheme, we still have more to do in this bathroom.  This is where our giant tub used to be.  We tore it out and re-drywalled this area.  We also went ahead and had vinyl plank put down.  The plan is to tile in this space to make a big, luxurious shower, which will probably happen sometime next year.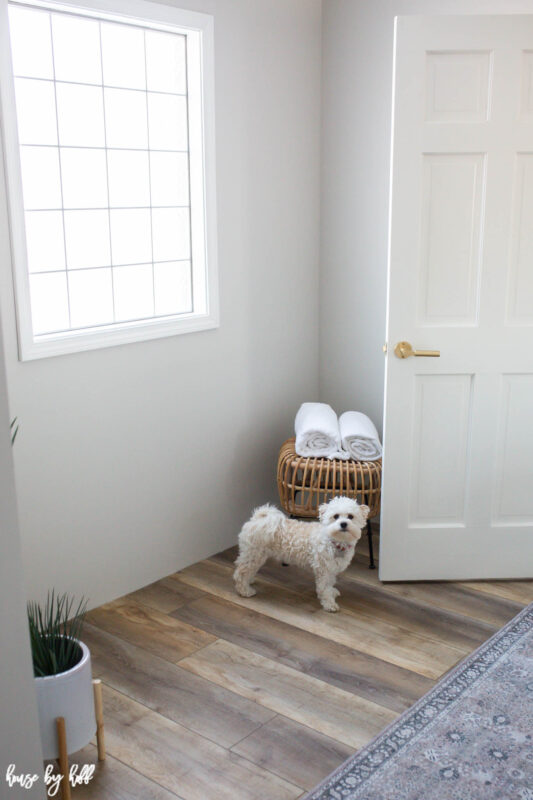 We plan on making the area where the shower is now into a storage.  I am envisioning some open shelves and cabinetry.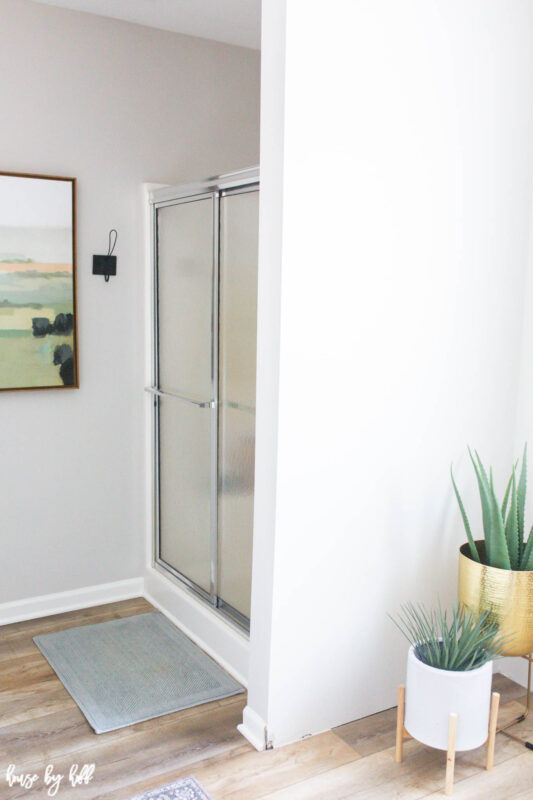 The beautiful Kilburn Towel Bars are another simple update in the master bathroom.  They're gorgeous!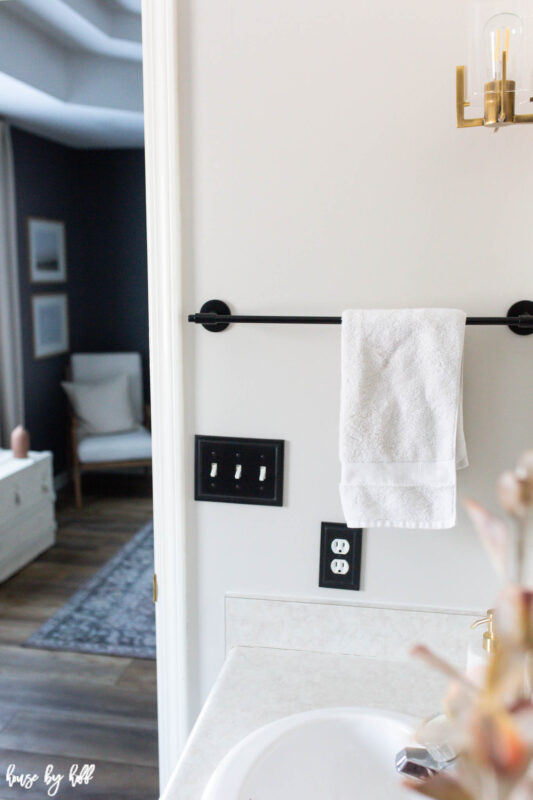 I wanted to give you a peek into the master bedroom from the bathroom to show you how the floor flows seamlessly, and to show you that I used some extra Belfast Brass Pulls on my bedside table!  Two ways to connect the bathroom and bedroom and provide some consistency.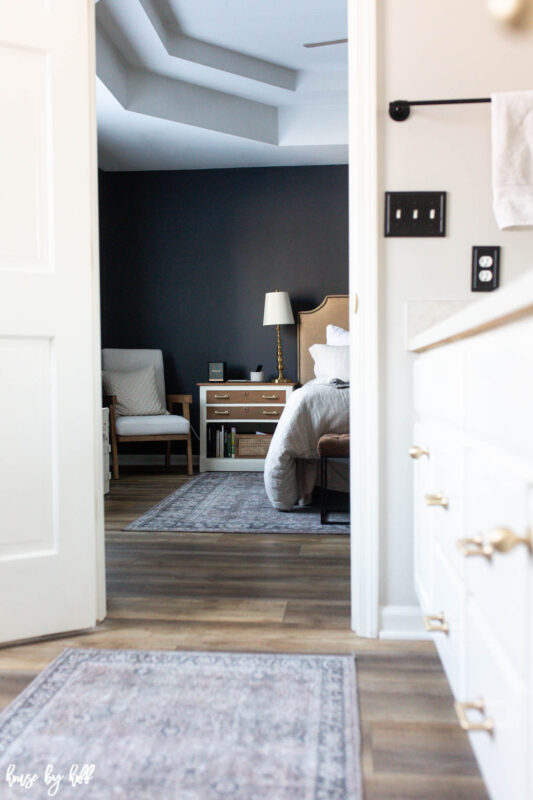 The last little goodie that I am so excited about are these completely luxurious Tolland Brass Door Knobs!  They are SO gorgeous and heavy-duty.  They really are so fancy!  Even Mr. Hoff is impressed, and that is saying something!  Ha!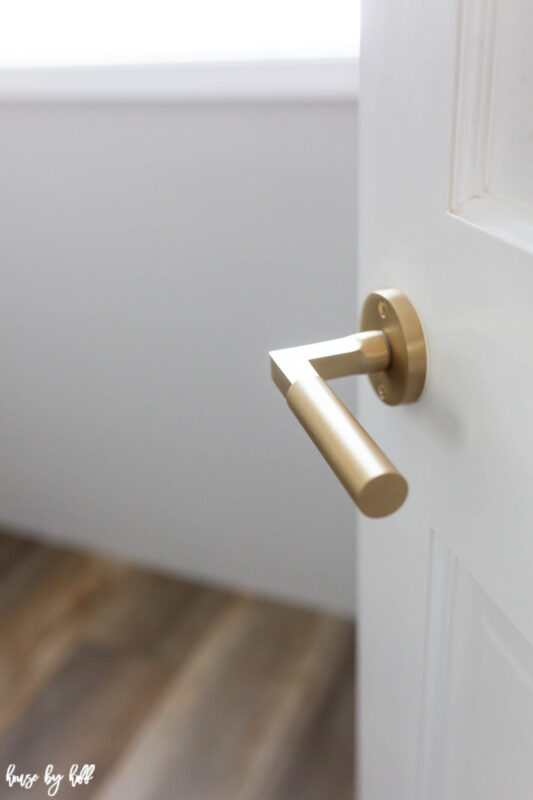 I really love the warm, neutral "Flatiron" paint.  It's so light, but still contrasts nicely with the white cabinets.  It's a warm mix of gray and beige and the perfect backdrop to the newly refreshed bathroom!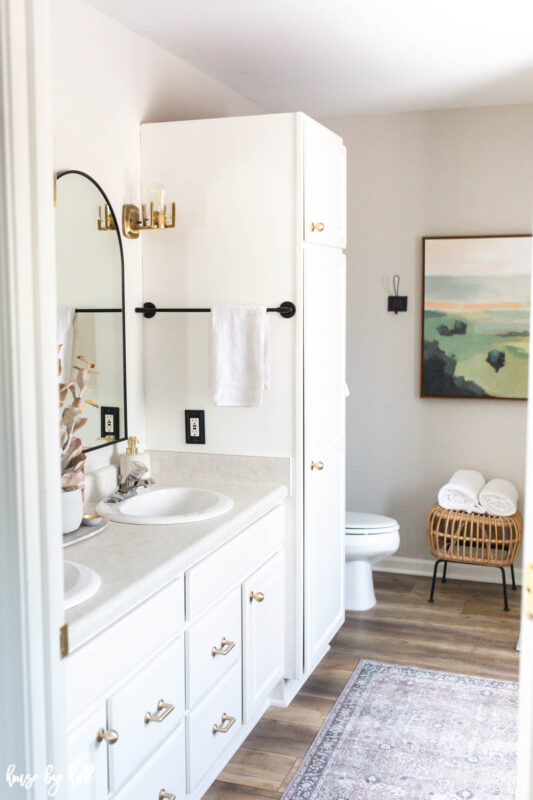 What we still need to do:
While I am thrilled to be finished with this part of the Master Bathroom Refresh, we do have the following left to accomplish in the long run:  replace the current countertops, sinks, and faucets, tile in and create a shower in the old bathtub space, pull out current shower and create shelving and storage.  It feels good to have made some serious progress towards the final goal!  Especially considering, this is where we have been: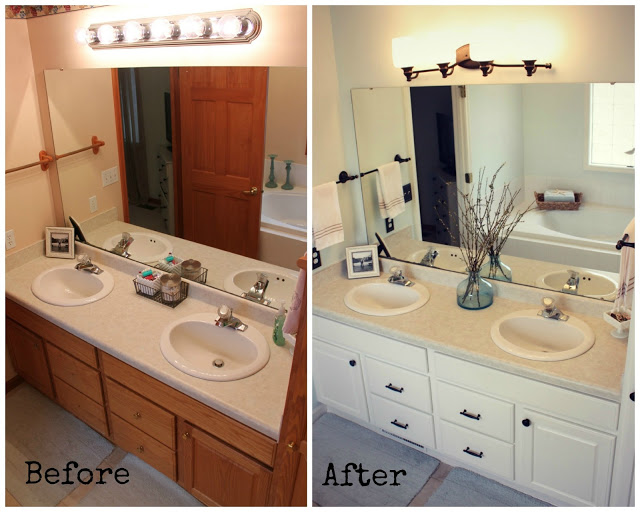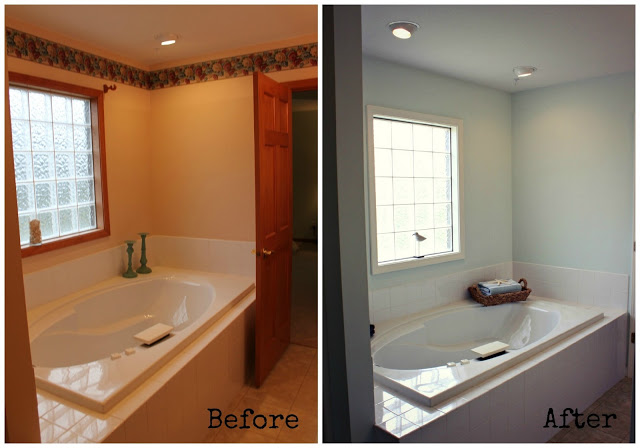 Thank you so much for going on this New Year New Room Refresh with us!  This is the third year in a row that I've completed the challenge, and I really love the motivation it gives me to tackle a space that is driving me nuts!  I hope it provides you with some motivation and inspiration to re-create your own spaces! xo


Make sure to check out all of the amazing room reveals today!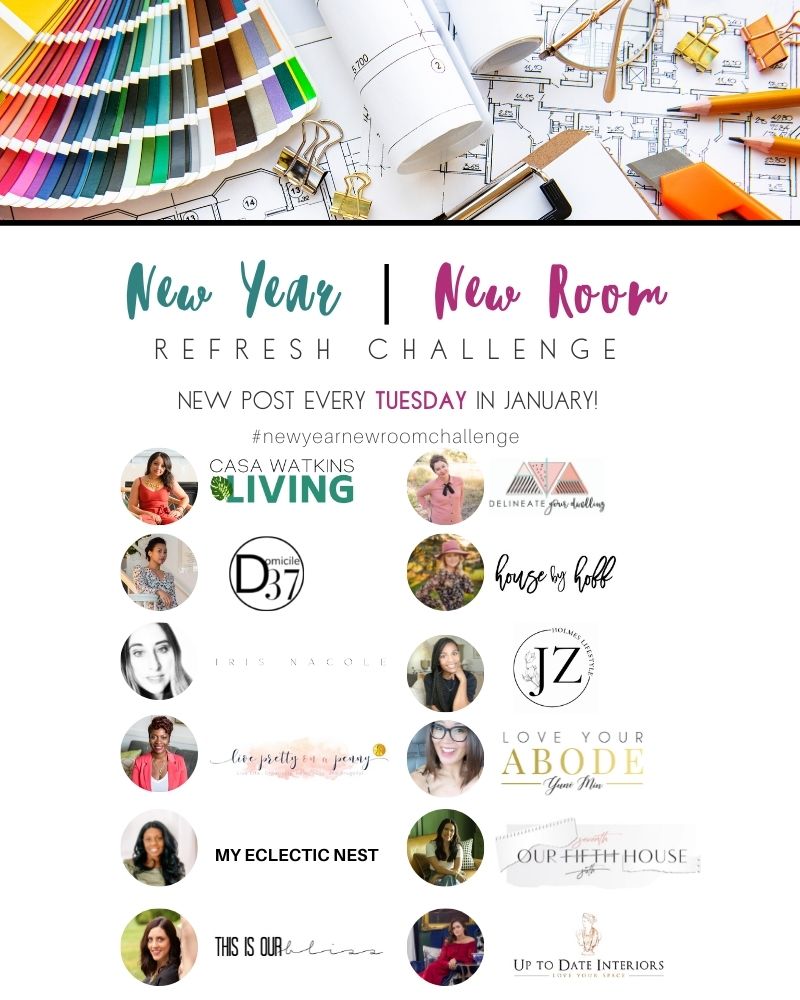 Casa Watkins Living // Delineate Your Dwelling // Domicile 37 // House by Hoff // Iris Nacole // JZ Holmes // Live Pretty On A Penny // Love Your Abode // My Eclectic Nest // Our Fifth House // This Is Our Bliss // Up To Date Interiors