A few days ago I attempted my first photo shoot with a backdrop (that fabric from JoAnn that I was telling you about in this post), props (a cupcake headband and wooden number 1), and a walking baby. Whoo! Talk about crazy! My mom tried her best to help me, but getting Miss L to keep her darn headband on, look at the camera, and stay still was nearly impossible.
 I had two purposes for this photo shoot: 1)  I wanted some cute pictures of my (almost) one year old all dressed up in her party outfit 2)  I wanted to use these photos, that just so happen to coordinate with the party colors and theme, as part of the party's decor!
You might be asking all or none of the following: Pictures? Part of the party decor? How?
I'm glad you asked! I have designated our console table the "Photo Table". This table will display all of my favorite photos from Miss L's first year. I have managed to snap thousands of pictures in her first year, and I really want our favorites to be displayed!
Here is one idea that I've come up with: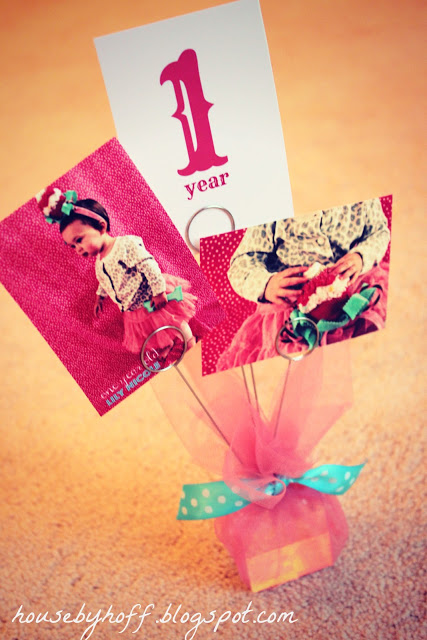 I had some of my favorite pictures from the photo shoot printed in a wallet size and stuck them in a few of these picture holders. I simply gathered some pink tulle around the based and secured it with blue ribbon.
I think these are very versatile! You could take this idea and apply it to any party, reception, or shower.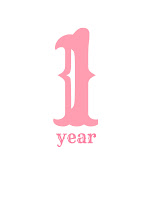 One more cute project from yesterday: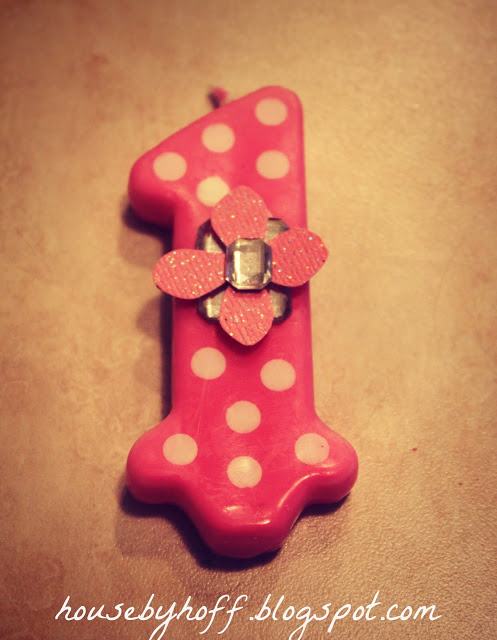 I have looked all over for a cute birthday candle and found this one, tossed aside and hidden, at Wal-Mart yesterday. I've looked there a million times and never saw anything like it. There weren't any more, so I don't know how to explain my luck, but there it was! I snatched it up and added the flower and *bling*.
My mom and I are going to cut up that polka dot fabric and make some table runners for the party today. Hopefully Miss L will allow it. She's been awfully cranky lately. The kind of cranky that only being held by Mom or Dad all day can fix. Teething, I think. It sure makes getting things done for her party difficult!
Have a good one! 🙂