Here is my take on the glittery, mossy Easter trend: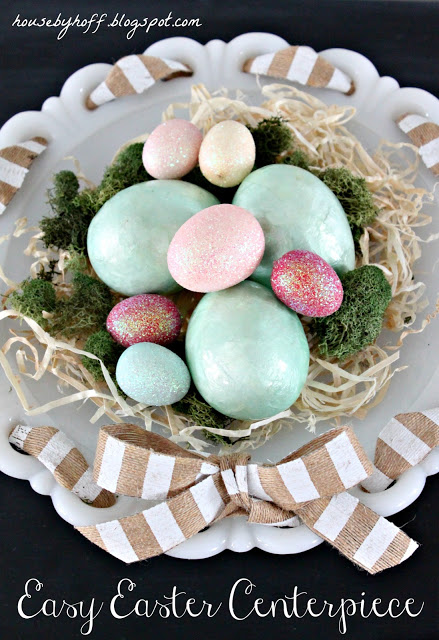 I'm never one to miss out on a decorating trend, yet I'm typically one to miss out on Pottery Barn merchandise, so you can imagine my excitement when I found some glittery eggs at Goodwill last week.
I found the striped burlap ribbon at Hobby Lobby for half price ($3)! The glitter eggs were $1 at Goodwill. The mint green eggs were a Home Goods find for (I think) $8. I had moss left over from my
Mossy Monogram Wreath.

I liked my centerpiece so much that I made a few more!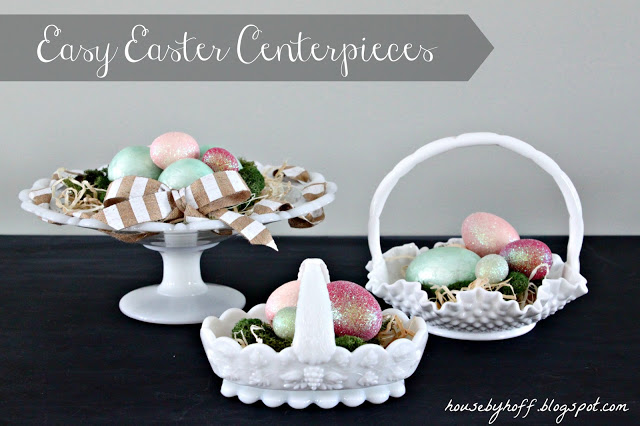 The milk glass is perfect, isn't it? My MIL nabbed the hobnail basket from a garage sale this summer, the basket in front was a Goodwill find, and so was the milk glass pedestal.
The downside of these glittery beauties? Miss L. finds them irresistable! She keeps trying to climb on top of the kitchen table to get her little fingers on a glitter egg. What does she do when she gets them? Tries to eat them, of course! My centerpieces have spent more time on top of the kitchen counters then in their intended places. Why don't 16 month olds understand the importance of keeping decorations out of their mouth and in their place? 🙂
Have a great day! 🙂