Do you decorate your kitchen for spring? To me, a simple vase of tulips (and a little spring de-cluttering) is really all you need to make the kitchen feel fresh and happy for the new season. With the official first day of spring already over, it's time to check out spring in the kitchen here at my house! I'm joining several fabulous bloggers today as we share some of our favorite spaces for spring. The lovely Marty from A Stroll Thru Life is hosting the Spring Home Tour, and I'm just honored to join. If you're joining me Remodelando La Casa , welcome! I'm so glad you stopped by today!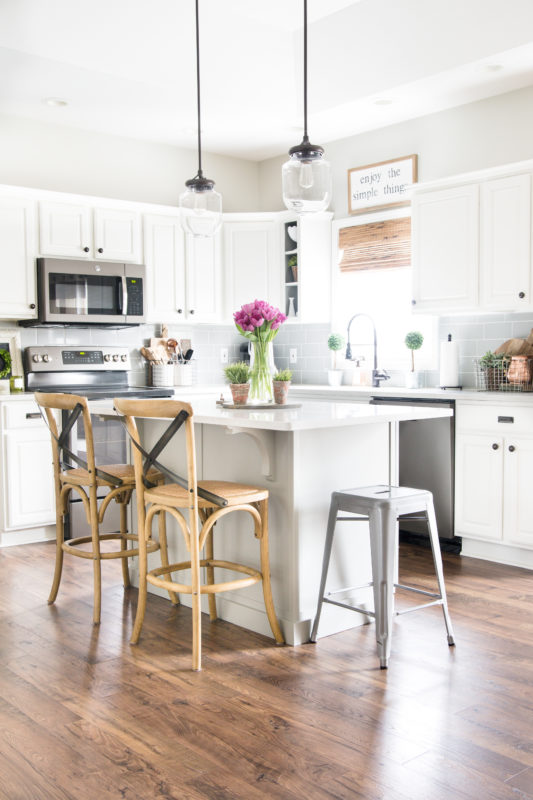 It's hard to believe that it's been nearly two years since we finished our kitchen makeover. This space was an outdated 90s kitchen before we painted cabinets, changed the flooring and counter tops, and gave it an updated style. It was a labor of love, I tell you. 😉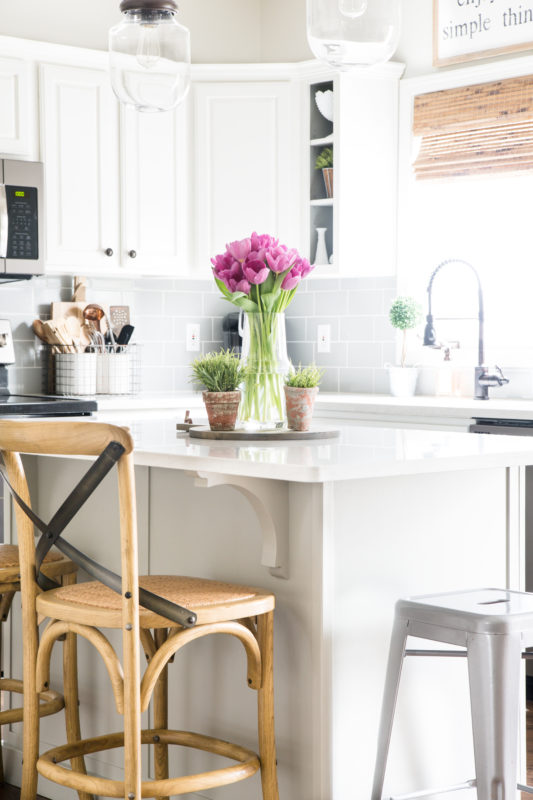 When I was contemplating how to give my kitchen a fresh, clean look for spring, it occurred to me that I should just keep it simple. These gorgeous purple tulips in a simple glass vase were really all the spring touches I needed.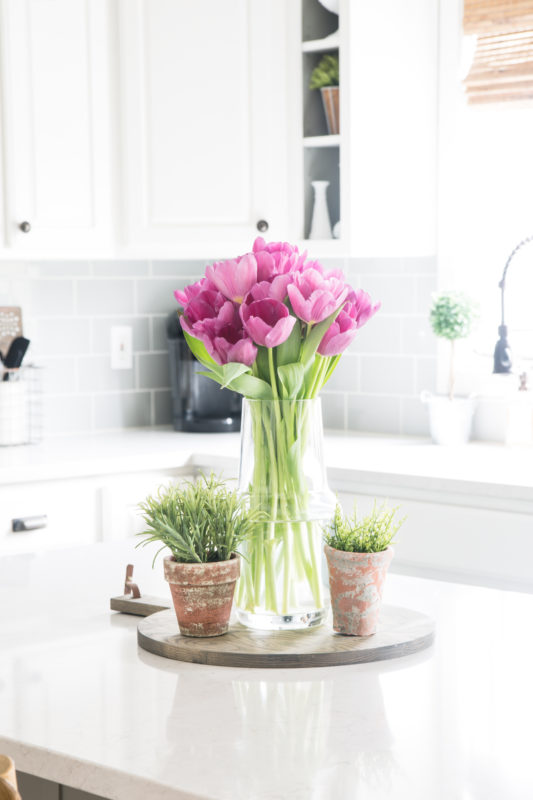 As soon as these tulips wilted I went back to the grocery store to see if I could find some that were exactly the same. I love fresh tulips in the spring, and this purple hue might be my favorite color tulip I've ever seen. The bright pop of purple looks so pretty against the grays and whites of my kitchen.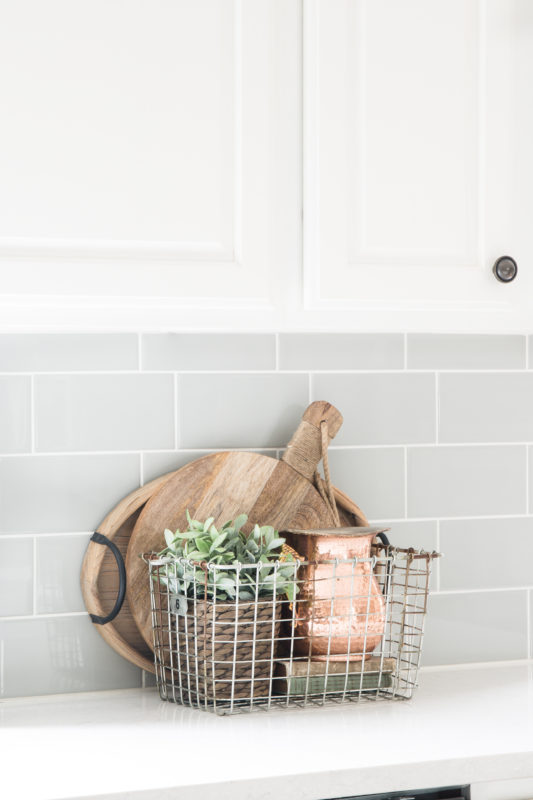 I really kept everything else the same. I try to balance out the cool tones of my kitchen cabinets, counter tops, and back splash with accessories that have warmer wood and copper tones.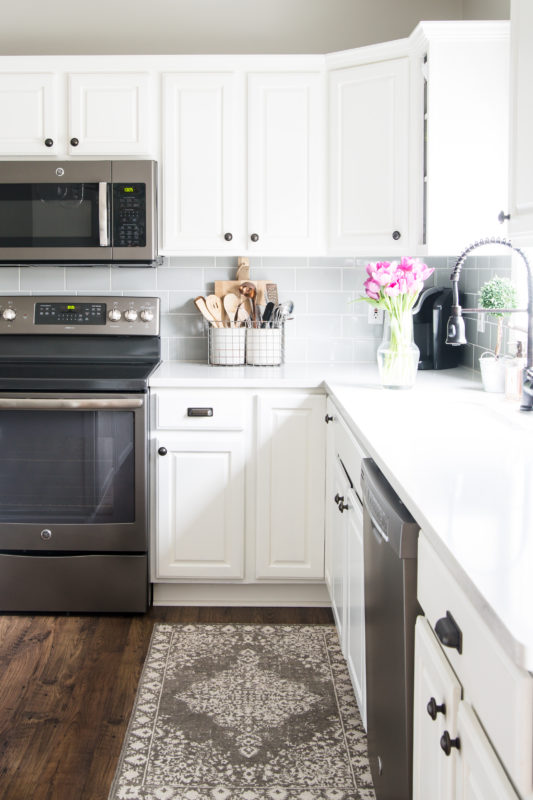 Every morning before I load up my daughter in the car for school, I try to make sure that the kitchen is cleaned up. (This does NOT always happen…ha!)  I just love coming home to a quiet, clean kitchen. It motivates me to focus and get working right away.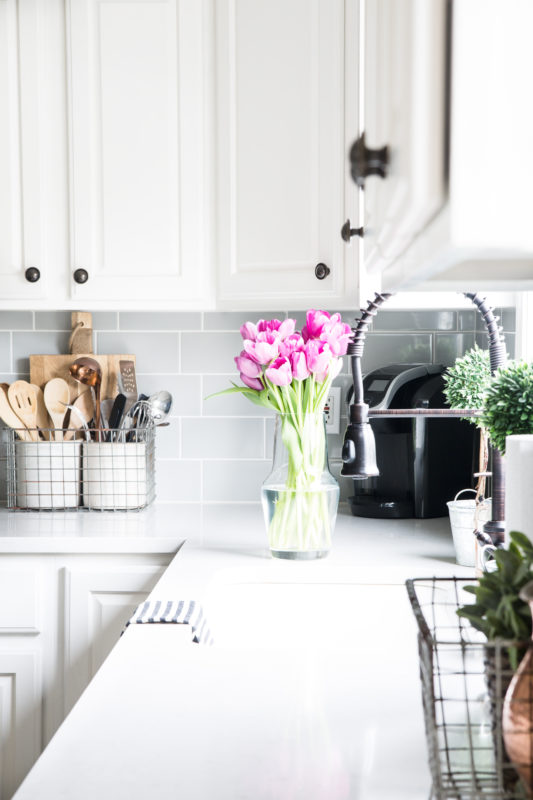 Thank you so much for stopping by! Next up on the tour is Jennifer's home from Dimples & Tangles.  Jennifer's bright, bold, colorful style is sure to inspire you this spring! See the lineup for the entire week below. 🙂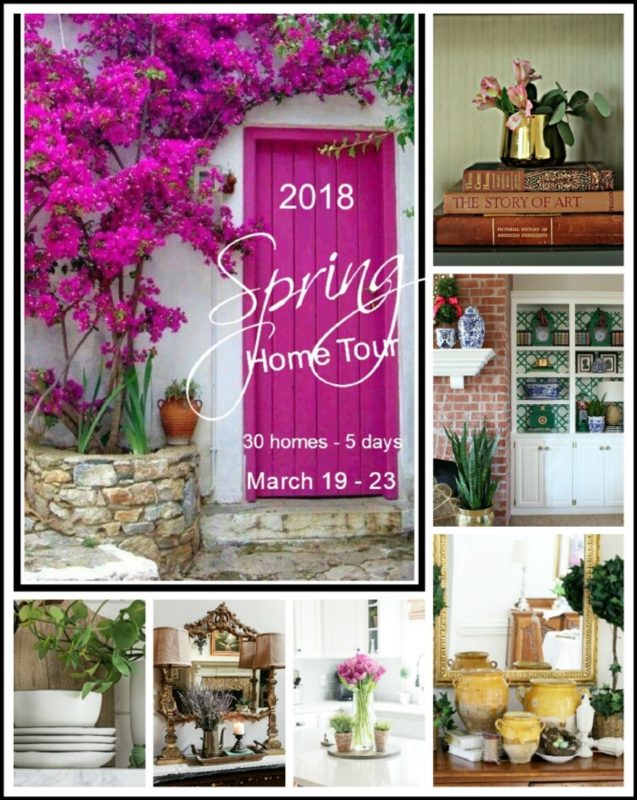 2018 Spring Home Tour
Monday – March 19
Tuesday – March 20
Wednesday – March 21
Thursday – March 22 
Fri –March 23
~
Have a great day! 🙂