MY farmhouse kitchen makeover is finally done and the pictures are stunning!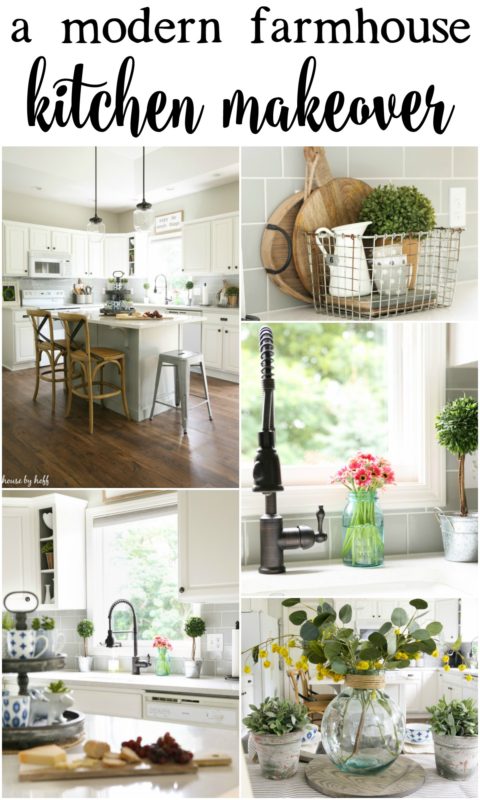 I almost titled this post:   The one where I (once again) declare the kitchen finished, but it's kind of not. But basically is. Pretty much. Yeah, it's done. 
 Be honest, you wouldn't have clicked over to read this post if I had a ridiculous post title like that, so let's just declare this kitchen finished. Except for appliances.
#alwaysneverdone #applianceslater #somebodyshakethemoneytree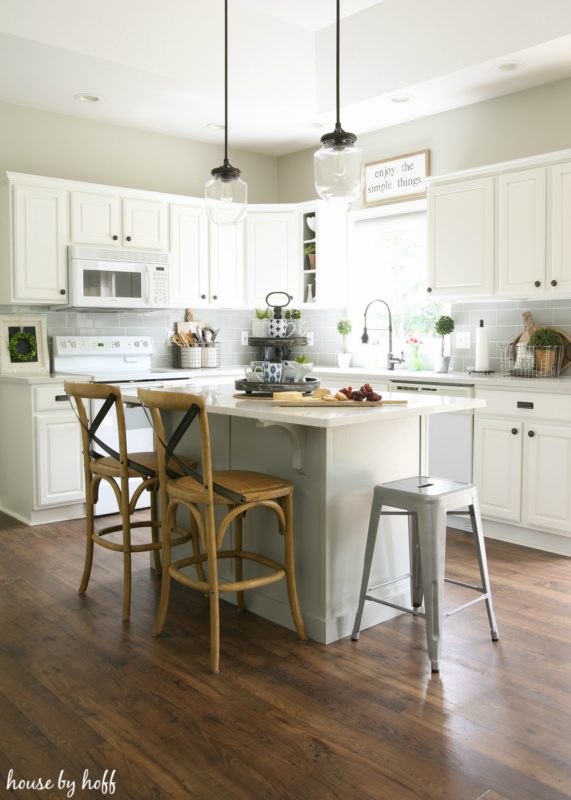 The Process
If you've been with me on the long saga (it's probably not a saga, but it totally feels like a saga to me) that has been our kitchen makeover, then you'll remember that we started here.  About a year ago we replaced the floors, then I beefed up, repainted, and got a new counter top for the improved island, then I painted the cabinets, switched out hardware and got new accessories in this post. Then we replaced the perimeter counter tops, got a new sink, and a new faucet in this post.
See? I told you! It HAS been a saga!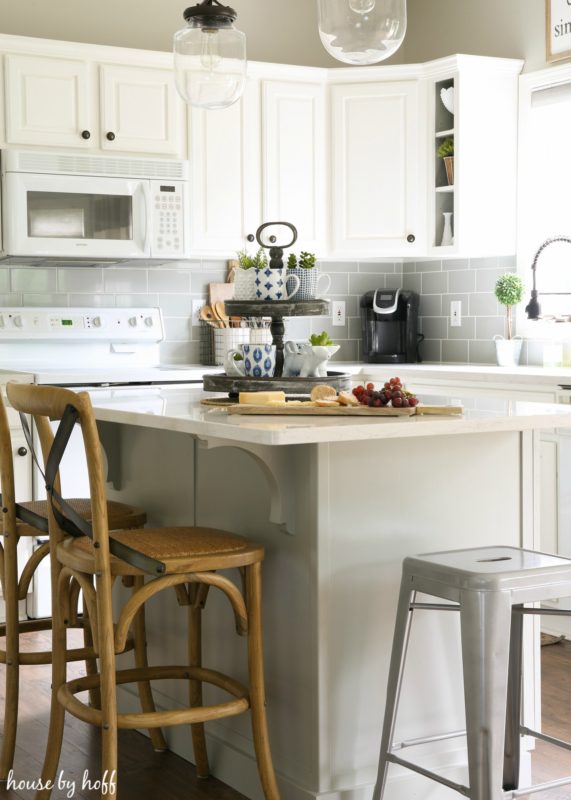 And now. At last. We have our new subway tile back splash installed, and praise Jesus, hallelujah. Mama is calling this kitchen done.
#cuethechoir #somanyhashtagstoday #itjustfeelsright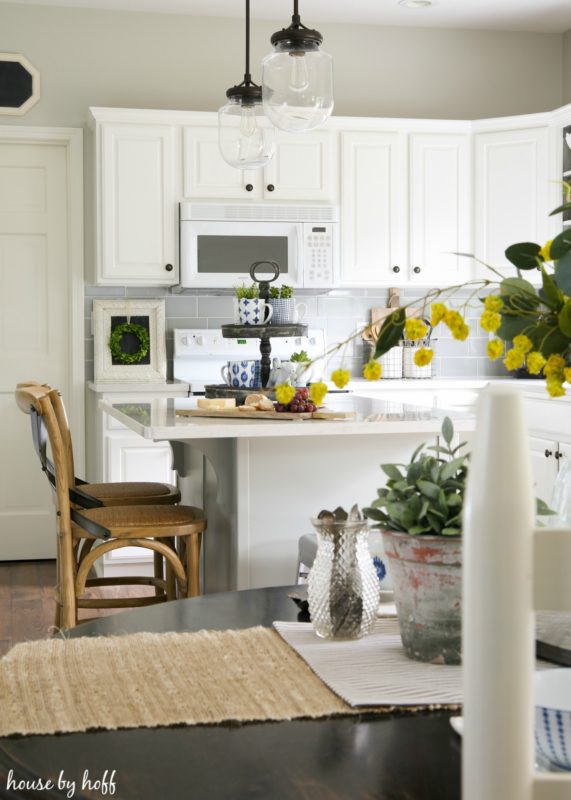 In all seriousness, I just love what I see when I look at this space now. It has been so much time, work (and, let's be honest, cash) to get this kitchen to this place…but you know what? Worth it.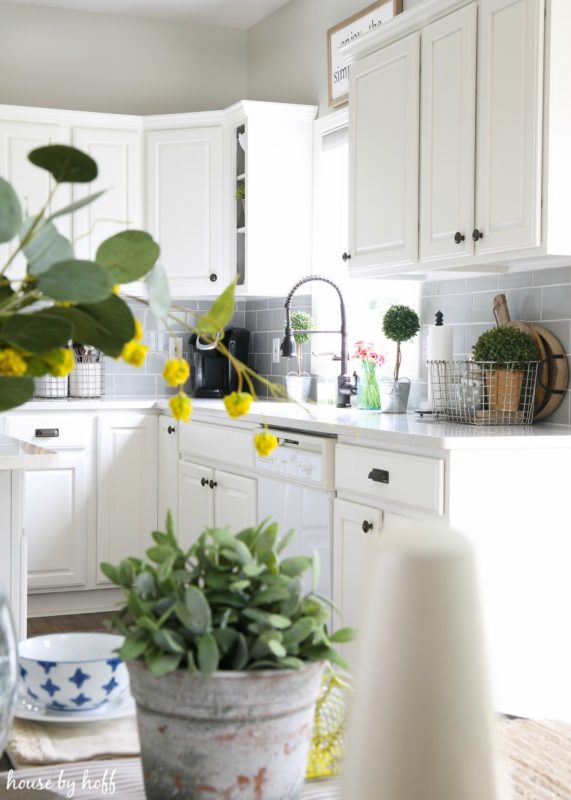 When we got the subway tile installed (about two weeks ago) nobody was more surprised than me at how big of a difference it made. Since the wall behind the tile was gray, I didn't realize just how much the  tile would change things. It looks so much more finished and complete now.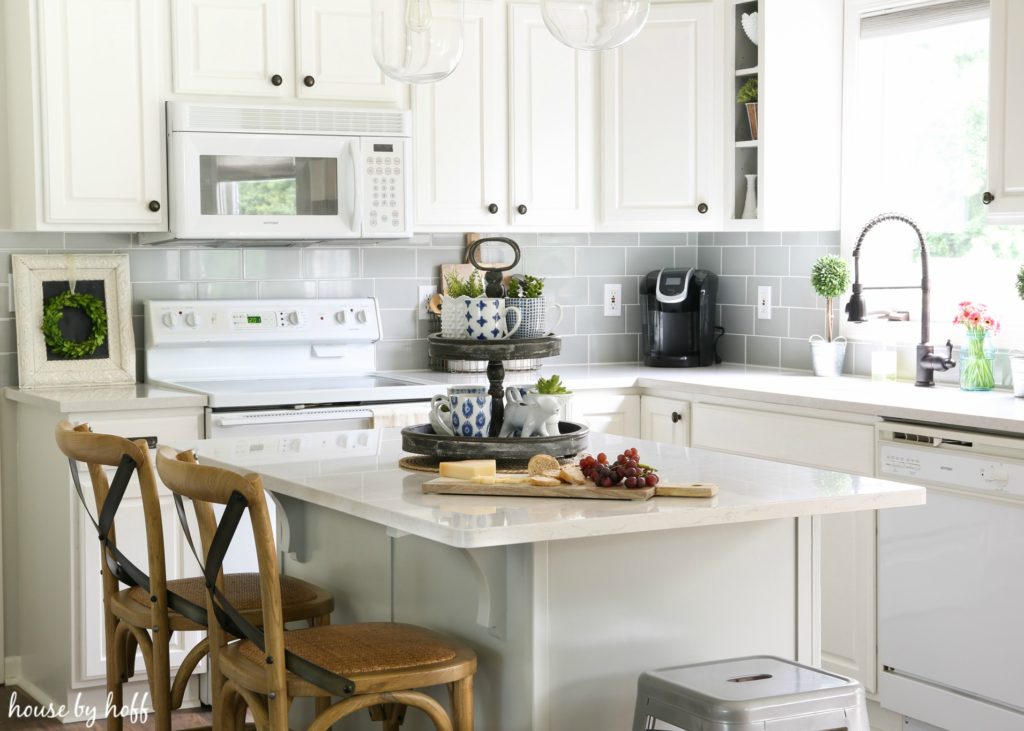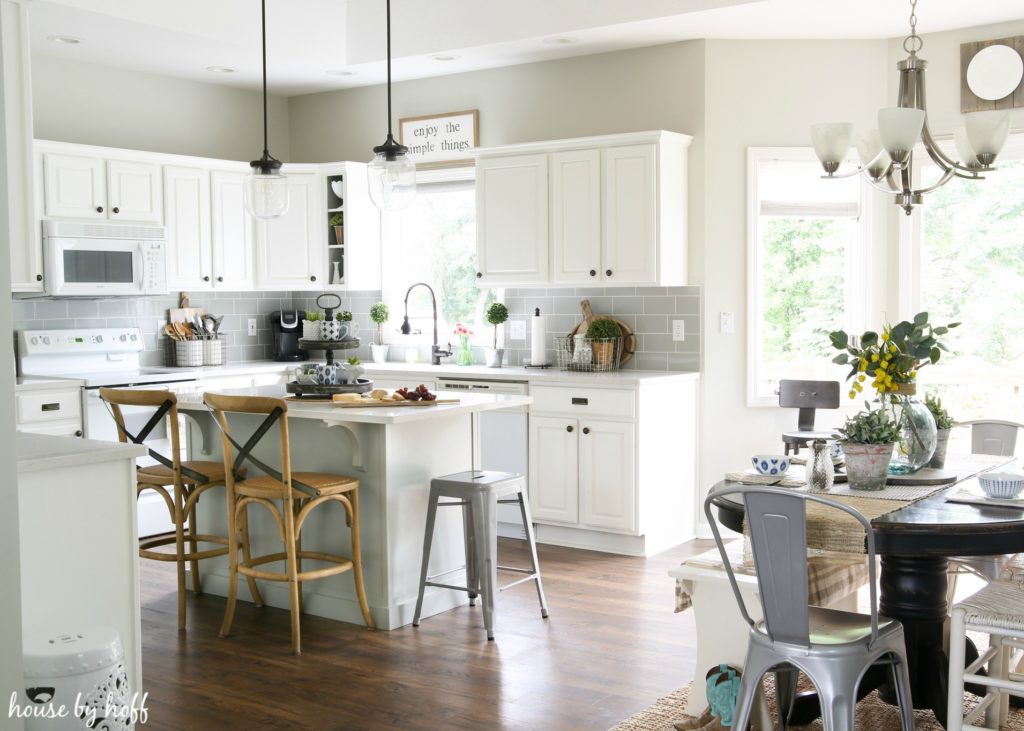 I don't know if I've properly professed my love on the blog for my new faucet, so perhaps I should just take a moment and say: that I'm not ashamed, and I'm not afraid; I LOVE YOU FAUCET!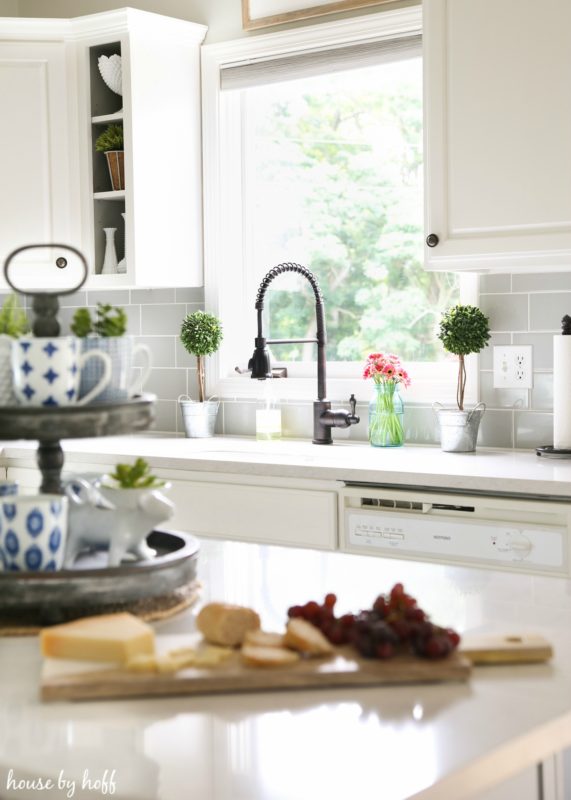 It's very silly, but I find myself just kind of wiping it down and buffing it for no reason. There's just no reason to leave a droplet of water on it, right? 😉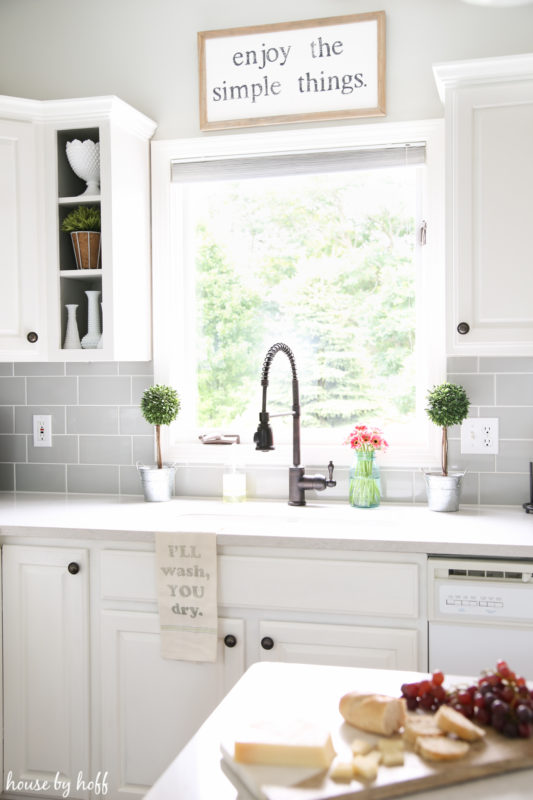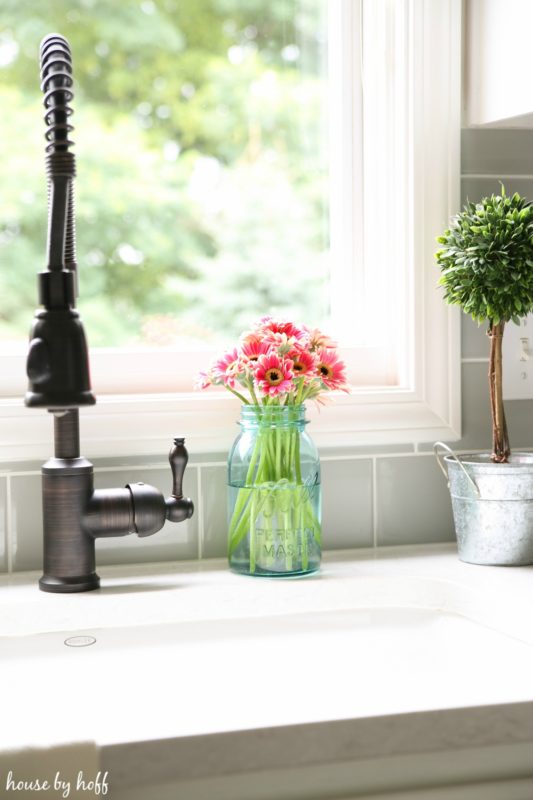 Now that we have so much gray and white in the kitchen, I like adding lots of wood tones to add texture and warm things up. I love the look of the wood with the gray.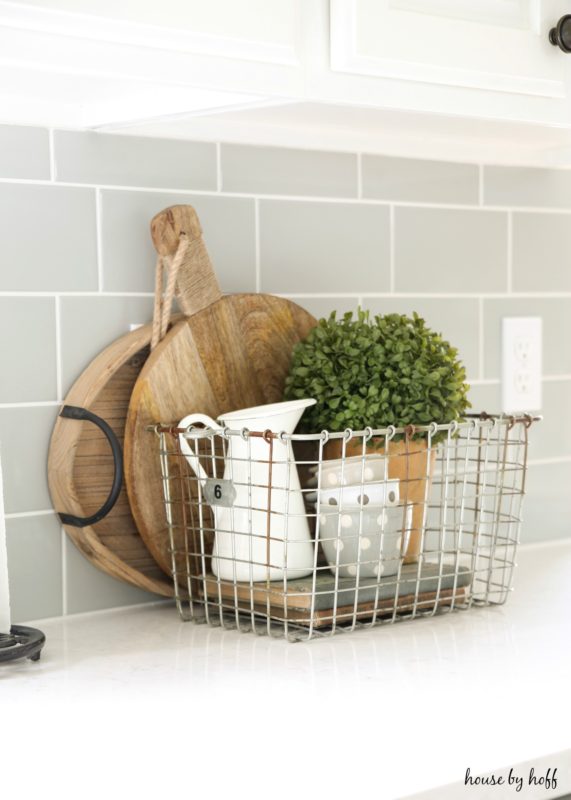 Antique wire baskets are such an easy way to add character to any space, and the kitchen is the perfect place to use them!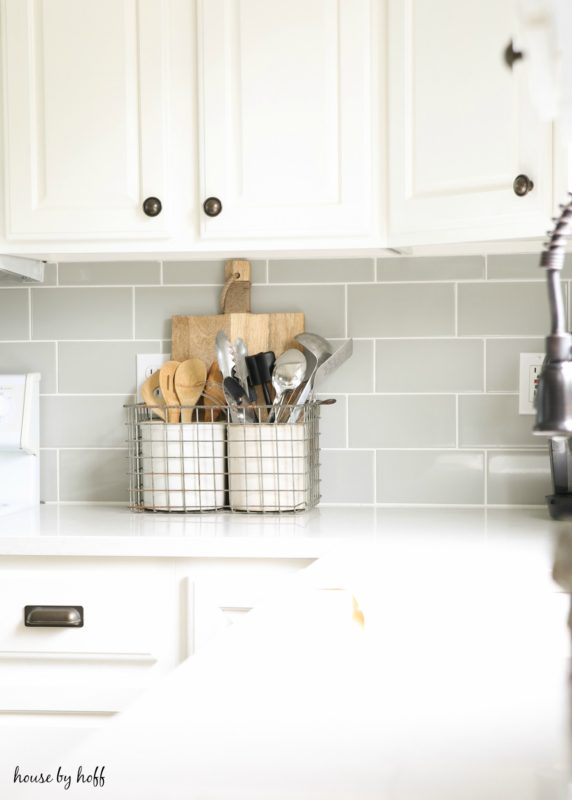 I had a hard time choosing hardware for my kitchen becauseI was torn between using oil-rubbed bronze (which is what I went with) and the more trendy champagne-colored bronze hardware. Either would have looked great, but I'm happy with the black look of the black oil-rubbed bronze. I think this very light space needed some black to ground things. A little contrast goes a long way, no?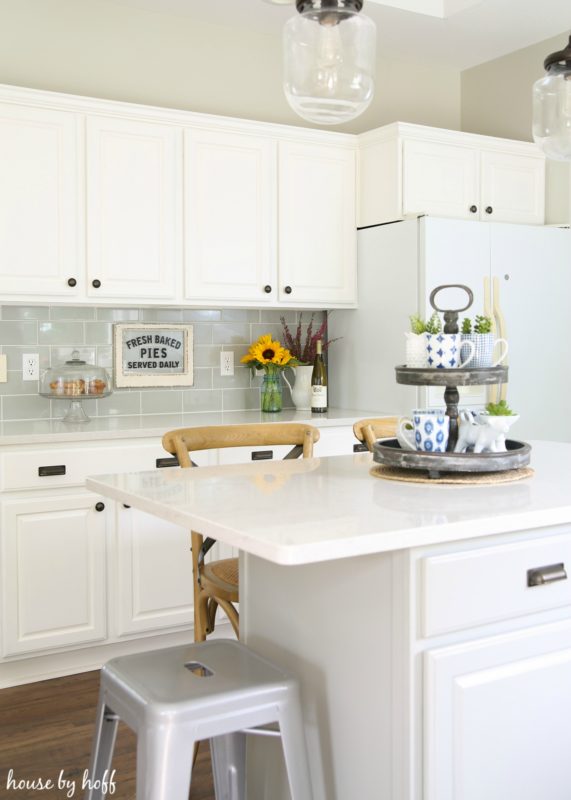 So now that the kitchen and dining room are completely revamped….what will be next?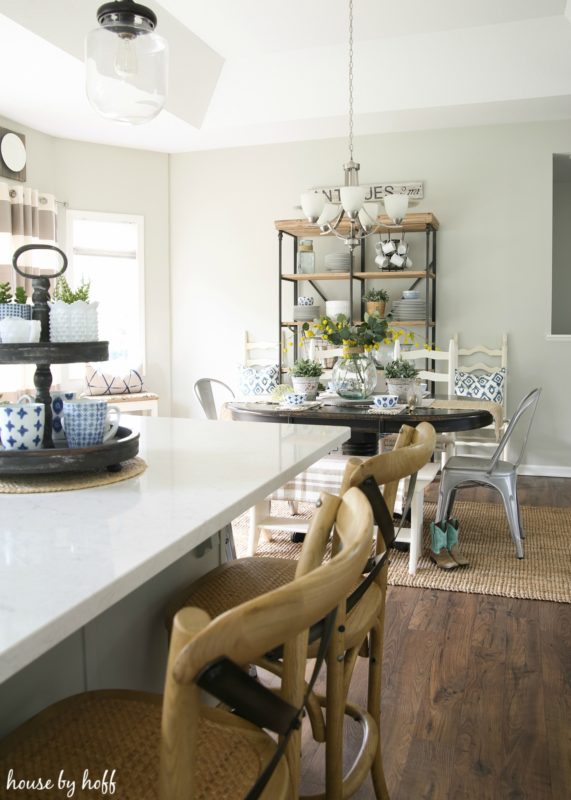 Hmmmm…I'm sure I'll think of something.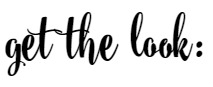 Kitchen Sources:
*affiliate links used
Paint color on cabinets and trim:  White Dove by Benjamin Moore (OC-17)
Paint on color on island: Fieldstone by Benjamin Moore (1558)
Paint color on walls:  Vapor Trails by Benjamin Moore (1556)
Quartz counter tops on island and perimeter:  Snowy Ibiza by Silestone (purchased at Home Depot)
Back splash tile:  "Imperial Ice Grey" in a gloss finish (4″x8″) (purchased at The Tile Shop)
Back splash grout: Pro Grout Excel in "Standard White" (purchased at The Tile Shop)
Hardware: Hickory Hardware pulls and knobs (purchased at Menard's)
Lighting above island: Patriot Lighting® Judd 13″ Olde Bronze 1-Light Mini Pendant  (purchased at Menard's)
 Deck Mounted Kitchen Faucet: Wayfair.com
Kitchen stools:  Wayfair.com
Tiered tray on island:  Wayfair.com (sold out); similar products here and here
Blue and white dishes:  Wayfair.com (sold out); similar here and here
Wood cutting boards: Wayfair.com
Open industrial shelves in dining room: Hayneedle.com; similar found here
Antique wire baskets: Local Antique Stores
Blue Moroccan Pillows: Minted.com
Sign above kitchen sink:  DIY tutorial here
~
Have a great day!