A sweet and colorful holiday little girl's room was a lot of fun to decorate for the holiday season!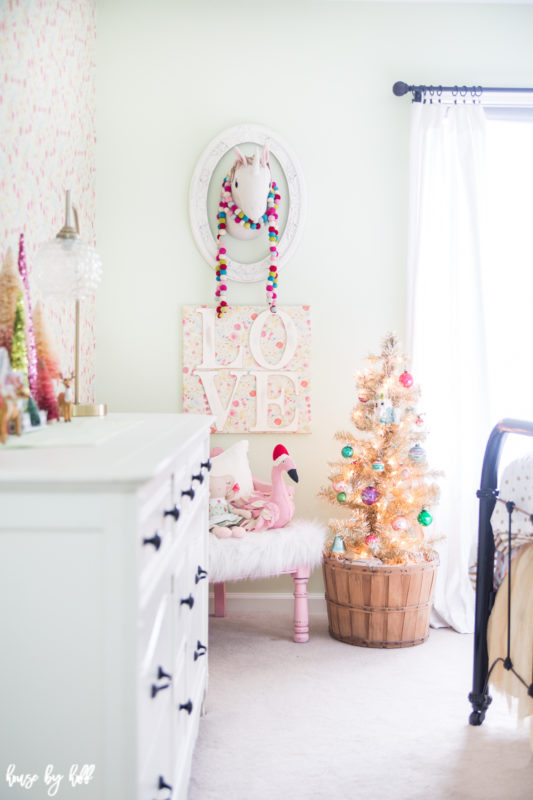 There is no room in my house that I love to decorate for Christmas more than my daughter's room. It's like my girly side has permission to go wild. Luckily, she and I share a sense of feminine and fun style, and she's just as delighted with her holiday room as I am. Today I'm joining a group of really fun bloggers to show you around our children's holiday spaces! Thanks to Chelsea, from Two Twenty One for hosting!
Decorating Ideas for A Little Girl's Room
Because she is my only child, and because I'm fairly certain that she won't let me decorate her room forever, I don't really limit myself when it comes to getting cute, girly decor. Especially for the holidays. I mean, did I need to buy that adorable Santa Flamingo or felt garlands at Home Goods? Did I have to buy a new champagne tinsel tree for her room this year? No. No, I did not. But I did. And I feel pretty good about it. I'll be so sad when I have to roam the aisles of Target and Home Goods and have no little girl to buy for.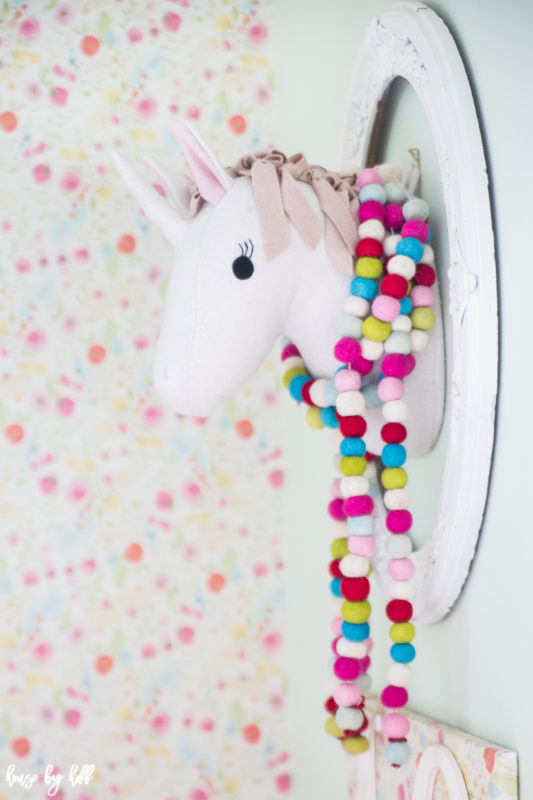 There is actually a whole side of her room that I didn't photograph. There is a a big open shelf and it's full of holiday decor "overflow." I let her decorate it however she wants, and let's just go ahead and use the word "cluttered" to paint the picture.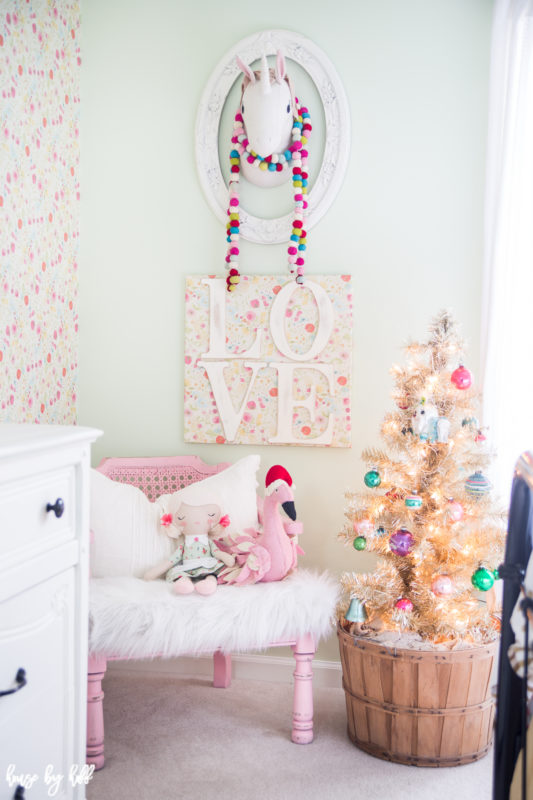 I've told this story before, so forgive me if you already know this one, but one of the best deals I ever got was an entire box full of feminine, vintage ornaments at an estate sale for one dollar. ONE DOLLAR!!! I feel like this was one of the top five best moments of my life. No joke.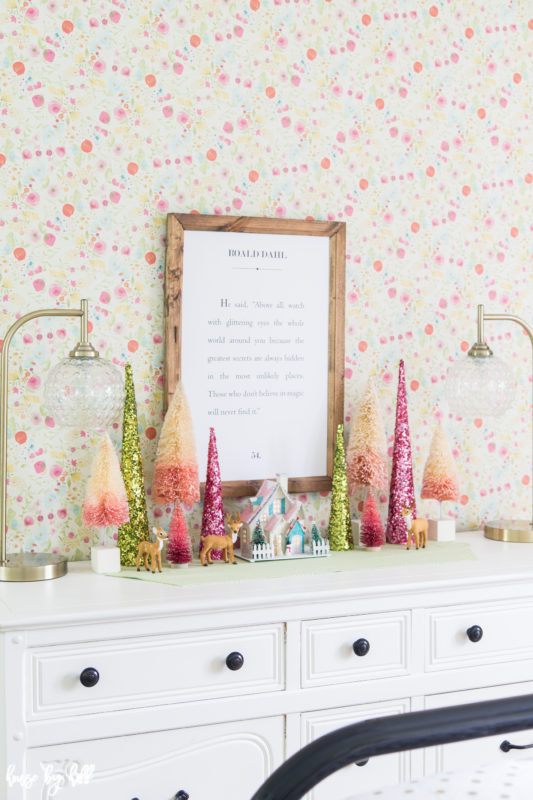 Ohhhh…Let's make up a story about this little holiday vignette. Once upon a time there was a little old lady who lived in a colorful candy cottage in the middle of a gumdrop forest. She would feed the deer candy canes, and they all lived happily in the gumdrop forest for ever and ever. The End.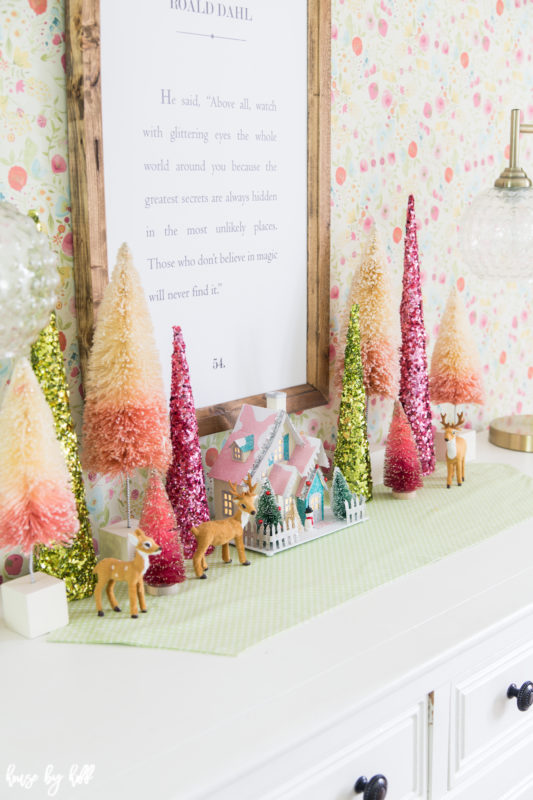 No, but for real, how sweet is this vignette?! It makes me giddy.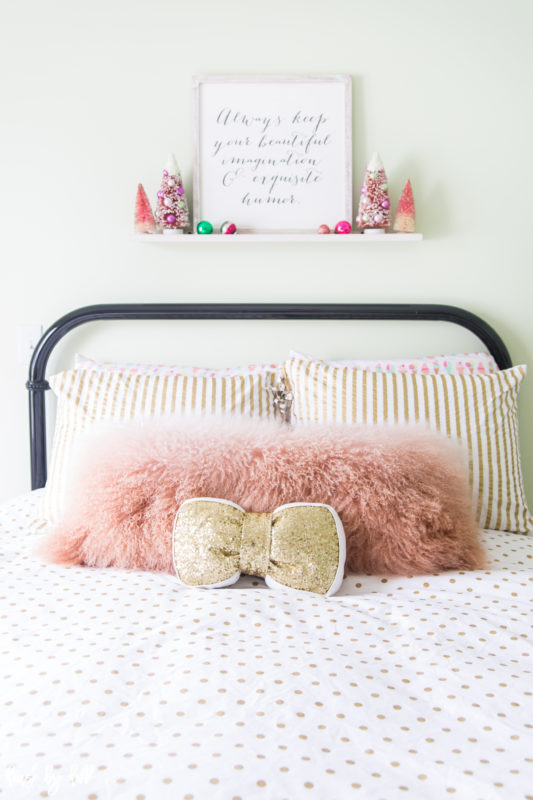 Miss L. just turned seven, and her big present was a brand-new big girl bed (well, new to her…it's actually an antique that belonged to my great-grandmother) and all new comfy bedding. My favorites are the big furry lumbar pillow (it is even softer and fluffier than it looks in pictures) and the super-sparkly bed skirt (the picture does it NO justice whatsoever.)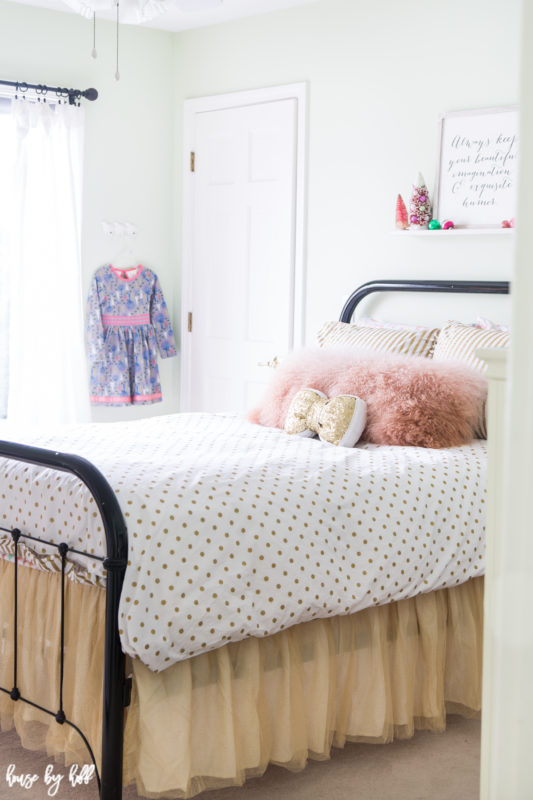 This little corner of her room is one of my faves. I made the DIY LOVE Sign years ago, and still LOVE it…see what I did there?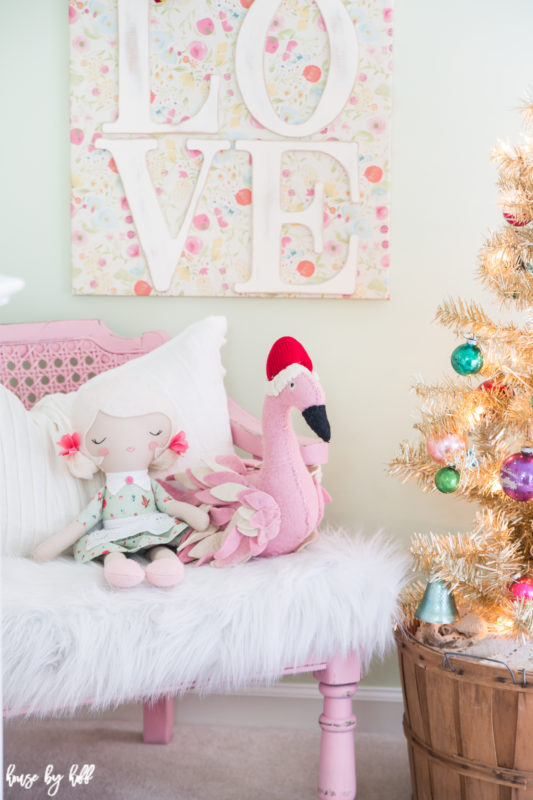 I think it's only fitting that we end this post with a profile pic of the unicorn head all decked out for the holidays. She's just the cutest isn't she?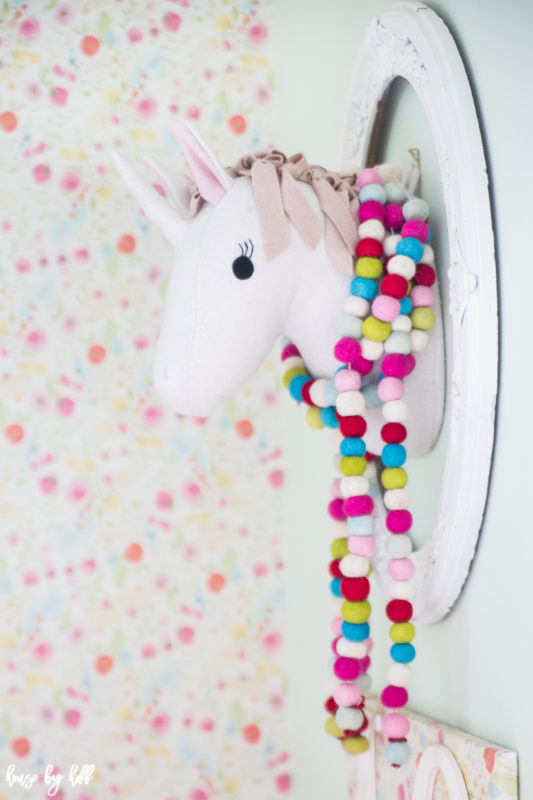 I sure hope you enjoyed this little tour of my little gal's holiday room as much as I enjoyed putting it together for you!


Next stop on the tour is At Charlotte's House. Make sure to check out all of these darling kids' holiday spaces below! So much cute!!!
Two Twenty One // House by Hoff // At Charlotte's House // Making Home Base

Casa Watkins Living // DIY Decor Mom // Bless'er House // The DIY Village

Heathered Nest // Southern State of Mind // Rain on a Tin Roof // Haneen's Haven