A gray paneled wall, gold and pink accents, and adding some fun new furniture top the list as we begin our girl's bedroom refresh!

Happy New Year! Starting a new year always makes me want to tackle projects around the house.  This year we're refreshing my daughter's room!  As she grows and changes, I want her space to reflect her personality and style.  She and I have been talking and planning her room makeover for a few months.  It's been a fun challenge to work with her budding style, but also keep the room cohesive, tasteful, and something that she'll love for years.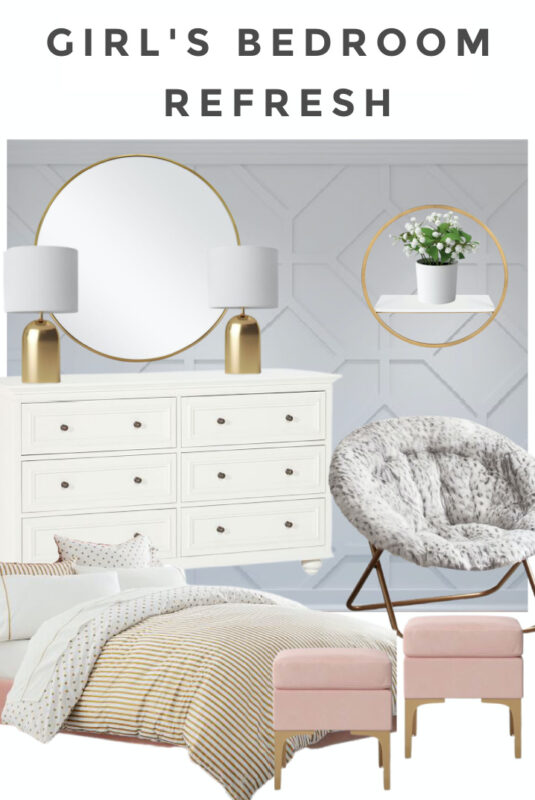 It hardly seems possible, but almost five years ago to the date, we completed her "Big Girl Room" makeover.  At the time, we added pretty wallpaper, switched to a big girl bed new bedding, and added some fun touches.  It was so sweet and perfect for our four-year old!  It was perfect for her then, but as they all do, she is growing up, and was feeling like her room was a little baby-ish for a nine-year old. ;). I remember being around her age when I directed my own room makeover.  I covered my walls with blue-flowered wall paper and a coordinating heart border.  I think we hung a shelf with all of my ceramic bunnies, and I got a grown-up desk.  It was pretty awesome.
The Before:
So, here is where we begin.  I have to say, that the room looked much better than these awful poorly-lit cell phone pics that I snapped right before we started tearing wallpaper off of the walls.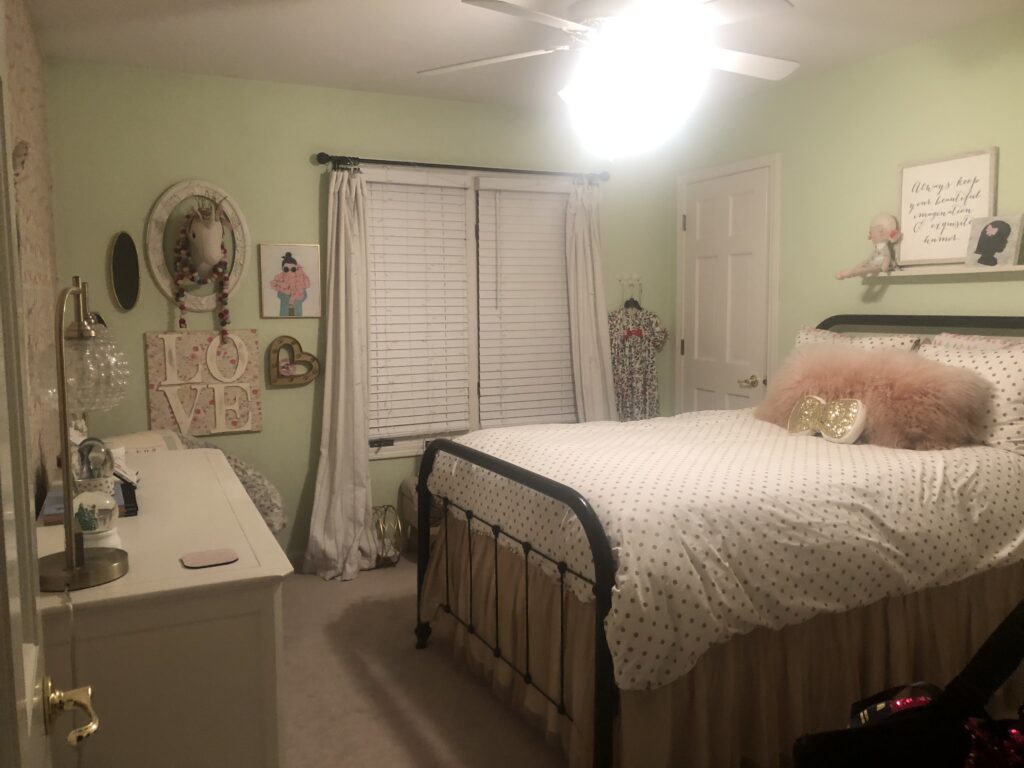 As you can see, I had kind of given up and let her take over this wall.  It was the only wall I couldn't see from the doorway when I passed by…haha!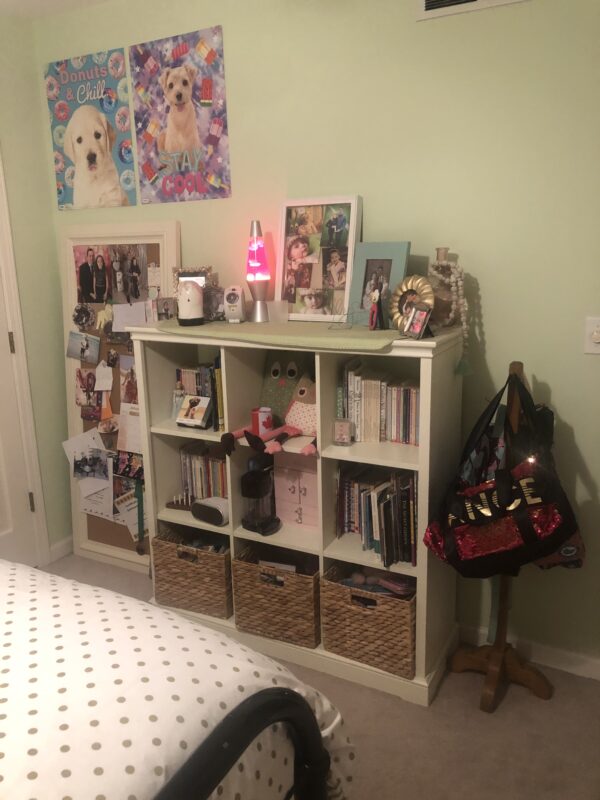 This is embarrassing.  The room really looked better than this during the day with good lighting!  I will always love this vintage floral wallpaper!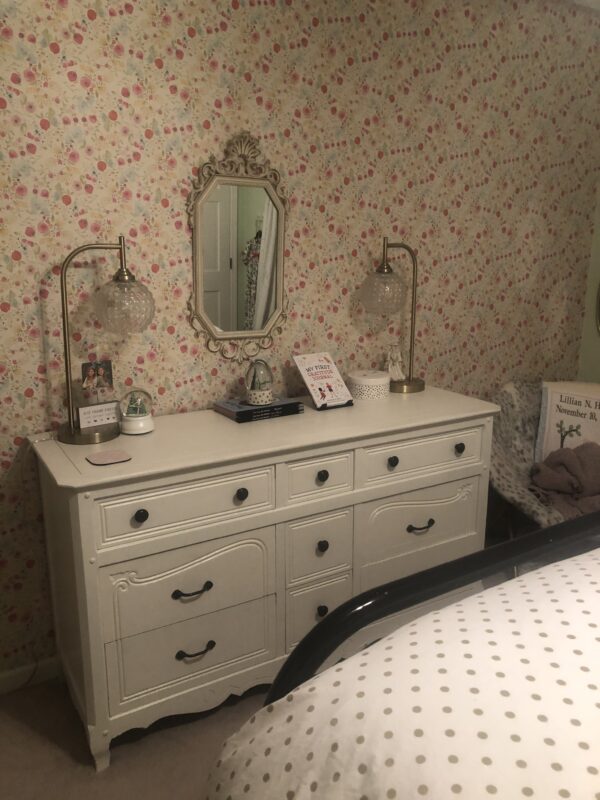 We will be reusing many of the items in here, but, sadly, the unicorn head is going! 🙁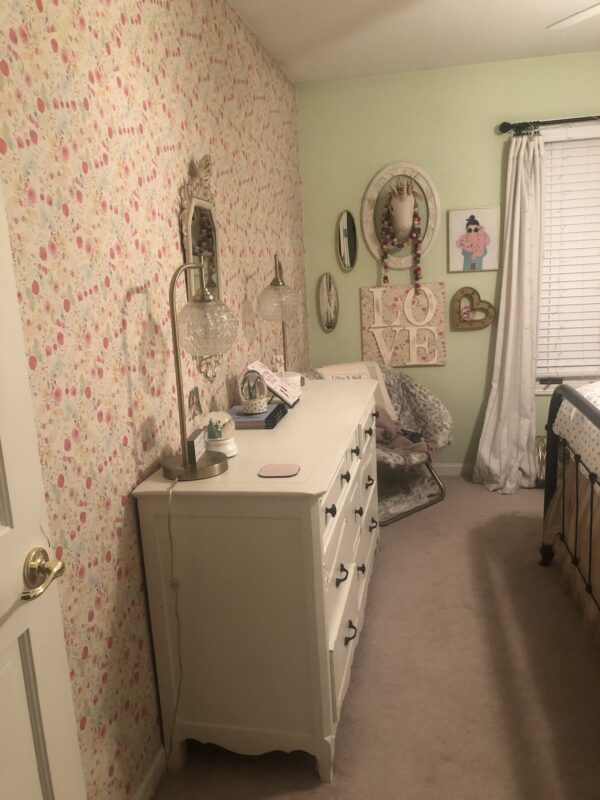 The Plan:
One of the decisions that Miss L. made was that she wanted the walls a light gray.  (Which made me sigh in relief…you just never know what wall color a nine-year old is going to dream up…). We are going to use the same gray that we've used in almost the whole house, which is Vapor Trails by Benjamin Moore.  To set this room apart from any of the other rooms, we're going to tackle an ambitious wood paneled accent wall.  It's actually not going to look like the one in the photo below, but it was the closest image I could find to the one in my head.  We'll be accenting the gray wall with pink and gold accents, which was also her decision.  She picked out these darling brass and pink ottomans at target the other day, and she also chose the round gold mirror for above her dresser.  She got the new gray leopard faux fur hang around chair for Christmas, which is perfect for her to relax and read in.  It will be perfect for her new space!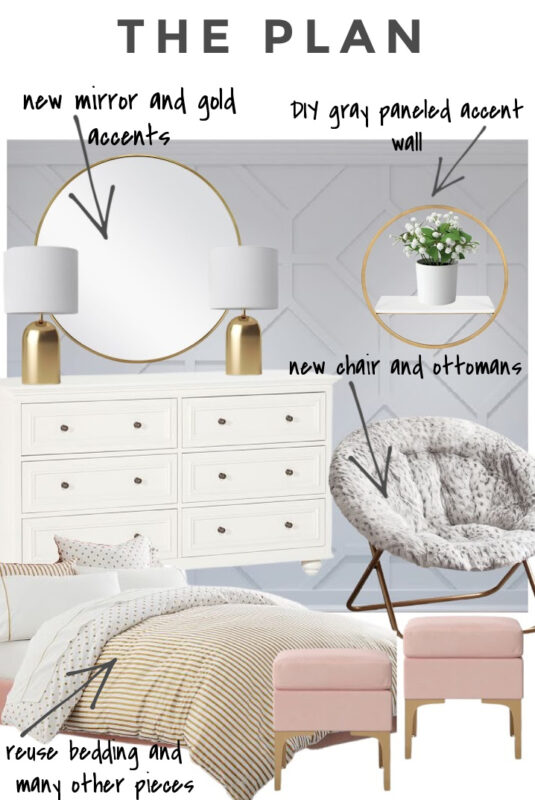 I am very excited to be joining Stephanie from Casa Watkins Living as she hosts me and some amazing blogger friends for the New Year, New Room Refresh Challenge.  We're excited to focus on doable DIYs and makeovers this year!  Click the links below to check out the before photos and plans for change that each blogger is taking on!
Casa Watkins Living // Up To Date Interiors // House by Hoff // Our Fifth House // Jeweled Interiors // Blue I Style // Domicile 37 // PMQ for TWO // Delineate your Dwelling