Miss L's "Vintage Cupcake" themed party couldn't have been sweeter! The party was a total success! It's easy for me to get caught up in all of the little details that have to be perfect, but I reminded myself to just stop and enjoy my little girl's big day. I swallowed one  big lump while we were singing happy birthday, but other than that kept it together!
Ok, now to those decorations! Let's start with the centerpiece of the party (besides the birthday girl herself, of course) the cupcake table: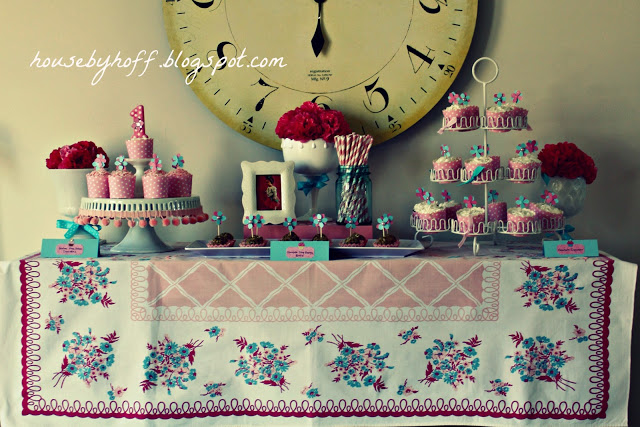 The goal was to tie together cupcakes with vintage pieces. The vintage tablecloth and my milk glass collection were on full display. I found this beautiful tablecloth in an antique store in Allen, MI this summer. It inspired the pink/blue color scheme and really tied everything together. I think it's a great keepsake that I'll save for Miss L.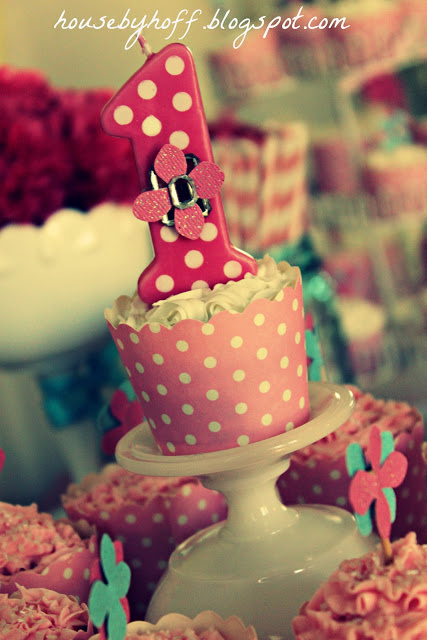 I actually turned a small footed milk glass bowl upside down to create this pedestal for the birthday girl's special cupcake. To read more about the cupcake toppers and the blinged out 1,
click here.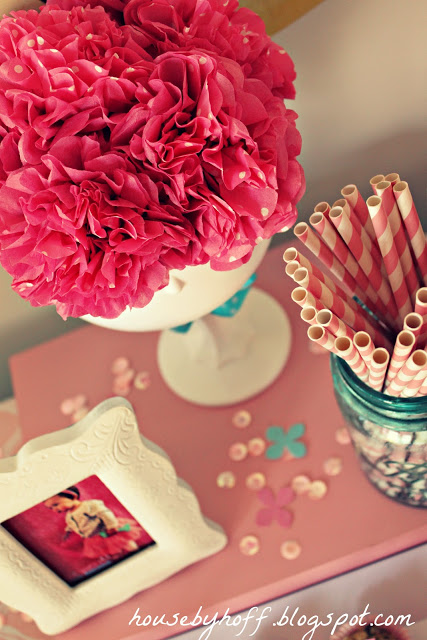 This central arrangement was perfection! To read more about my tissue paper flower arrangements,
click here.
  To read about using photography as party decor,
click here.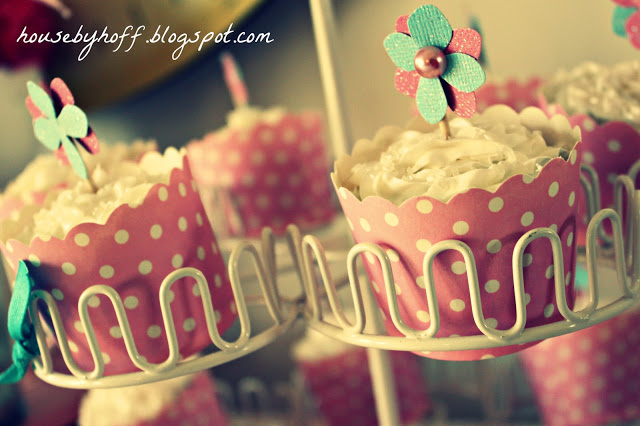 I made the cupcakes
from scratch
from a box. and decorated them the day before the party.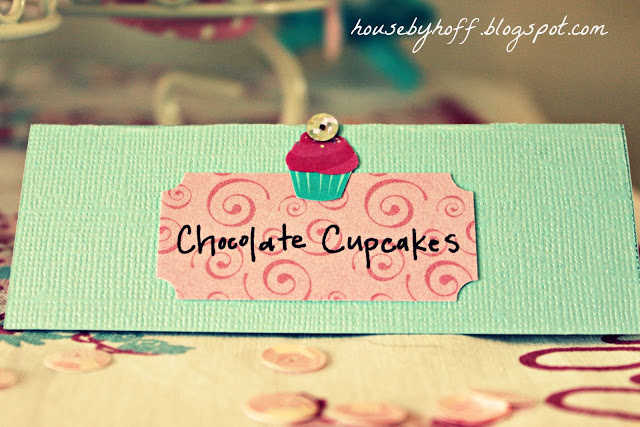 These food cards were made out of simple scrapbook paper and a paper punch that creates the label's shape. I actually trimmed the tiny cupcakes from one of the treat bags that I didn't use! Food cards are an easy way to add more detail and color to a food table. It's one of those extra details that puts a dot on the i or a cross on the t. 🙂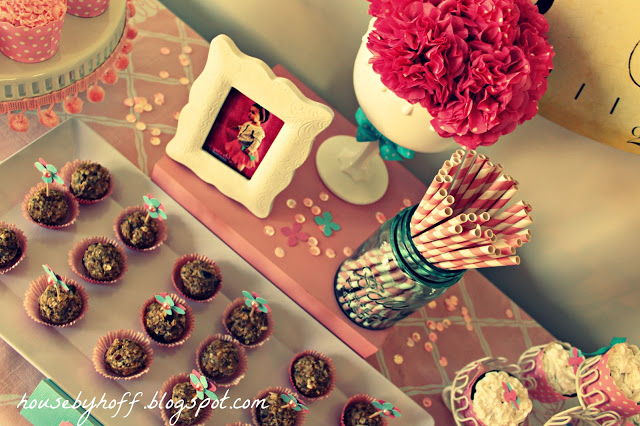 The confetti was created using a hydrangea paper punch and pink sequins. Easy, fast, cheap, yet big visual impact!
Moving on to some other focal points: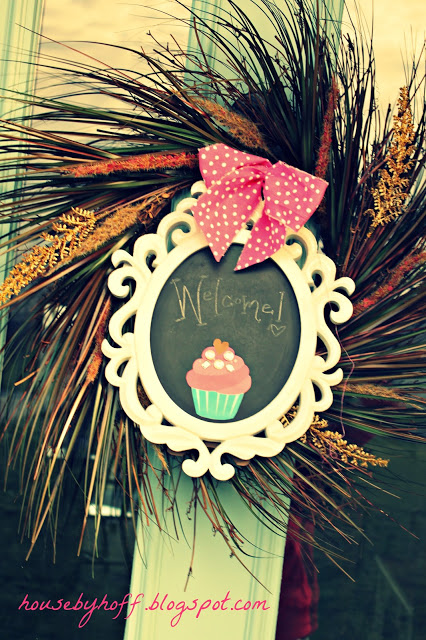 A sweet welcome for our guests hung on the front door! This was actually an ornately framed mirror that I found at Hobby Lobby last year. I spray painted the frame white and the back of the mirror's surface with chalkboard paint. I could still turn it around, and it could be a mirror again!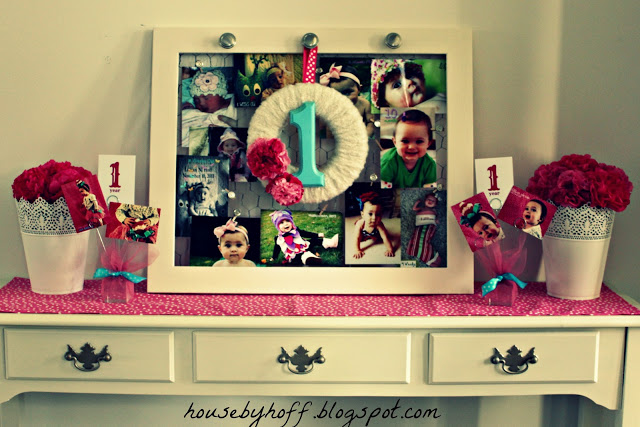 The photo table was a hit! Our family and friends enjoyed seeing and remembering how much Miss L has changed in one short year! For my post on making a yarn wrapped birthday wreath,
click here.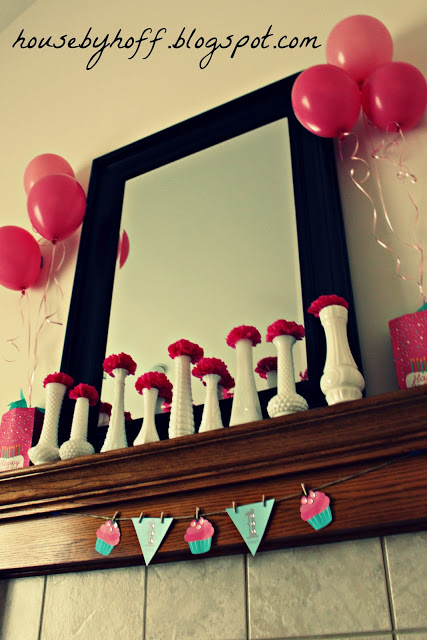 More milk glass, more tissue paper flowers, more cupcakes! The balloons tested my resourcefulness and patience when they began to run out of helium right before the party! Nooooo!!!  My solution? Using some masking tape to tape them to the wall.. Balloons; don't you even mess with me.
Ok, we'll end this post with some cute action shots from the day: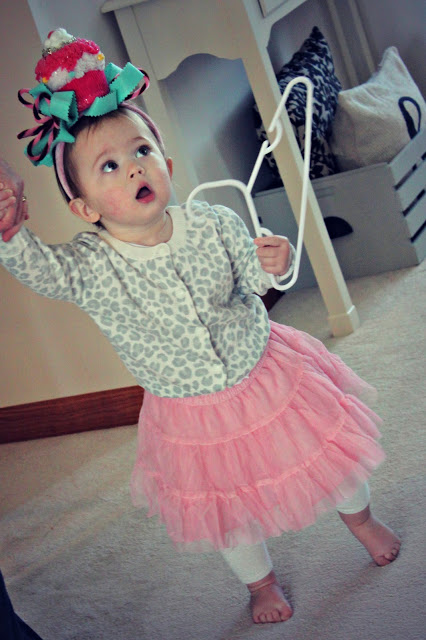 Hey ya'll, I heard there was a party! Ummmm, do I have a cupcake on my head?!? (My mother-in-law found this headband at Macy's.)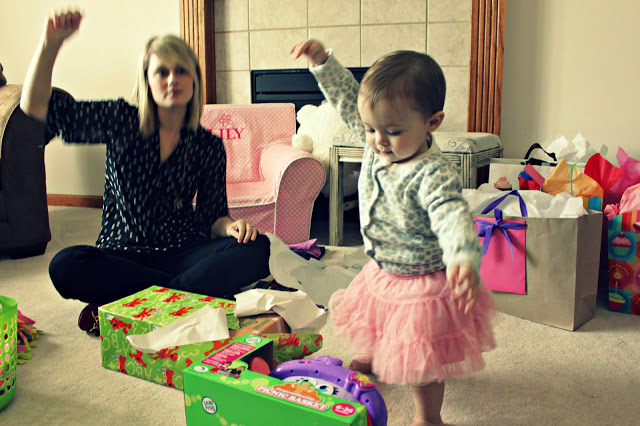 Although blurry, this picture is an instant classic. When this toy started making music, mother and daughter busted out identical dance moves…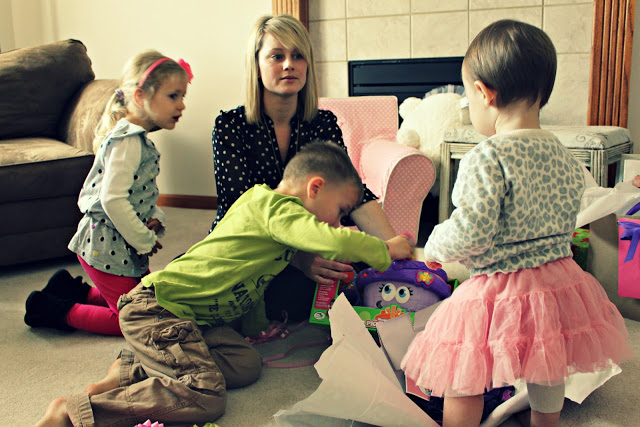 Cousins are good for many things, including helping you open presents when you don't understand how to do it.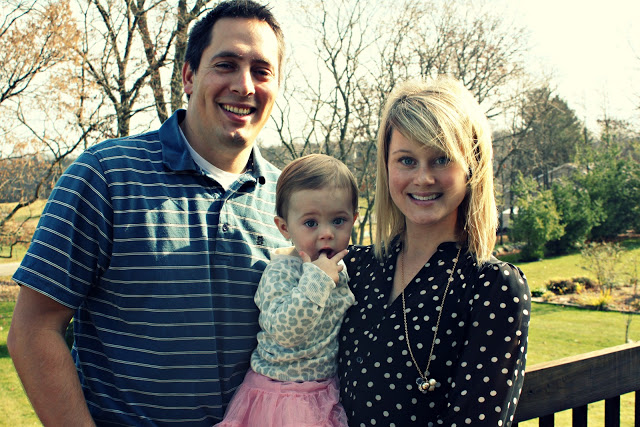 Darn wind. This was the best shot we could get.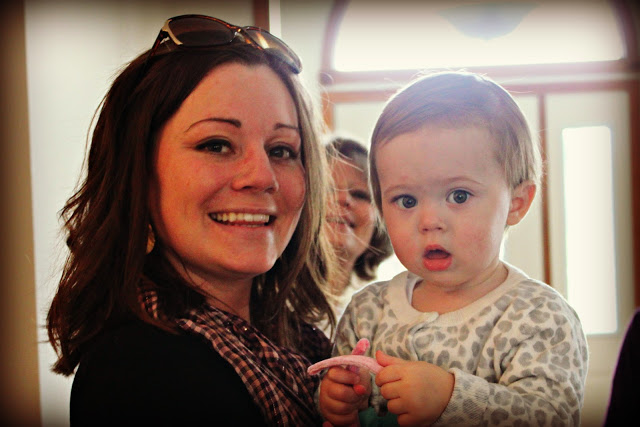 Ok, it's time for some shout outs…Thank you to my sister, (pictured above with Miss L), her boyfriend, and my two BFFs for driving all the way from Indianapolis on party day. Having you all there meant so much.
Thank you to my mom (she would be the one in between these two…haha!) for sewing the table runners, making food, and watching Miss L. the day before the party so that I could get this house together!
Thank you to my mother-in-law for finding the cutest cupcake headband ever, bringing food, and for getting all the dishes cleaned in like 5 minutes flat!
Thank you to my sister-in-law for bringing food and your super-fun kids (and husband)…the party just wouldn't have been a party without you guys!
We love you all very much and feel lucky that we have you to celebrate with us!
Whew! Now I can finally start blogging about something else… 🙂