My DIY bathroom renovation has so many design elements that you could consider for your own remodel!
It's such an exciting day on the blog today!  Four weeks ago, I announced that we were going to remodel our guest bathroom as part of the New Year New Room Refresh Challenge.  Three weeks ago the supplies started arriving.  Today, I get to share our entire DIY Guest Bathroom Remodel that we completed from start to finish in about two weeks.  I have to admit, I did not know how this would go.  We have never challenged our DIY skills quite to this extent.  It was our first tiling experience, and our first project that was on a tight timeline. But, you guys, WE DID IT!!!  And, if I do say so myself, we NAILED it!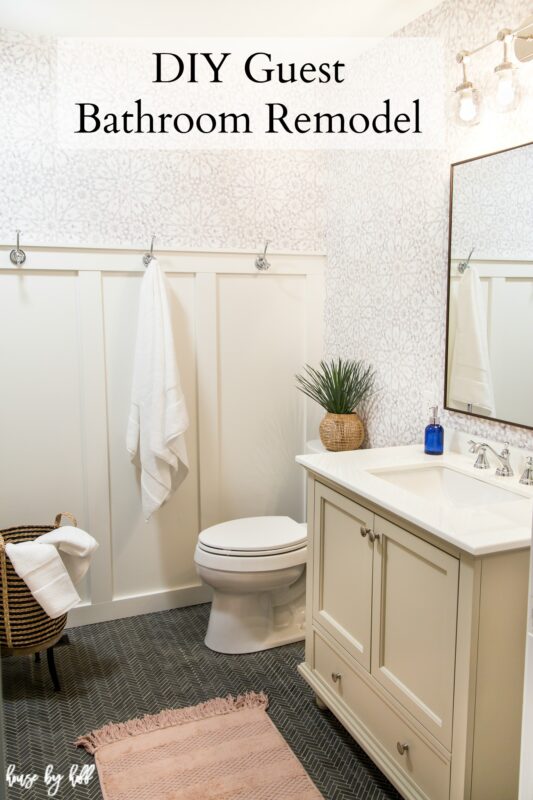 Guest Bathroom Before:
As a reminder, here is what the bathroom looked like before the remodel.  It was, by far, my least favorite spot in the house.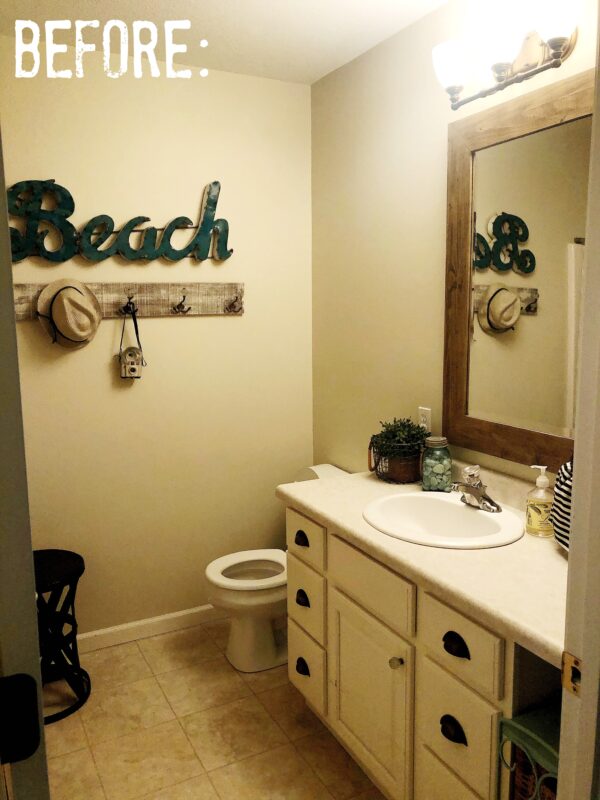 The BAthroom Renovation Plan and Materials:
The Floor:
The Basalt Herringbone Floor is probably what I was most excited about with this renovation. After we had ripped out the old flooring, Mr. Hoff prepped the floor for tile.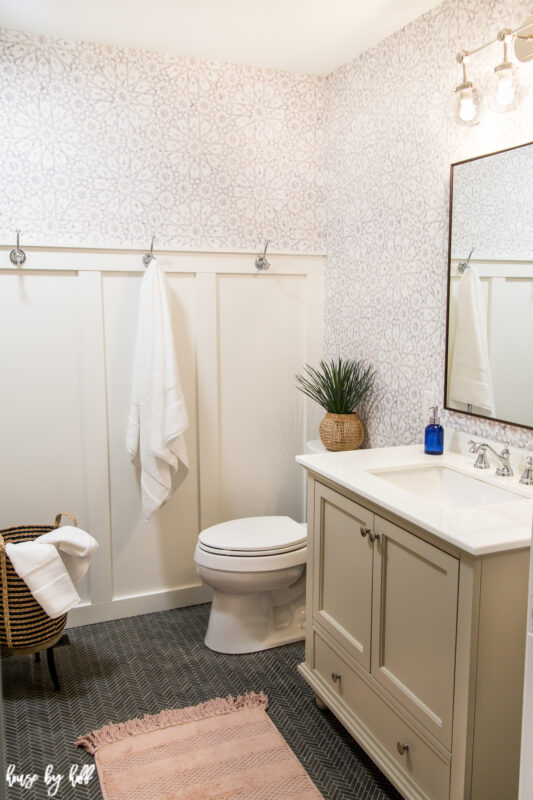 Measuring, laying, sealing, grouting and cleaning the Gray Basalt Herringbone Tile was the most time consuming part of the entire project.  Each step required about 12-24 hours in between, so for awhile, it just felt like we were never going to get past the flooring phase.  More information on how we laid this tile here.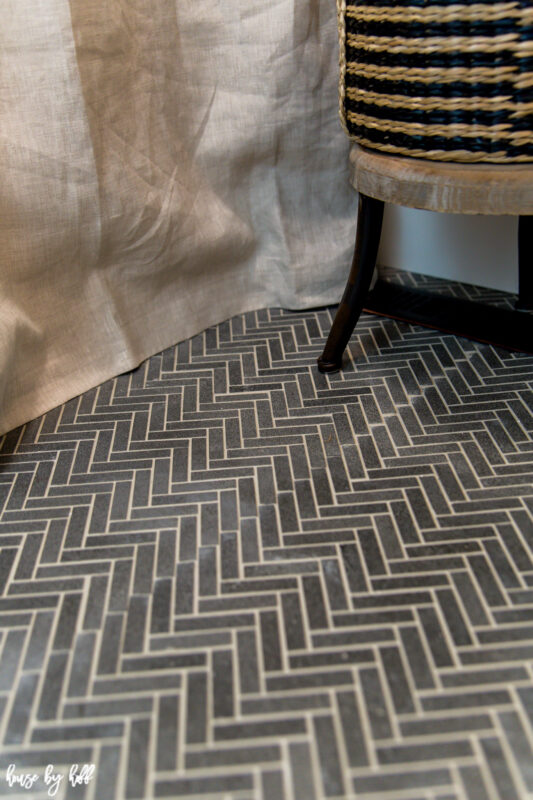 I definitely did not choose the easiest tile to lay for beginners, but I was unwilling to compromise the finish and style that I REALLY wanted.  What can I say? A girl wants what she wants…. 😉
The Trim + Board and Batten: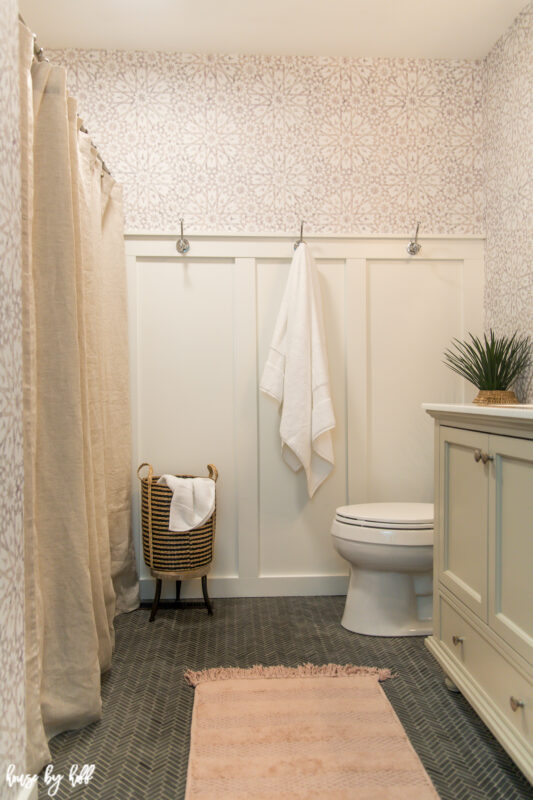 Once the floor was finally finished, we added new baseboard trim and constructed this board and batten wall.  We used 1″ x 4″ Primed Pine Boards, and a a piece of 1″ x 2″ Primed Trim Board to create a ledge across the top.  I plan on doing a more lengthy post later on how we made the board and batten wall, but the short version is:  paint the wall, measure, cut, and paint your boards, use Liquid Nails and a Brad Nailer to hang boards, caulk and give everything 1-2 more coats of paint.  I used the paint color White Dove by Benjamin Moore.  It's the color I've used on all my trim and cabinets in the house.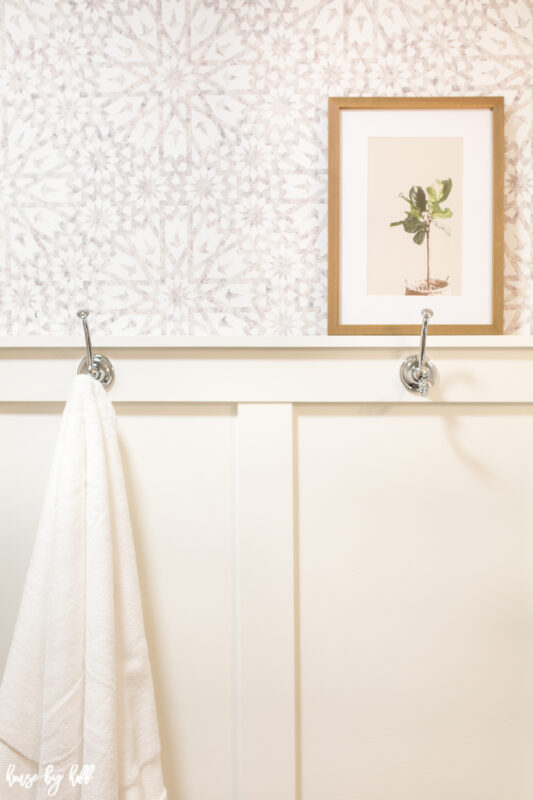 I used these Delta Silverton Double Towel Hooks in chrome to finish off the board and batten wall.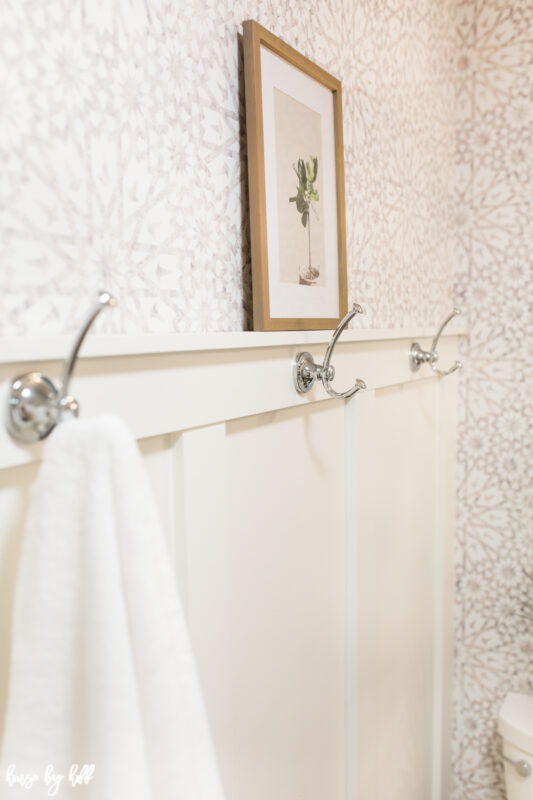 The Wallpaper:
Next, we hung the Tangier Moroccan Peel and Stick Removable Wallpaper from Spoonflower.  I LOVE THIS WALLPAPER!  I was really looking for a wallpaper that would add some personality and uniqueness to the bathroom.  The neutral tones help the bathroom retain it's calm aesthetic, but it subtly adds so much spunk!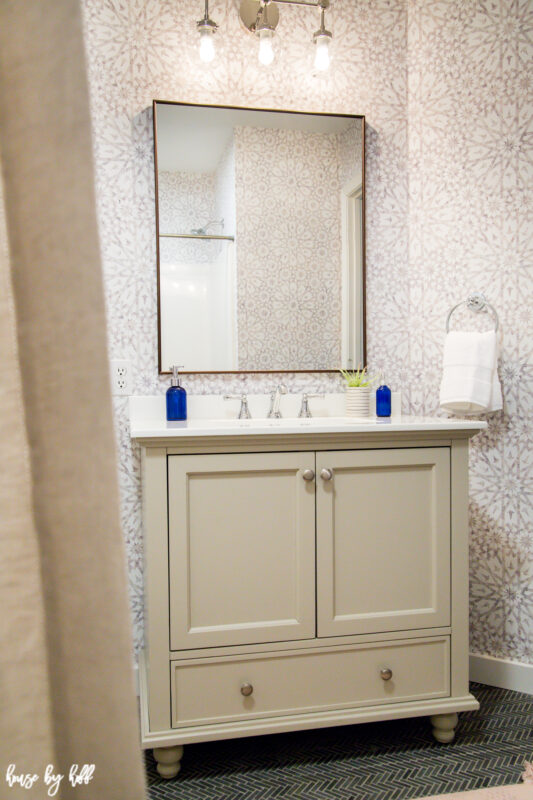 The wallpaper is not only beautiful, but it is easy to peel off and reposition when installing.  This is my first time using Spoonflower's peel and stick wallpaper, and I was very impressed with the quality of their product.  They also offer pre-pasted wallpaper and traditional wallpaper options, if peel and stick is not your thing.
The Vanity and Faucet:
After the flooring, millwork, and wallpapering were finished, the fun really began.  We installed our gorgeous new Orilla Vanity in Greige with Cultured Marble White Vanity Top and Chrome Delta Faucet.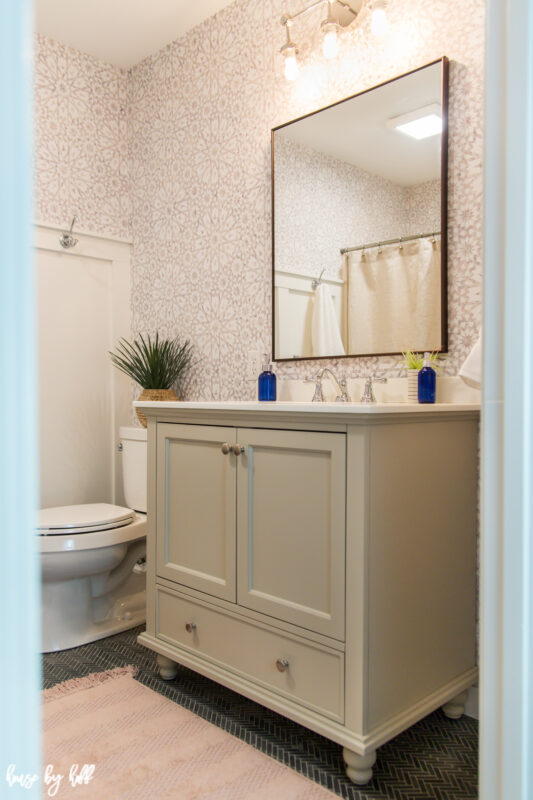 The greige (gray/beige) color of this beautiful vanity looks perfect with the neutral tones in the wallpaper.  It is very elegant, and the cultured marble top is just beautiful!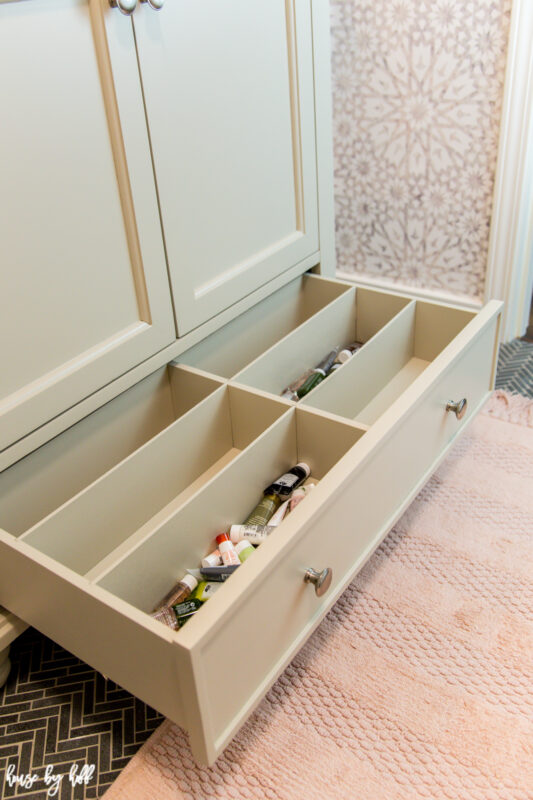 The color and style isn't the only thing I love about the vanity.  The doors have soft-close hinges, and the bottom drawer, which comes with drawer dividers, is also soft-close.  This vanity is both beautiful and functional!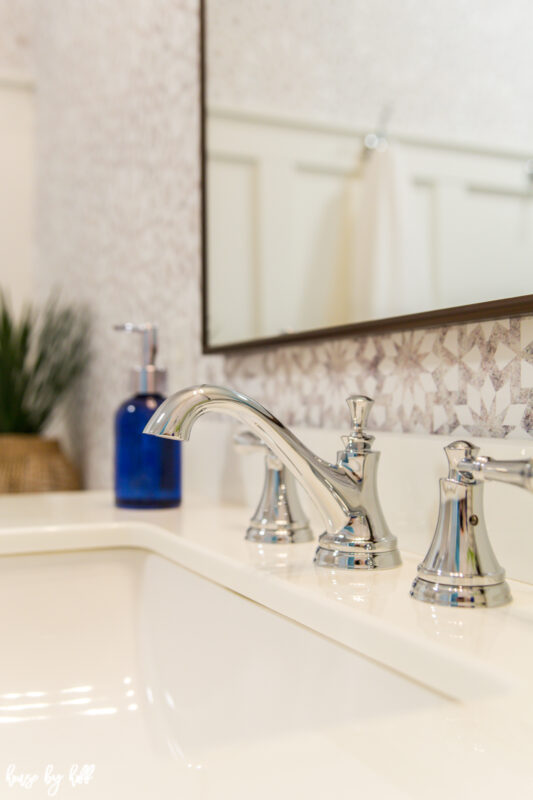 I chose the Silverton Delta Faucet because I thought that the polished look of the chrome would be the perfect touch!  This faucet looks and feels very fancy and solid.  You know when a finish just feels luxurious?  Like fancy-hotel luxurious?  That's exactly how I would describe the faucet and handles!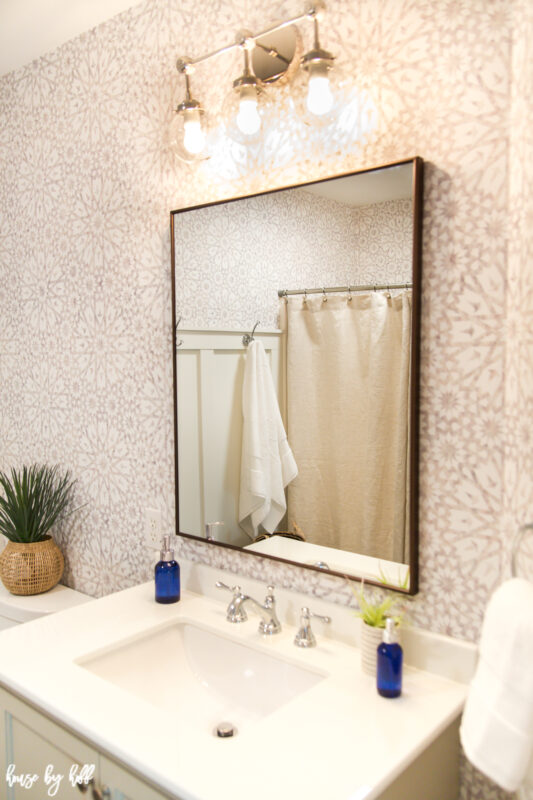 The Mirror, Light Fixture, and shower Head:
When it came to choosing a mirror for our guest bathroom, I was very drawn to a modern rectangular shape.  I wanted to use a different metal finish to compliment the chrome finishes of the room, so I chose the Bravo Bronze Vanity Wall Mirror.  The simple, clean lines of this bronze mirror give an understated balance to the traditional style of the hardware in the room.  I am currently looking for clean-lined light switch covers in the same finish to bring in a bit more bronze!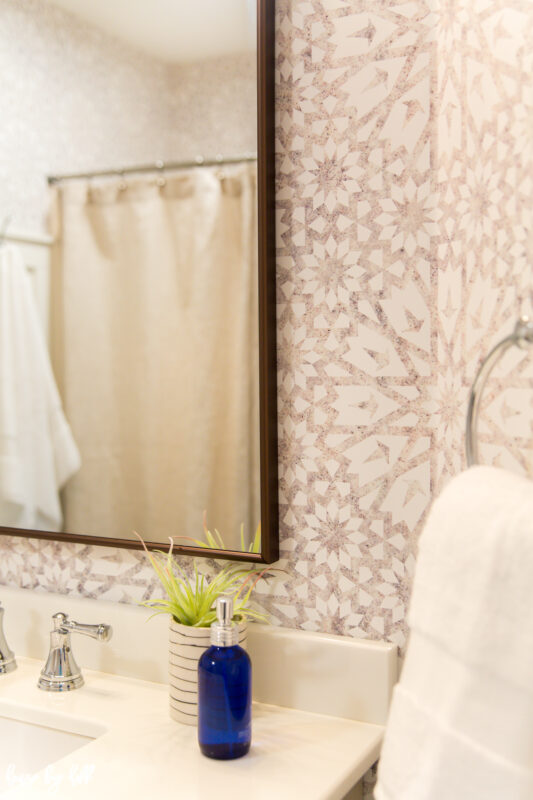 This beautiful Three-Light Cohen Sconce from Sazerac Stitches is just perfection!  The hand-blown glass and shiny chrome finish are top-notch.  I really love how pretty it looks with the wallpaper and the other chrome finishes in the room!  This light fixture was very simple to install, and instantly brightened up the space!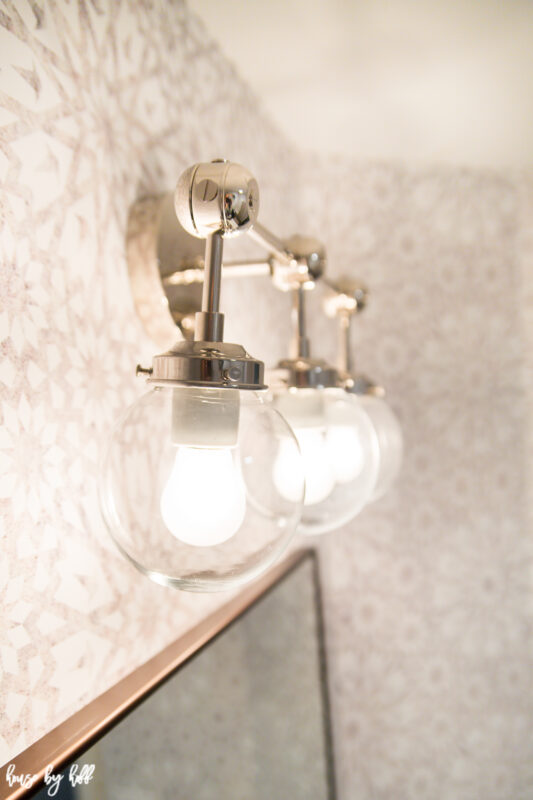 Rounding up our new finishes is our Delta Silverton Tub and Shower Faucet.  Our old shower head and tub faucet were badly in need of replacing, and I can't even tell you how excited I am about this shower head.  It has touch-clean spray holes that prevent all that gross mineral build up.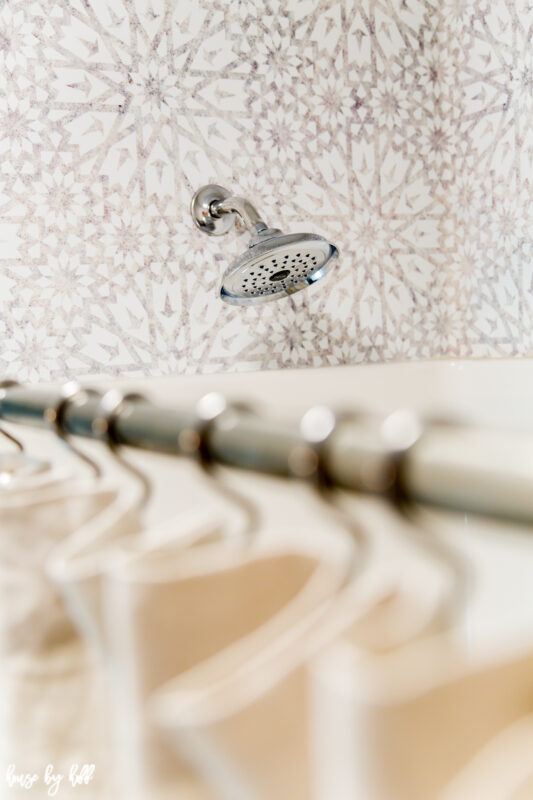 The Delta Silverton Tub and Shower Faucet set also comes with this really pretty chrome tub spout.  It's so important to have a stylish tub spout, am I right?! 😉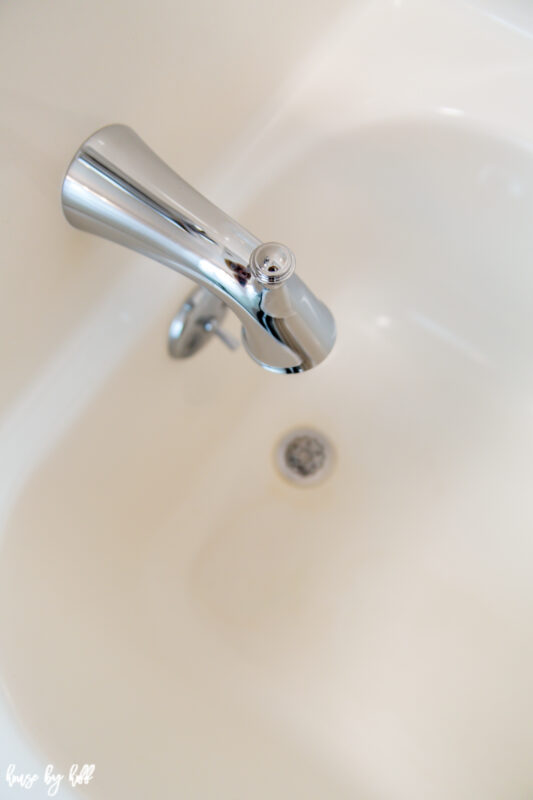 I think that's it!  Phew!  After cranking out this major DIY guest bathroom remodel, and the posts to go with it, I think I need a vacation…ha!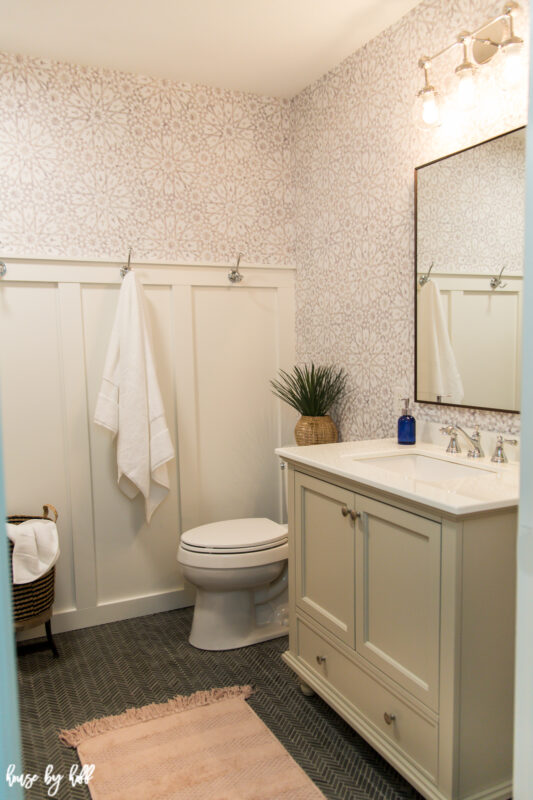 Thank you SO MUCH to my team of helpers for making my DIY Guest Bathroom Remodel a reality!!!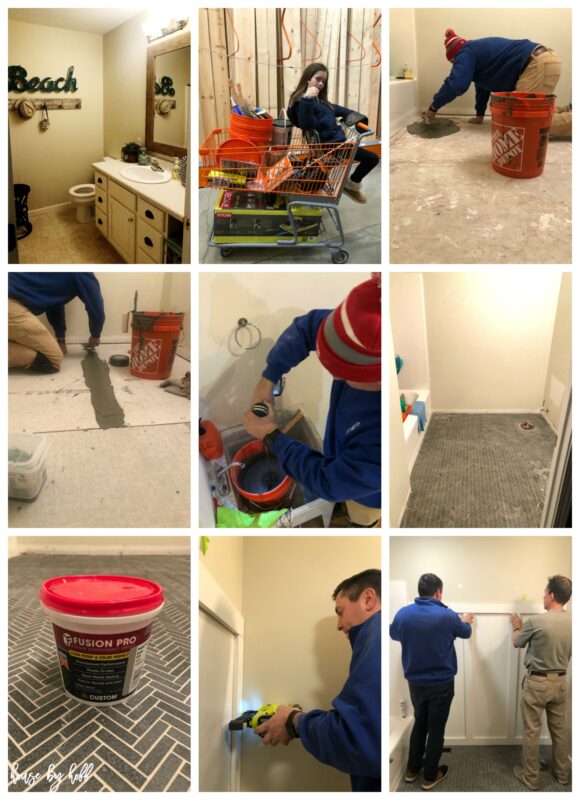 I think this about sums up how I feel about being done with this beautiful bathroom!!!  My bath mat can be found here, and my shower curtain here.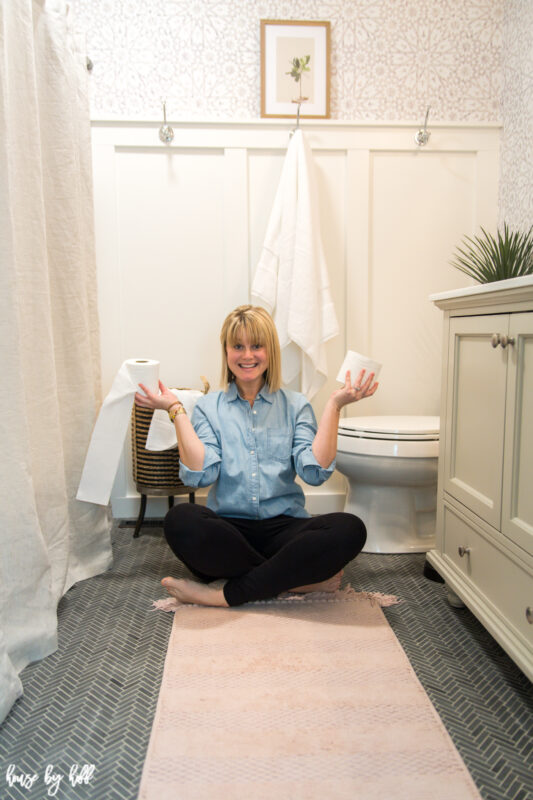 A HUGE THANK YOU to Home Depot, Sazerac Stitches, Spoonflower and Jeffrey Court Tile for the gorgeous finishes, tools, and supplies to make this DIY Guest Bathroom Remodel a reality!  And thank you to all of the official sponsors of the New Year, New Room Refresh for sponsoring and your support!
I also want to give a special thank you to Stephanie Watkins from Casa Watkins Living for organizing this whole challenge!  She did an amazing job organizing all of the bloggers and sponsors!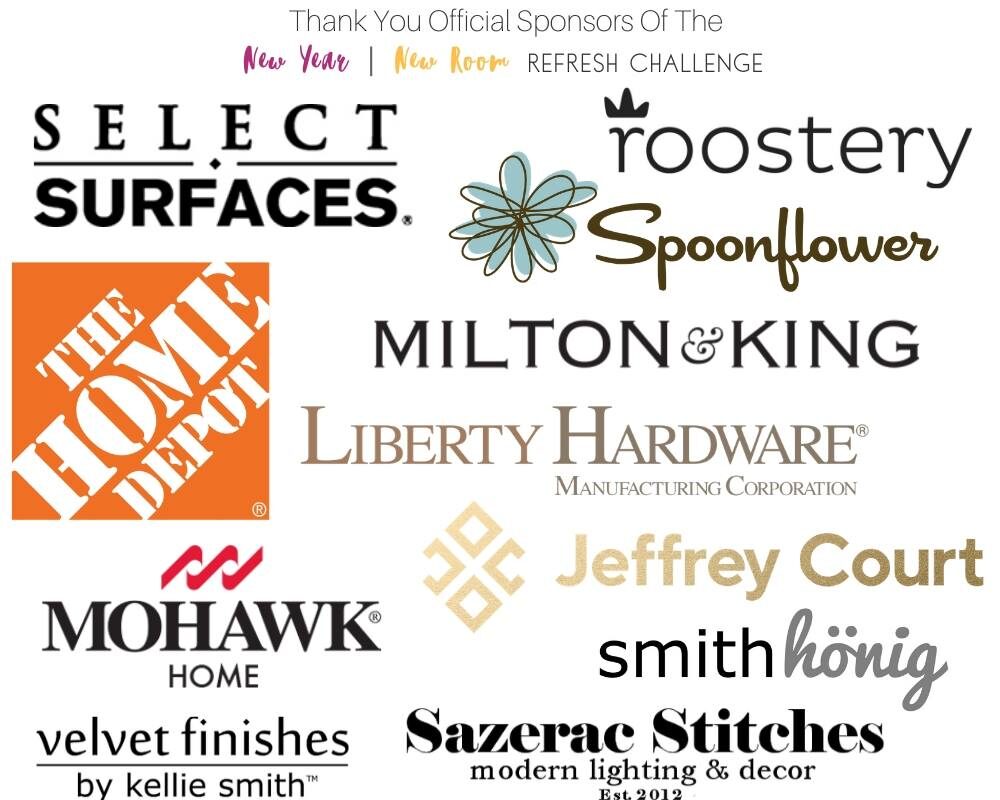 Now, are you ready to check out the rest of the New Year, New Room Refresh Challenge reveals?  I know I can't wait to see what these amazing girls have done with their spaces!!!
Casa Watkins Living // The Boho Abode // Delineate Your Dwelling // Haneen's Haven // The Happy Housie // Homemade by Carmona // House by Hoff // Jeweled Interiors // Kaleidoscope Living // Our Fifth House // PMQ for 2 // Rain on a Tin Roof // Southern State of Mind // Taryn Whiteaker // This is Our Bliss // Thou Swell // Up To Date Interiors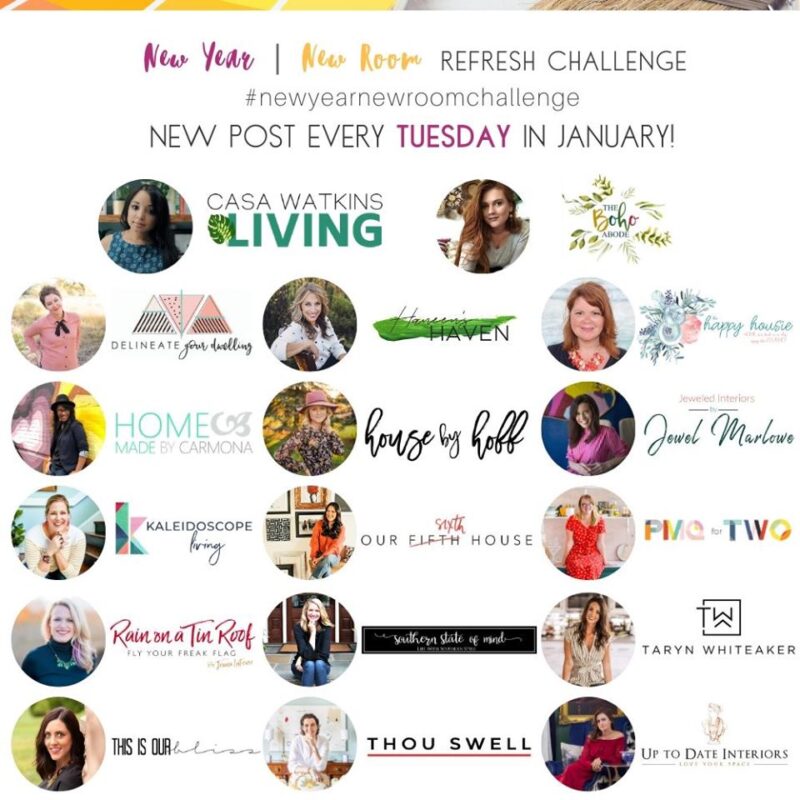 Have a great day!