I will show you how to make this special artwork super-sweet cardinal handprint gift!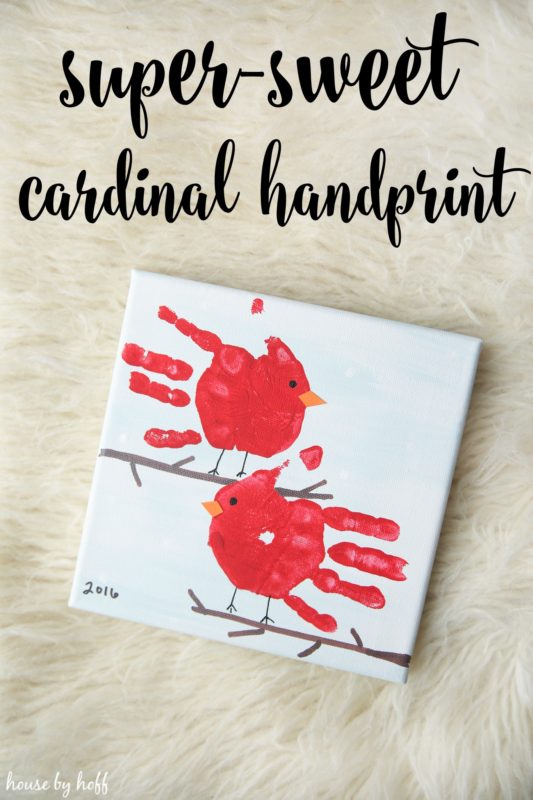 You know Christmas is drawing near when the Hoffs paint our littlest member's feet or hands to make masterpiece Christmas presents for the grandmas!
This year, Mr. Hoff found the inspiration and came up with the idea for cardinal handprint artwork. He doesn't really know how Pinterest works, and I'm not really sure where he found the idea, but I was super impressed nonetheless.
This really is an appropriate craft for Miss L. She and Mr. Hoff watch our bird feeders all winter long. She knows the names of more birds than I do, and knows each family member's favorite. It's not unusual to hear her say something like, "Oh look, Dad! It's your favorite, the dark-eyed junko!" or "There's a daddy cardinal at the feeder!"
It is quite precious. 😉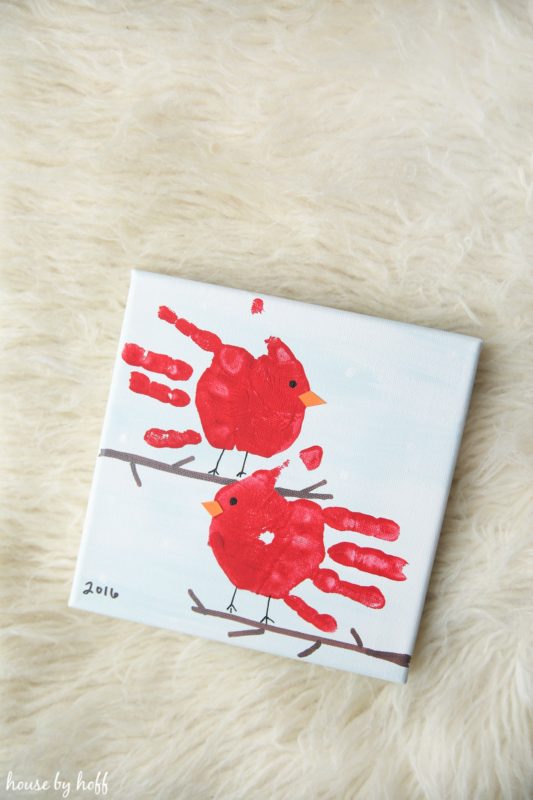 To begin, I rounded up the supplies at Hobby Lobby. We used a very light blue and red acrylic paint, white, black, and brown paint markers, and orange construction paper to make these pieces of art. I did not end up using the snowflake stickers, but those could be cute in the sky around the cardinals, no?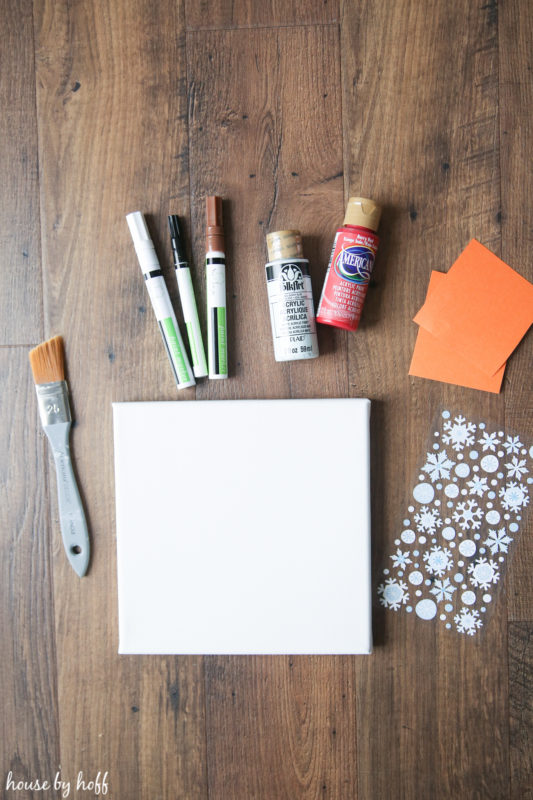 It is very hard to tell from the pictures I took, but I brushed some light blue acrylic paint on the canvases first to make it look like the sky. Next, I painted Miss L's right hand, and we did all of the right-handed birds first. We took a break and I washed her little right hand completely. Then, I painted her left hand and we pressed all of the left-handed birds. We made six art canvases in all.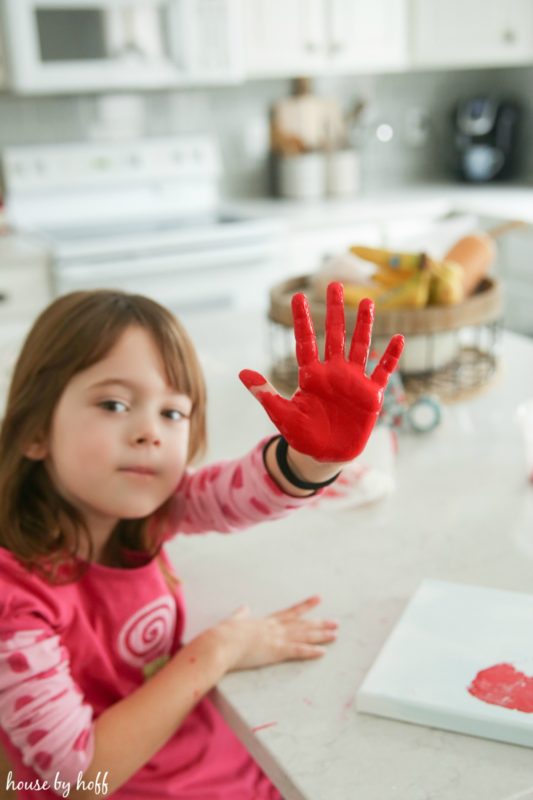 I pretty much took over the project from there and used the black paint marker to add eyes, the brown paint marker to add the branches, and the white paint marker to add little polka dot snowflakes, (which you can just barely see in the picture below.)  I used Mod-Podge to glue on the little orange construction paper beaks, and that's about it!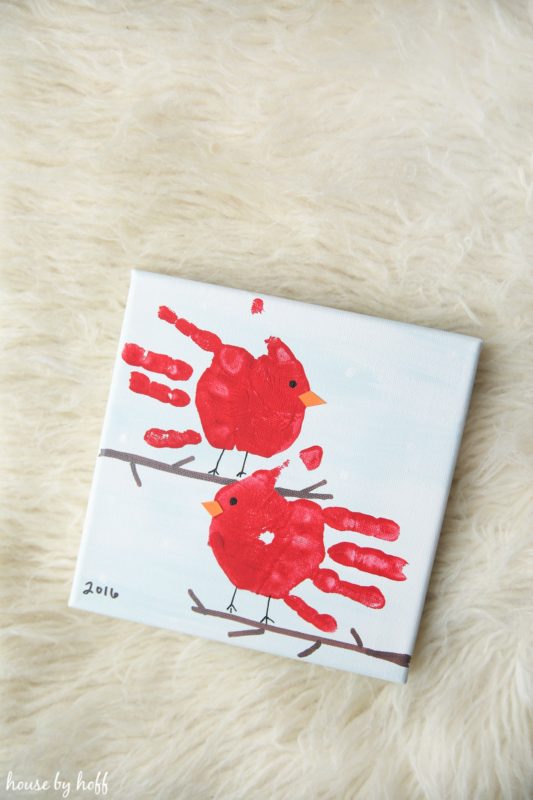 This will make our fifth consecutive year making these adorable grandma gifts! This is the first year we went with a handprint instead of a footprint…we're living life on the edge, people!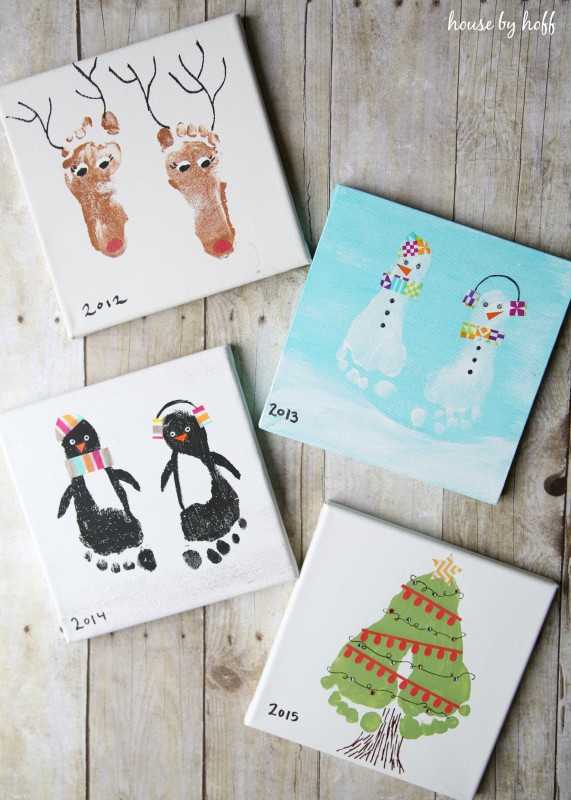 Click the links below to get the tutorials on these sweet Christmas gift crafts:
Reindeer Feet / Snowman Feet / Penguin Feet / Christmas Tree Feet
Have a great day!